This guide is helpful not only for link builders, but also for digital PRs, marketers, business owners, or anyone who occasionally needs to reach out to other website owners to start working with them.
Sometimes it takes several hours to find the contact details of different website owners. But guess what, you can save hours of work by using Marketing Miner.
Contact Finder will find primary email addresses of website owners in bulk for you and in just a few seconds. It will also provide you with links to the social media profiles of each website in a single report.
When to use Contact Finder
You can use this Miner if:
You are working on a link prospecting and need to find contacts for dozens or hundreds of websites at once.
If you are doing a PR campaign and need to find contacts for multiple news sites or magazine publications.
If you need to contact multiple influencers or micro-influencers in your industry.
If you are trying to build new partnerships.
Keep in mind that Contact Finder will only find one primary contact for a given website. You will use it especially if you know that there is only one person in charge of the specific website, or if you want to contact the person who is in charge of the whole company, which means that they are likely to be the primary contact email address for the company.
On the contrary, this tool will be less effective if the website has several authors or departments, and you need to contact a specific person from the department or a specific author of the article. In this case, we recommend that you read this guide from Ahrefs on how to find such contacts. However, this is a much more complicated task, and you are certainly not going to be able to do it in a couple of minutes.
Now, let's take a look at how you can work with this tool and how you can find email addresses in bulk.
How to use Contact Finder
To find website contact details in bulk, click on Create report button and select Contact Finder to continue to the next step.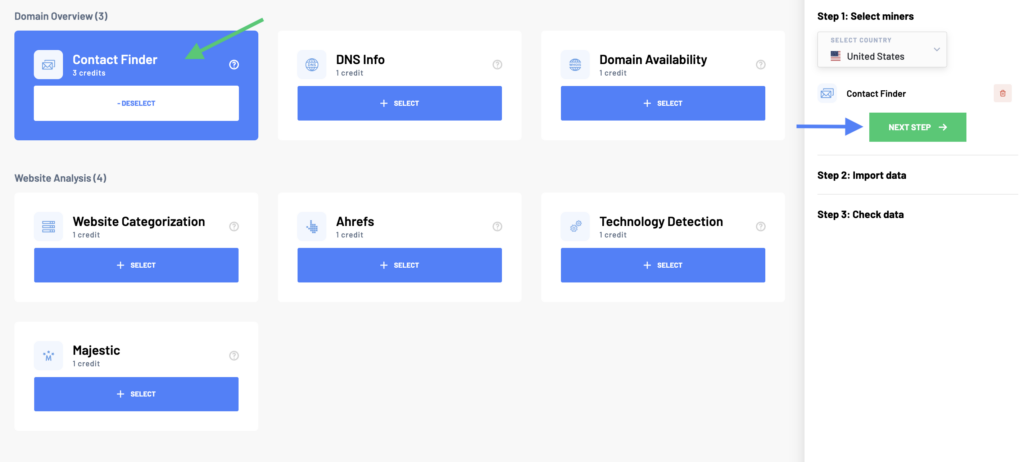 In the next step, name your report and add your list with prospect websites. You can either enter the list manually, upload it from a file or spreadsheet, or import your data from Google Sheets.

Then click Import Data to review your data before processing. In the menu on the right, you can also see how many credits this report will cost you. You can always go back to the previous steps before creating the report with all contacts.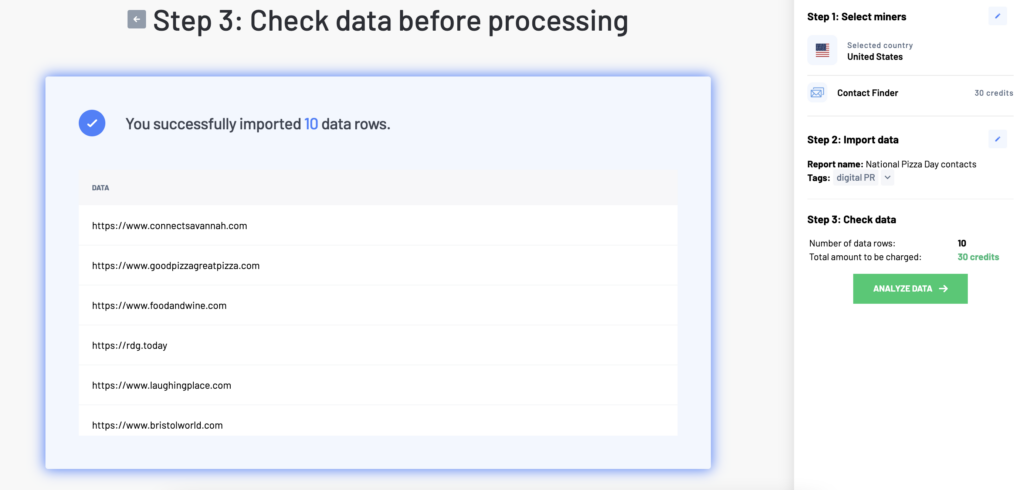 Contact Finder report example
Report columns
Input: The domain you entered in the input.
Primary email: The primary email that Miner found according to the domain you entered. It may happen that Miner doesn't find any email at all.
Contact page: The contact page of the website, where the contact form is often available or where you can find some other type of contact.
Email accuracy: The probability that the found contact email is correct. The range is from 0 to 100, and the higher the number, the higher the probability that the email is correct. If Miner did not find a primary email, you will see a 0 in this column.
Facebook page URL: Link to a Facebook page, if linked from the website.
Twitter feed URL: Link to a Twitter page if linked from the website.
LinkedIn page URL: Link to a LinkedIn page if linked from the site.
Instagram page URL: Link to an Instagram page if linked from the site.
TikTok page URL: Link to a TikTok page if it is linked from the site.
Pinterest page URL: Link to a Pinterest page if it is linked from the website.
YouTube page URL: Link to a YouTube page if linked from the site.
Report data
Check the Primary Email column data for accuracy. If the probability is high and the email address is also meaningful to you, you can use it to contact the site.
If there is no email on the page, but there is a contact page, try to look at it and see if there is another contact or at least a contact form.
If you do not have an email address or a contact page, you may still be able to reach the website through one of the social networking sites.
If Contact Finder can't find a website to contact, you'll need to find a different way to contact that website. Here are a few examples of how to do this:
Sometimes it is enough to just look at the website. For example, some bloggers publish their contact as an image on their website. Contact Finder can't see this data, but you can.
You'll occasionally find email address on the Facebook page too.
Sign up for their newsletter to see what email address they send their emails from.
Try tools like https://findthat.email/. You will also need to know the name of the author or owner and the domain name.