This manual is helpful not only for link builders but also for PR people, marketers, website owners, or others who occasionally need to reach more websites because they are interested in collaborating with them.
You can sometimes spend even several hours when searching for contacts of website owners. But you can also save some part of these hours by working with Marketing Miner.
Miner Contact Finder will find primary email address to website owners in bulk and in just a few seconds. Also, it will provide you with links to the social networks of each website in one spreadsheet.
In practice
You can use this Miner when:
You are working on a link prospecting and need to find contacts for dozens or hundreds of websites at once.
If you are doing any PR campaign and need to find contacts for many news sites or magazines.
If you need to contact multiple influencers or micro-influencers in the industry.
If you are trying to start a collaboration with new partners.
Keep in mind that Miner will find only one primary contact of that website. You will use it especially if you know that there is only one person in charge of the specific website or you want to reach out to the person that is in charge of the whole business, which means he or she will be probably handling the primary e-mail of the website.
On the contrary, you won't find Miner useful when the website has several authors or departments, and you need to reach out to a particular person from the department or a specific author of the article. In this case, we recommend an article from Ahrefs on how to find such contacts. However, it is a more difficult job, and you will certainly not have it done in a few minutes.
Now let's look at how to work with this Miner and how to get email addresses in bulk.
Import data
Get started by clicking on Create report button and specifying Domains at the input. Then write or copy the dataset of the domains, for which you need to find e-mail contacts or social networking links.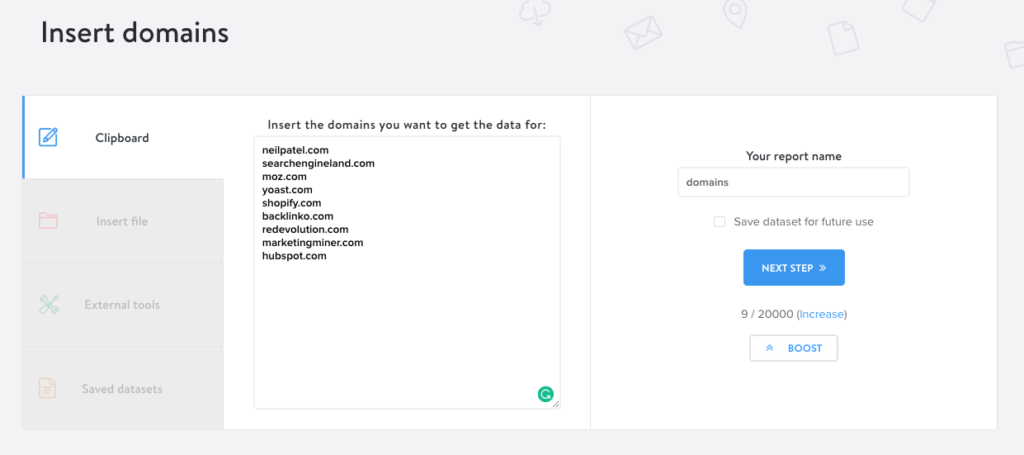 If you have all domains in one document, you don't have to copy them, but you can easily import the entire file with the list. To do this, click on the Insert Files section in the left sidebar.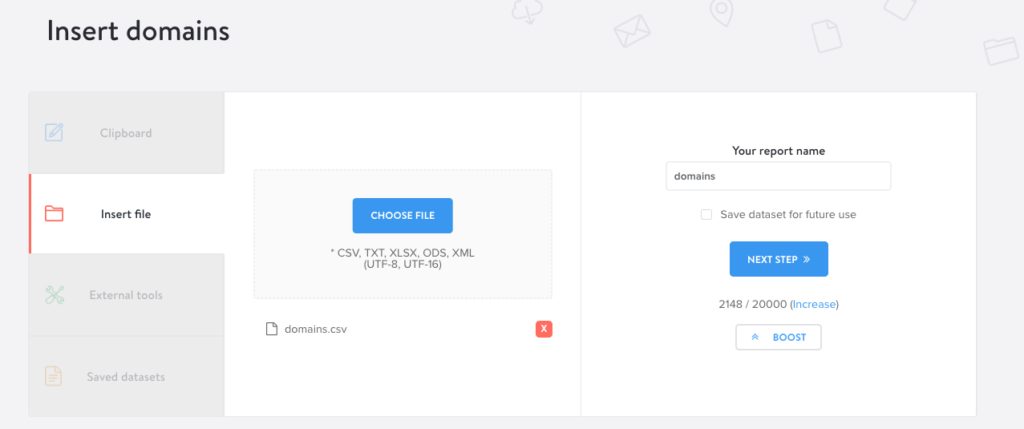 For a report to be easily identifiable, it is good to name it. Simply click into Your Report Name field.
Then click on the flag to select the country for which you want to get the data and finish by clicking on Next Step.
Selection of the Miner
In the Owner / Domain information section, click on Miner Contact Finder. Nothing else needs to be set. Click on Get Data to start processing your inputs.

Output example
Column description
Input: Domain, that you entered in the input.
Primary email: The main email that Miner found according to entered domain. It might happen that Miner won't find any email at all.
Contact page: The contact page of the website where the contact form is often available or where you can find a different type of contact.
Email accuracy: The probability that the found contact email is correct. The range is between 0 to 100 and the higher the number, the higher the probability of correct email. If Miner did not find any primary email, you would see a 0 in the column.
Facebook page URL: Link to a Facebook page if it is linked from the website.
Twitter feed URL: Link to a Twitter page if it is linked from the website.
LinkedIn page URL: Link to a LinkedIn page if it is linked from the website.
Instagram page URL: Link to an Instagram page if it is linked from the website.
Flickr page URL: Link to a Flickr page if it is linked from the website.
Pinterest page URL: Link to a Pinterest page if it is linked from the website.
Output analysis
Check out the emails in the column Primary email and their accuracy. If the probability is high and the e-mail address makes sense to you as well, you can use it to contact the website.
If there is no email on the page, but a contact page is available, try to look at it and find out if there is another contact or at least a contact form.
If you do not have an email or contact page, you can still reach the website through one of the social networks.
On websites where Miner did not find any contact, you'll need to find this contact in some other way. Here are a few examples of how:
Sometimes it will be enough to check the web with your own eyes. For example, some bloggers published their contact on the website as an image. Miner can't see this email, but you can.
For some pages, you can find a contact in the Information section of their Facebook page.
Sign in to the newsletter to see from which email address they are sending their emails.
Try tools like https://findthat.email/, in which case, you need to know the name of the author or owner and the domain name.