Find out what websites are built with and identify their technologies in bulk with Technology Detection miner. This tool quickly identifies in bulk which web technologies such as CMS, advertising systems, analytics, or tracking tools particular websites are using.
How to identify website technologies in bulk
You will use this miner mainly when analyzing your competition or researching the market to find out what technology, content management system, or framework your competitors or leading websites are using.
Start by clicking the Create report button and selecting Technology Detection miner.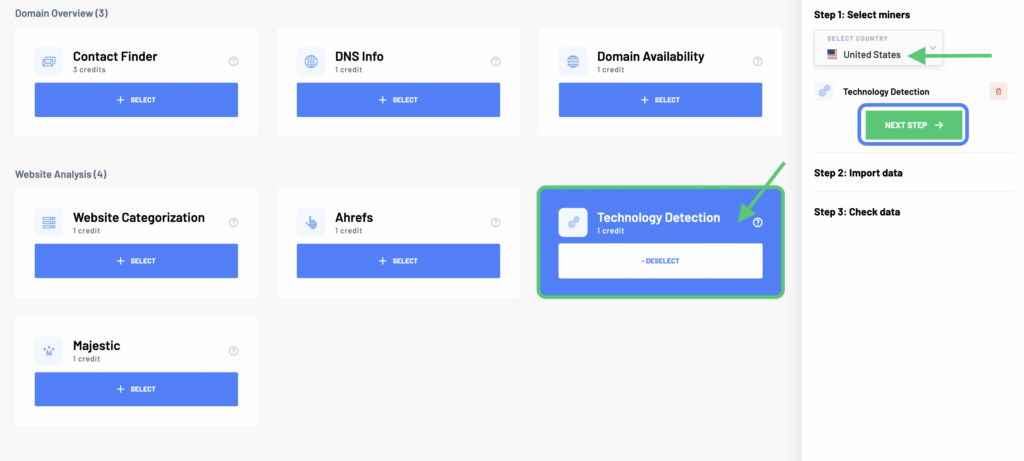 In the next step, enter your list of websites you want to analyze in bulk. There are several ways to do this. You can either enter the list manually, upload it from a file, or import your data from Google Sheets.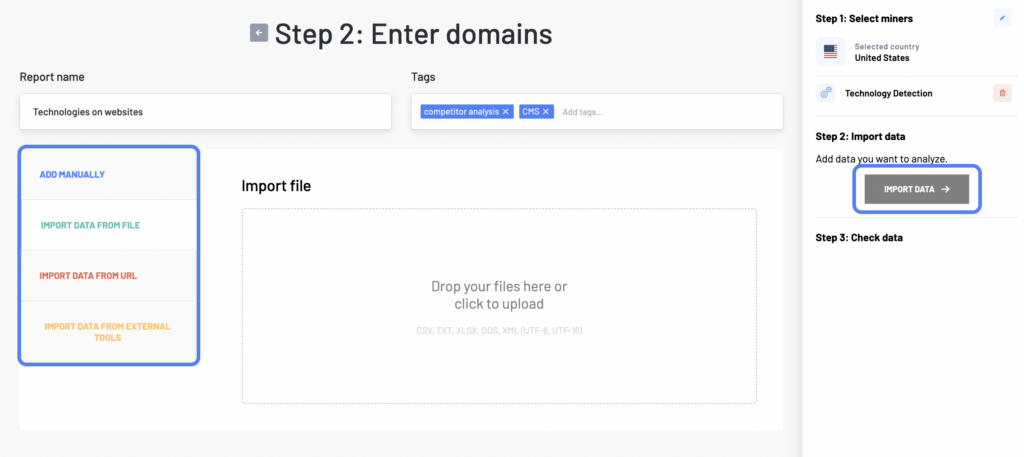 Before you generate your keyword report, don't forget to give it a name and add tags to keep your reports organized and easily accessible for future use.
Now, click on Import data to see how many data rows you have to analyze and check your data before processing. In the menu on the right, you will also be able to see how many credits this report will cost you. Then, click on Analyze data to finish the report. When the report is ready, we will notify you by email.
Technology Detection report example
Report columns
Input: The domain, that you entered in the input.
CMS: Type of content management system that is used on the domain (e.g., WordPress, Magento, Drupal, etc.).
Server: The type of technology used on the domain (for example, GSE, Apache, Cloudflare, etc.).
Powered by: The type of framework used on the domain (for example, PHP).
Report data
In addition to the output spreadsheet, you will see a visualization tab with graphs of each content management system, technology, and framework. Based on this data, you can quickly determine which type of technology, content management system, or framework your competitors or partners are using the most.