Are you one of those enthusiasts who checks your rankings every morning before replying to any emails to see if anything has changed from the day before?
Tracking and monitoring your rankings for a specific keyword related to your business may be just a form of SEO gamification for some people. But it also needs to be monitored by all data-driven marketers so they know where they stand in their search results.
Rank Tracking in Marketing Miner
You will use Rank Tracking regularly if you need to track specific keywords daily or weekly and at the same time you need to track how your project grows over time.
However, you can also add your competitors' sites to Marketing Miner to see how they are doing in search. If you see some significant changes in your competitors' rankings, you can start investigating what changes they have made in on-page or off-page SEO.
Now let's show you how you can easily track and monitor keywords on search engines like Google in Marketing Miner.
For regular rank tracking, you need to create a project first. If you have already created a project, you can skip the following steps and navigate to the Rank Tracking section straight away.
Creating a new project
To track your daily or weekly rankings, you need to create a new project.
Log in to Marketing Miner and navigate to the Projects section on the homepage. Click New Project or use this button below:
Note: If you do not see the "Create New" button, you probably purchased a plan that only allows you to add one project.
Just enter your domain and select the market your website is targeting. If you choose the Czech Republic, Marketing Miner will track rankings for both Google and Seznam search engines.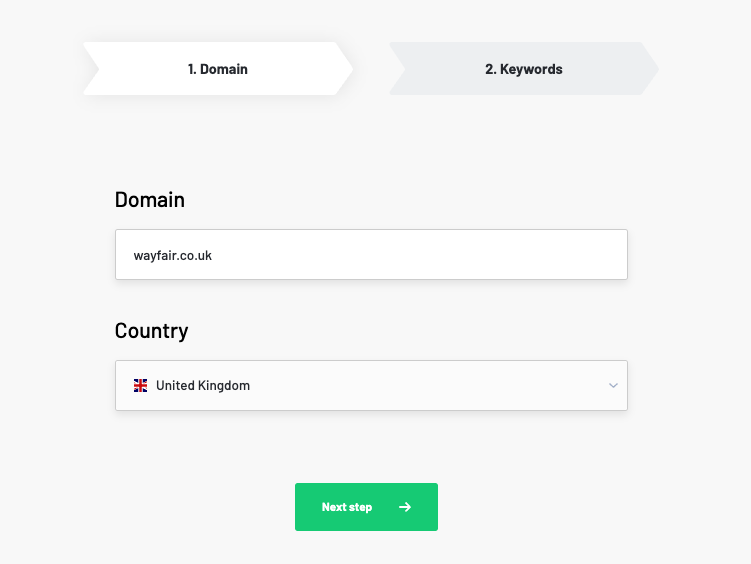 The next step is to add keywords to your project. You can either add them manually or choose from the keyword suggestions on the right if you don't know which keywords to track.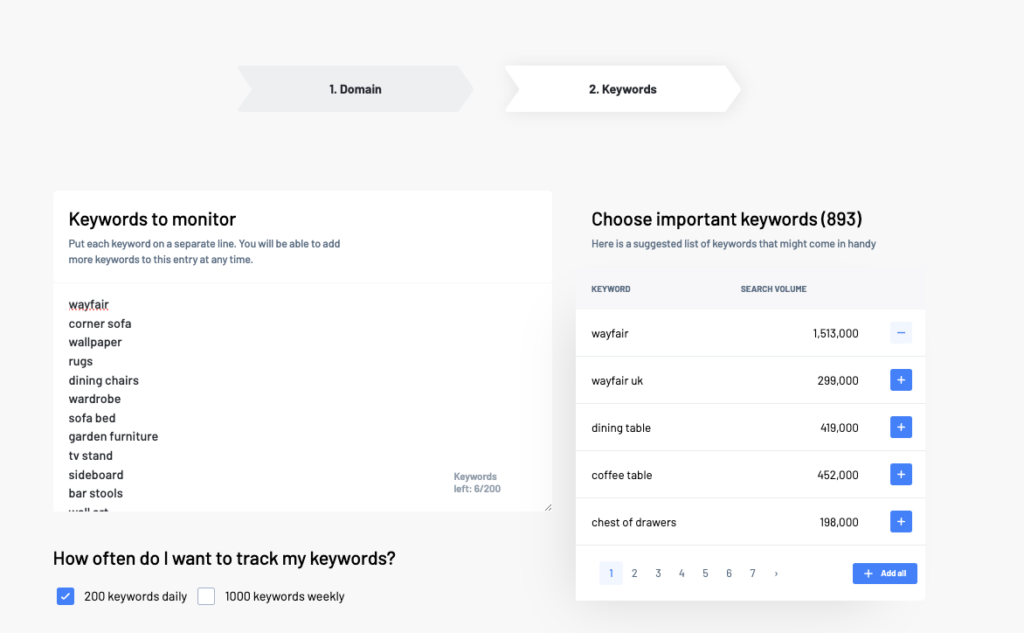 Then choose how often you want to measure your rankings:
200 keywords on a daily basis.
1000 keywords on a weekly basis.
Don't worry if you forget to add some phrases, as you can always add them manually to your project after it has been created. Just click on Add keywords in the Rank Tracking section of your project.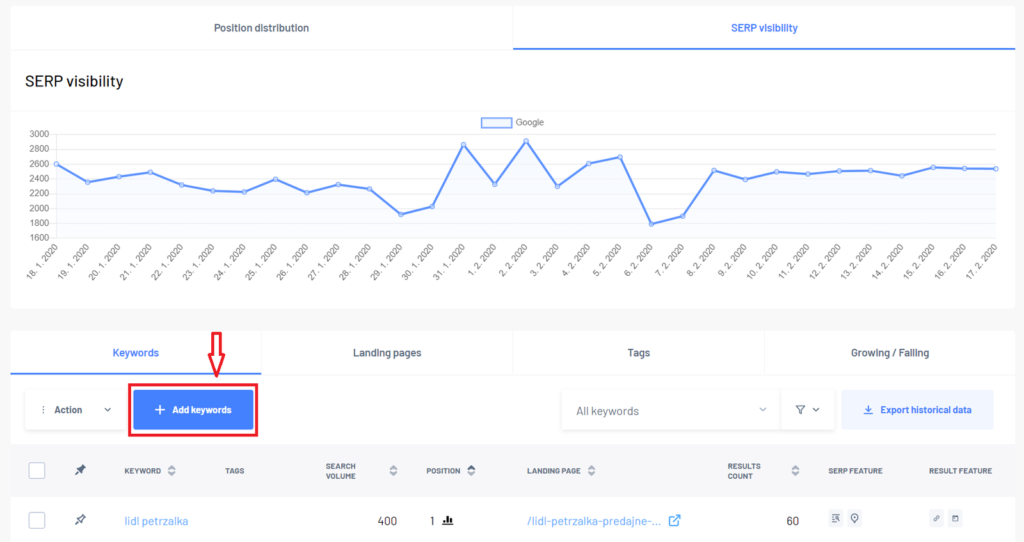 You can also make changes by clicking the gear icon (Project Settings) in the upper right corner of a specific project.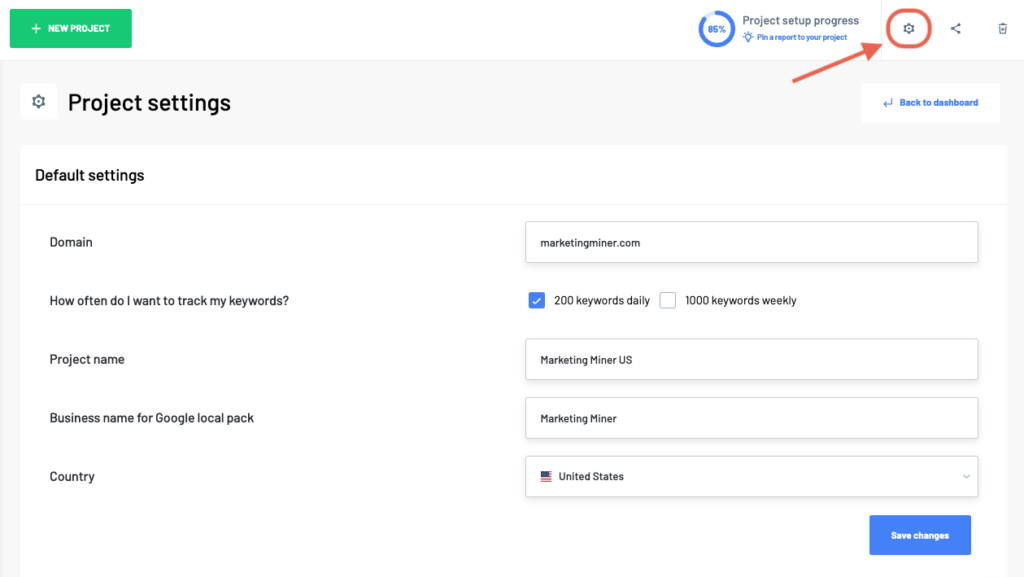 Rank Tracking section
Once you've created your project, you'll see your dashboard, where you'll find a section called Rank Tracking. Here you will find the search engines related to the country for which you have chosen to monitor rankings. In most cases, you will find Google there. Clicking on Google (or any other search engine) will take you to the section where you will get all the important data.

In this section, you will see daily (or weekly) updates with your ranking data. For individual keywords you can:
View position history
Keyword tags
Check changes of landing pages
Use advanced keyword filters
Monitor algorithm updates or add your own notes when something important happends
Get a list of SERP features of the given keyword
Connect data to Looker Studio or Keboola
Download data of improved or decreased keywords in bulk
…or track the overall ranking history of your project.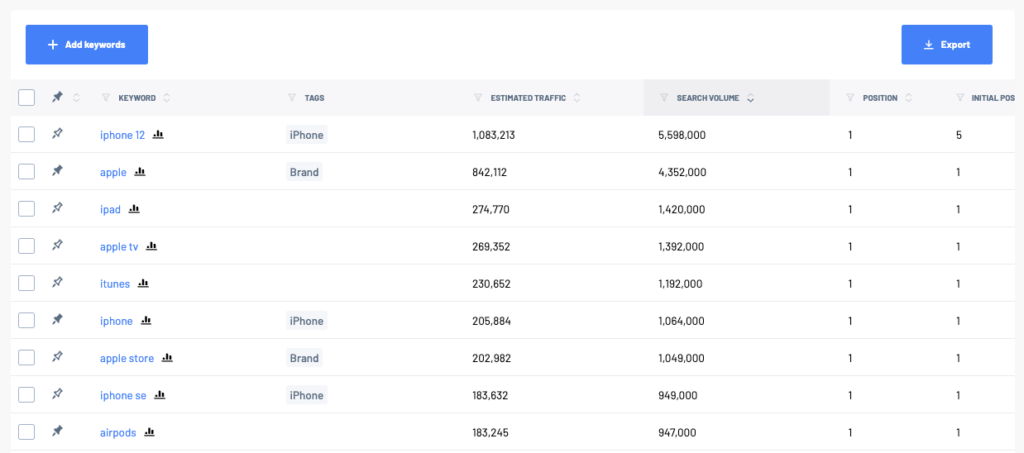 How to add tags or notes to keywords
If you're tracking rankings for a large number of queries, it's a good idea to create certain groups by tagging them to keep them organized. This will help you to filter the keywords for which you want to check the position development more quickly. First, you need to create a tag by navigating to the Tags section and clicking on Create Tag.

You can then navigate back to the Rank Tracking section to assign the tags you created or add notes to specific keywords from your list.
If you want to remove a tag from a keyword, simply select a specific phrase and click the Delete button where you can unassign tags.

To add notes to your keywords, navigate to the Notes tab and click Add Note.

Then you will see this tab where you can select a specific date and immediately assign the note to specific or all keywords.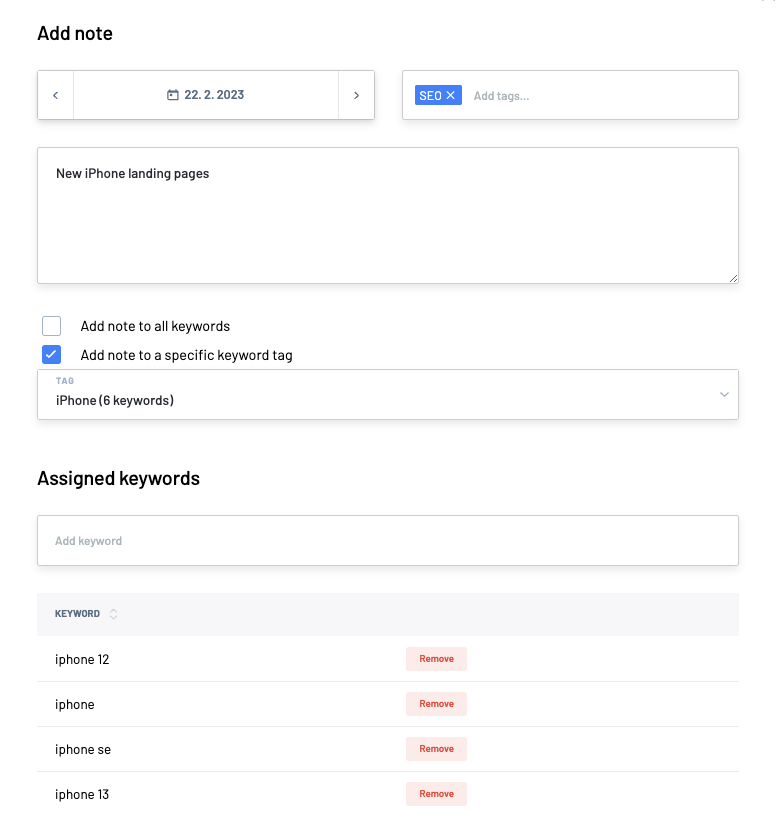 Rank tracking project example
If you have not gone into your own project and keyword setup yet, you can look at what the monitoring in Marketing Miner looks like.
Measure the impact of your SEO activities
Once you have decided to improve your rankings and make changes to your website, you should keep track of how these changes affect your traffic. You should also keep in mind that it takes some time for search engines to crawl and reindex your content after you make these changes.
That's why it's really important to monitor your rankings regularly and see how they change on a daily basis.
If these changes cause your landing page to improve in the SERP, it's obvious that it had a positive impact. That's why it makes sense to continue what you've been doing and apply changes to other content as well.
If your rankings drop, it's better to undo the changes and find out if your rankings dropped because of them or for other reasons (such as a search engine algorithm update).
In addition, you should not only track specific search queries, but also the overall performance of the related landing page. Some changes may have a positive impact on a small portion of queries, but the overall performance of the landing page may be worse.