You can use the Backlinks section to save newly created backlinks and to review them. If you suddenly came across a not found link, you would probably want to know about it, right?
In practice
Managing the backlinks through Links section is useful for everyone who is actively (but also passively) working on link building activities:
Here, you can easily and quickly find all the found and not found links. If your link has disappeared from the URL, you can start looking for the cause and try to get backlink back.
You can also register your links individually with every new link you've got. Just insert the new URL where is your link located and Marketing Miner will provide you with all the relevant information about the link including anchor text, link placement and also information whether it is a follow or no follow a link.
Every Monday you also get an email report about changed or deleted links. Afterward, you can work with this report as you need to.
Let's discuss all of this in little bit more details.
Create a new project
If you want to save and check your backlinks, you need to create a new project first. In case you haven't created one yet, you may use the button below.
Backlinks section
Once you've created your project, you'll see its dashboard. In the left menu, click on section Backlinks.
You don't see anything in the report yet, so first, you need to add the backlinks you want to save and check.
You can add links individually (in case of newly created ones) or in bulk (if you already have a link portfolio built). You need to enter each backlink (URL) on a separate line.
If you'd like to add backlinks in bulk it's best to export your backlinks from the system you're using for keeping records of them and click on Add backlinks and simply copy all URLs into this section.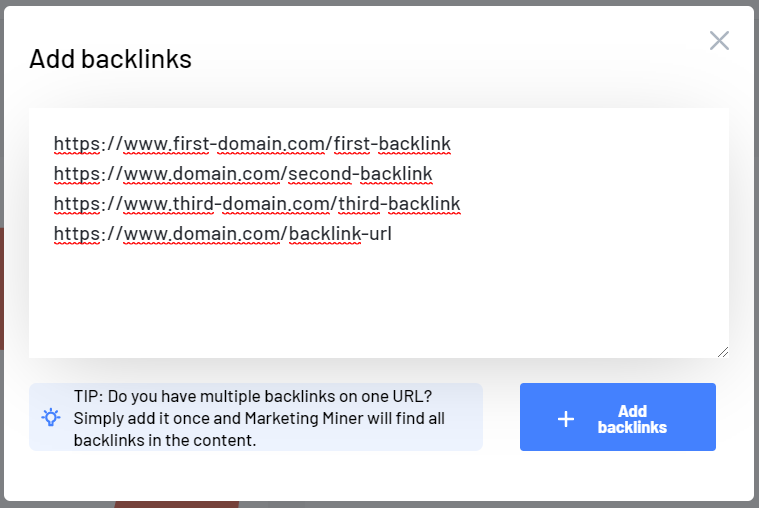 After you click the Add backlinks button, all URLs will show in your dashboard. The first few minutes you'll see the loading icon in the column Status that means that Marketing Miner is getting the necessary data.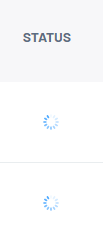 After a couple of minutes simply refresh the page (Ctrl+F5) and the overview of your backlinks will look like this: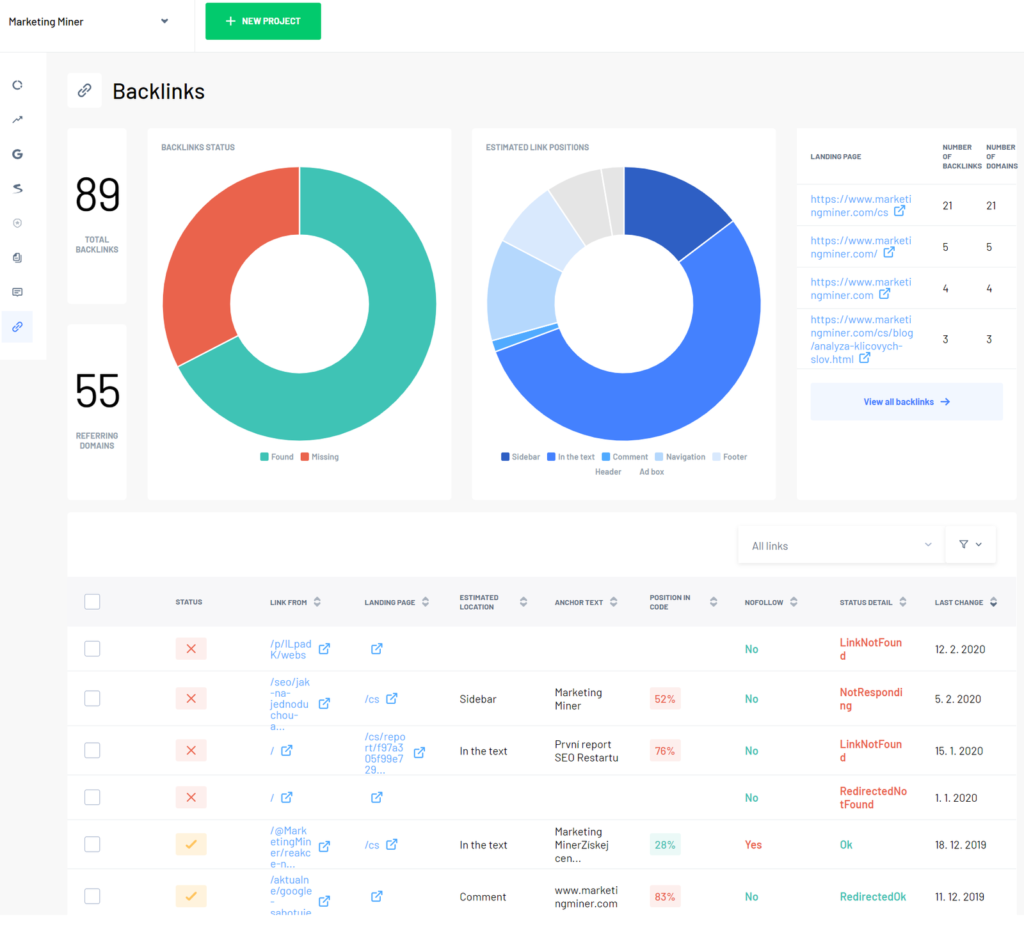 Let's see what each column means:
✅ A link was found.
❌ A link was not found.
The number indicates the amount of found and missing links on the given domain.
Link from: The URL where is the backlink located.
Landing page: Referring landing page on your website.
Estimated location: Location of the page where is the link (most likely) placed.
Anchor text: Clickable text of your backlink.
Position in code: In which part of the code is your link located. The lower the number, the better for you.
Nofollow: If there is a no follow link, you will see a red sign "Yes". If such links are not predominate in your portfolio, it's okay, because a healthy link portfolio should include nofollow links as well.
Status detail: This column shows the current status of your backlink. If there is an "OK" value in the column, you don't have to worry about this link at all. However, if the status in your column is in the red color, it is good to check the situation. What condition may occur:
LinkNotFound: There is no link on the page.
NotActive: There is no clickable link on that domain, but there is a domain in the text form.
NotResponding / Forbidden: The link page does not respond or is inaccessible (for any reason). However, this doesn't necessarily mean that the link is not working, but you should check it out manually.
ServerError: This is often just a temporary state. We also recommend to check it out manually.
404Error: The page with the link was deleted. In some cases, it might mean that it doesn't work only temporarily.
RedirectedNotFound: This is occasionally used for cases, where the page with the link was deleted, but its URL is redirected. For example, it might be redirected to the homepage, but there is no link placed.
RedirectedOk: This status is ok. It usually happens when your link is on http web version which is then switched to https version. After redirection the backlink is working on the page and it's found there.
Last change: The date when Marketing Miner checked links for the last time.
You can also use the advanced filters by clicking on the funnel above the table or use the default most frequently used filters.

How to work with the output
You should focus mainly on not found links. Discover the reason why the links are not on the page and try to get these links back.
All missing backlinks can be simply filtered by using the Broken links filter.

If you find that the link is no longer available and you don't even have a chance to get it back, just delete it from the link report. Check the backlink you want to delete and click on the Delete backlinks button.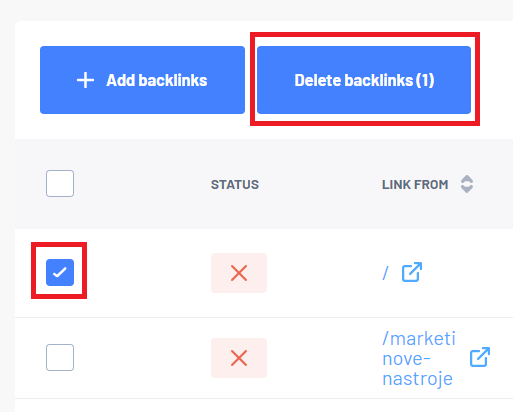 In addition to tracking not found links, it's good to check the diversity of your link portfolio as well. You can do this right after importing your backlinks, or regularly in specific time intervals because you will get more and more links in time.
It is essential for your reference portfolio to be diversified. This very simply means:
Anchor texts are diverse. The link portfolio does not only contain links to one or several specific anchor texts.
Links lead to different landing pages. Your links don't refer only to a particular landing page. Your homepage might be an exception because most of the natural links lead right there.
Links are placed at different locations on the web. This means that your referral portfolio is not just PR articles or comments.
You don't have only dofollow links, but sometimes there is a nofollow link as well.
You can get the majority of these information in this clear backlink table where you can filter or order the items as you need.