If you are interested in Marketing Miner's affiliate program, you can register here: https://affiliate.marketingminer.com/
Affiliate program description
Get 60% commission by promoting Marketing Miner SEO tool used by more than 40 000 specialists from all over the world.
60% commission for every new subscriber you bring to us
Affiliate cookies valid for a period of 100 days
The minimum threshold amount of $90
After you register or log in to our affiliate program, your dashboard home page appears.
Dashboard
Here's our dashboard, where you can get an overview of all important information regarding your account, including number of clicks or your commission.

To help you start promoting our tool and earn commission, we have prepared nice engaging promo materials.
Get started with promoting our products – promo materials
The most effective ways how to promote our tool through affiliate links are:
Blog posts (tutorials) about our tool and how to use it
Tool reviews
YouTube videos (tutorials, favourite SEO tools, SEO tips,…)
SEO tools comparison
Sharing and recommending the tool on social media
After you register to become an affiliate, you're given your own affiliate code (for example: ?a_box=your_id) to share with your network. Thanks to this unique code, we can easily identify your referrals. This affiliate code will automatically be added to all your promo materials.
You can find all promo materials here: https://affiliate.marketingminer.com/rozsireni/. There are two sections:
Iframes – interactive iframe widgets that you can add to your website
Banners – text banners and links with your own affiliate code
We have created these engaging assets to help you drive traffic to our website.
IFrame widgets
Find all widgets in the Promo materials -> Iframes section here: https://affiliate.marketingminer.com/rozsireni/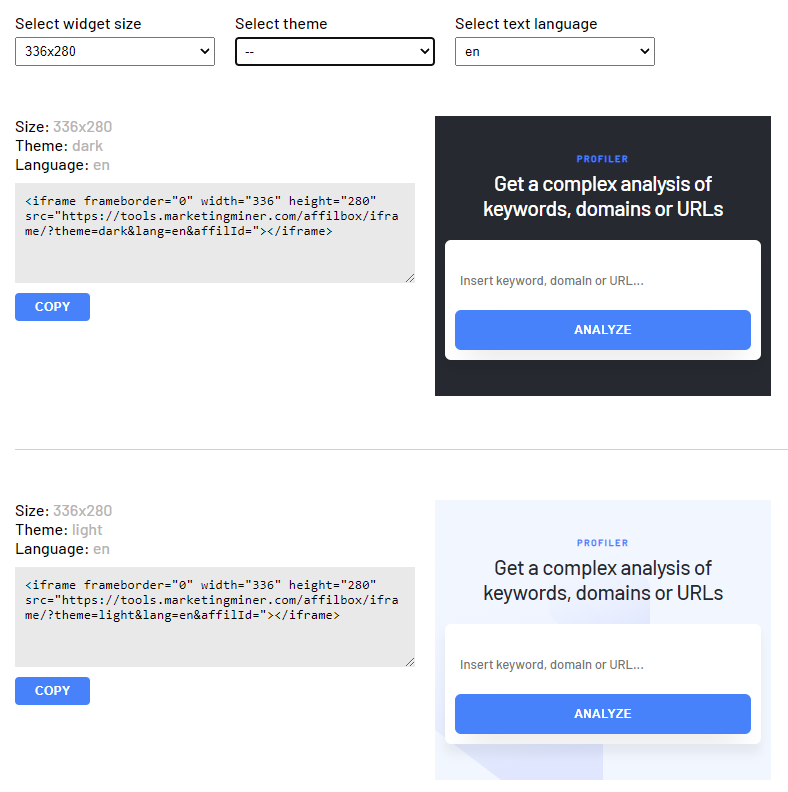 There are 7 different widget sizes, 2 colourful versions and messagings in 4 different variations. We recommend using auto language to translate text widgets based on what language the user has set in their browser.
You can copy and paste these dynamic iFrame widgets and add them to your website by clicking on the Copy button.
Banners
To find banners with your own affiliate ID, navigate to the Promo materials section and click on Banners: https://affiliate.marketingminer.com/rozsireni/
In this section, you will find banners in 7 different sizes, 5 unique messagings and 2 colourful selections (light and dark).
Banner sizes:
250×250
300×250
336×280
728×90
970×90
970×250
930×180
Text link
Text links can lead to any page on Marketing Miner website. For example, the homepage link can look like this: https://www.marketingminer.com/?a_box=kfc4813
Statistics
Once you start promoting our tool, you can monitor the Statistics section to view detailed information about your campaign. You will mainly use the Conversion report and Click-through report, to find out:
Clicks count
Conversions count
Turnover
Commission
Channel – referring domains (where you promote MM)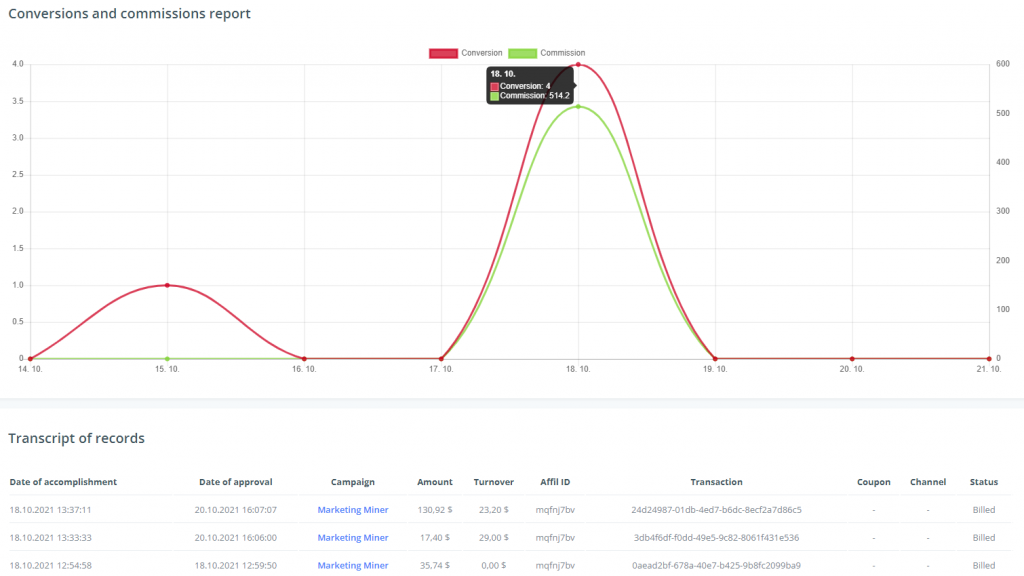 Download detailed data in csv format by clicking on the Export to CSV button.
Billing
You can request a payout once you reach the minimum threshold amount ($90) in the Billing section. Click on the Ask for invoice button to get your commission.

Your request will be processed within a few minutes by our team to receive your invoice in pdf format.
Click on the ellipsis button to choose from two invoice options:
PDF overview – invoice documents (with our billing details and your commision rate) to create an invoice
Insert invoice – you can upload your own invoice that we will pay immediately upon receipt.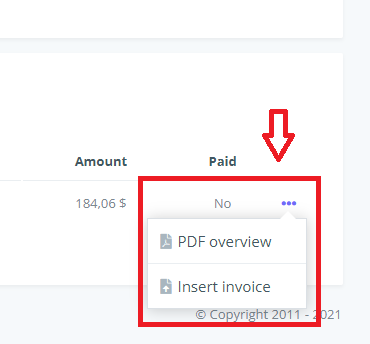 Conclusion
Please take the time to read our terms and conditions to ensure you understand our promoting rules.
If you have any questions about Marketing Miner's affiliate program, please contact our Affiliate Manager Tomas Novak at tomas@marketingminer.com and he will be happy to help.
We wish you good luck with all your affiliate marketing efforts! 🙂