Marketing Miner is an SEO tool for data-driven marketers with a user-friendly interface and bulk data analysis features to improve your rankings and track your performance.
Where should you begin? In this guide, we will walk you through the basics of getting set up with your new account. We will also introduce you to the core features of Marketing Miner and show you how they can help your business.
Table of contents:
How to create and set up a project
Analyze data in bulk and put together your first report
Collect data for your keyword research
Conduct Keyword research
Perform an SEO audit + free checklist
Link Building
Competitor Analysis
Find help and support
Overview of Marketing Miner
After signing up with Marketing Miner, you will immediately see this dashboard with the main three sections: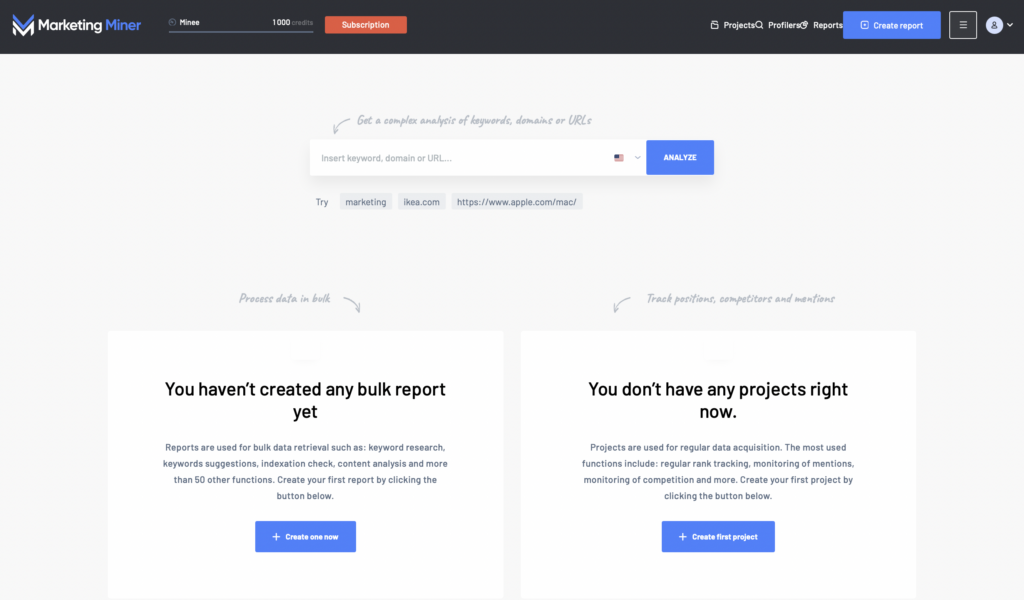 How to create and set up a project
Projects allow you to track and manage all aspects of a website's online visibility:
Rank tracking
Brand monitoring
Competitor rank tracking
Alerts
Backlink monitoring

To create a new Project, start by clicking on the blue New Project button.
Enter your domain and select the location for your campaign to track results specific to its country. Select the Next step to add all keywords you wish to track. Enter keywords one per line and decide how often you want to measure them (daily or weekly). Click on the Create Project button to set up your first Project.
Once you create a Project, you will be able to see your Project dashboard and work with other tools.
Rank Tracking
The Rank Tracking section lets you monitor a website's daily rankings for your target keywords. The SERP visibility graph is where you can see an overview of your domain's visibility for all keywords you're tracking. This can give you the full picture of how your site is performing in search results.
If you want to remove keywords from your Project, select the keywords with the checkboxes in the left column, click on Actions and choose the Delete keywords option from the menu.
To add keywords to your Project, simply click the blue Add Keywords button.

Competition
Your competitors can be managed easily in the Competition section where you can identify and compare their rankings. In addition, you can also analyze a Market share, a percentage metric that indicates how many keywords a website is showing up for in the top 10 search results.
You can compare up to 5 competitors at a time. To add, edit or remove competitors, click on the blue Competitors Settings button at the top right of the page.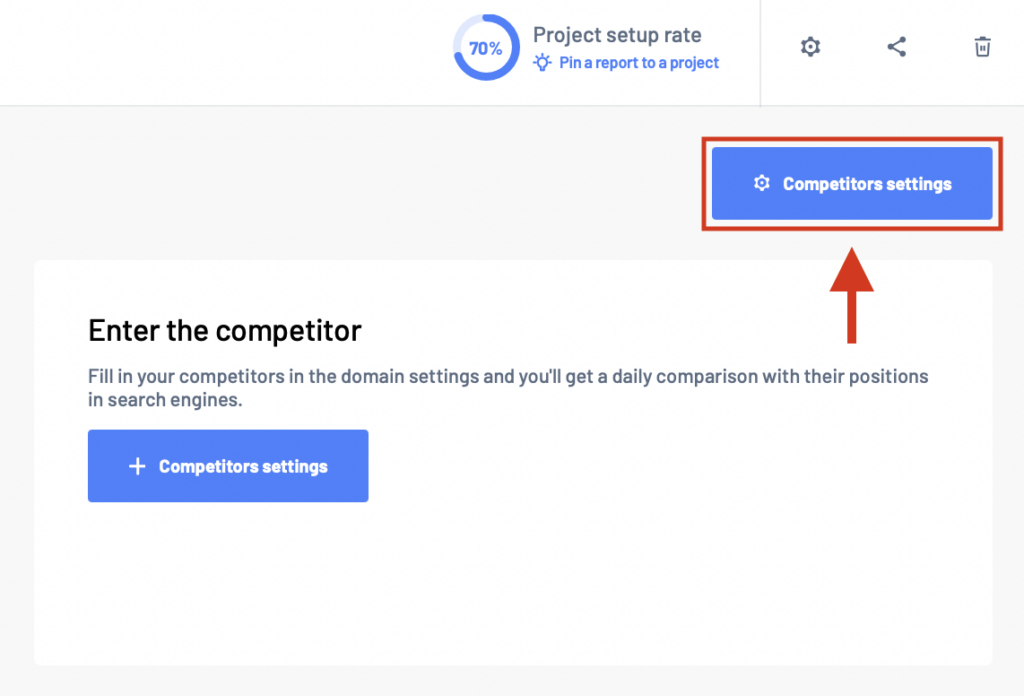 After the next data measurement, you will start seeing results.

The higher the number you see in the chart, the better results your website has!
Brand monitoring
In Marketing Miner, you can also monitor mentions of your brand to understand how it's perceived online and build new partnerships.
We recommend monitoring the following:
your brand
competitors
keywords and topics relevant to your niche

To set up brand monitoring, navigate to the Mentions Monitoring section and enter your keyword to track.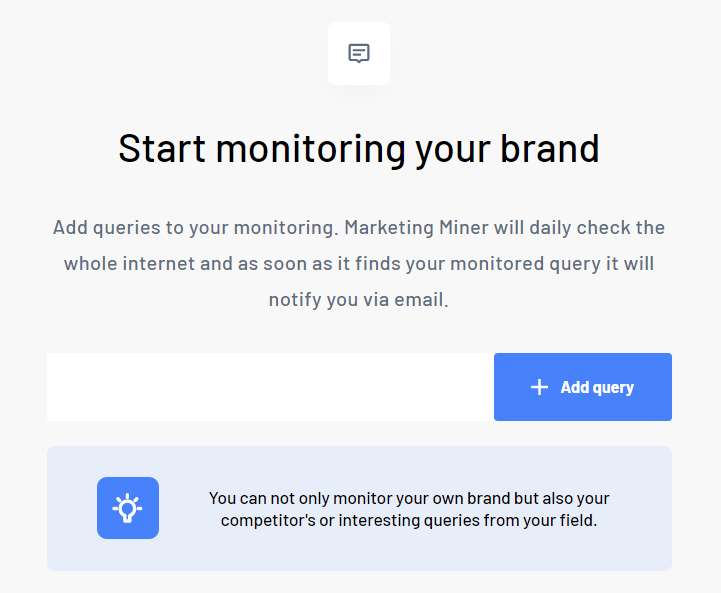 Once your first keyword is added, you will be able to start monitoring its mentions. You will get notified with every mention via email so you can respond at the right moment.
In this section, you can also find a visual graph to compare the trends of tracked keywords and other useful features. To add more keywords or edit your keyword list, click on the Brand monitoring settings button. In Settings, you can exclude domains from your brand monitoring reports too.
Backlinks monitoring
Our Backlinks monitoring will help you timely spot when one of your backlinks is lost or when we detect any changes. You can then quickly reach out to the linking domain and request a fix. Managing your link building campaigns has never been simpler!
Simply navigate to the Backlinks section and add all backlinks you wish to track. We will then notify you automatically via email about any changes.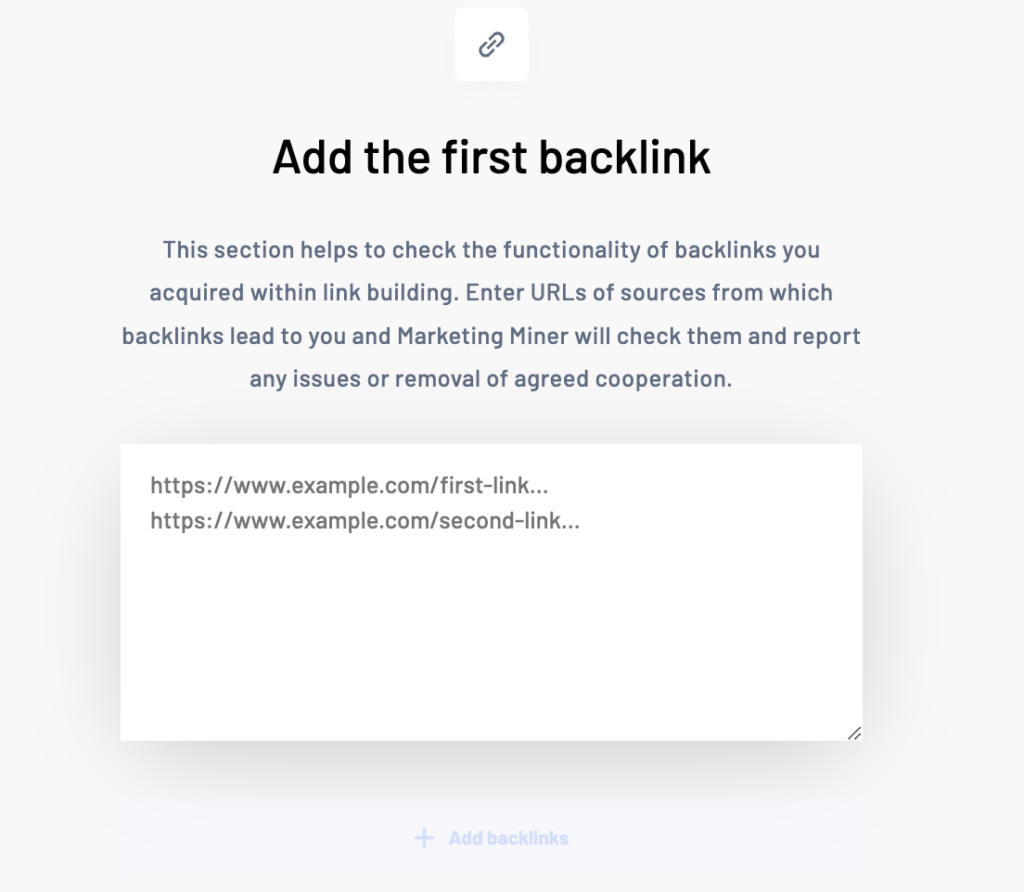 Marketing Miner TIP:
Upload all your existing backlinks to get notified whenever there's a change. Marketing Miner monitors data such as anchor tag, link's position on a page, estimated location, link status (follow vs nofollow), and more.
Expand your list with new backlinks as soon as you get them.
Monitor all changes and react to them timely.
Once you enter all your backlinks, refresh the page (Ctrl+F5, Cmd+Shift+R) to have access to the following dashboard: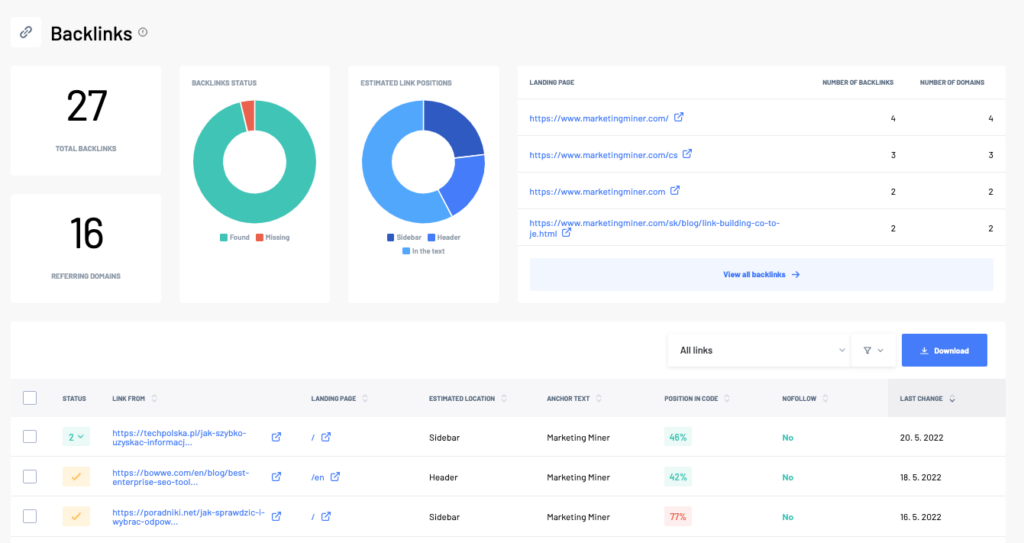 Whenever you get a new backlink, click on the Add Backlinks button to start monitoring them.
Marketing plan
If you love checklists, you will enjoy using our Marketing plan. It is more than just a marketing checklist, it's a perfect starting point for your SEO strategy. Not sure how to create a robots.txt or identify crawl waste on your website? Don't worry, we also provide lots of useful resources to walk you through the whole process.
Alerts
Apart from rank tracking, you can also monitor website changes to identify technical issues that could be affecting your rankings or user experience. In the Alerts section, navigate to the Alerts Settings section to enter all URLs you want to monitor. Then select what types of alerts you wish to receive.

Analyzing data in bulk and putting together your first report
Thanks to our cloud-based data mining tools, you can access your data whenever you need them. In the Reports section, you can scan up to 100,000 keywords, domains, or URLs in one go.
Simply upload your data set… and from there, you can leave all the hard work to us! We will notify you via email when the report is done.
Follow these 3 simple steps to create your first report
Start by clicking on the blue Create Report button at the top right corner a selecting what type of data you want to work with: Keyword, Domain, or URL. In the example below, we selected KEYWORDS.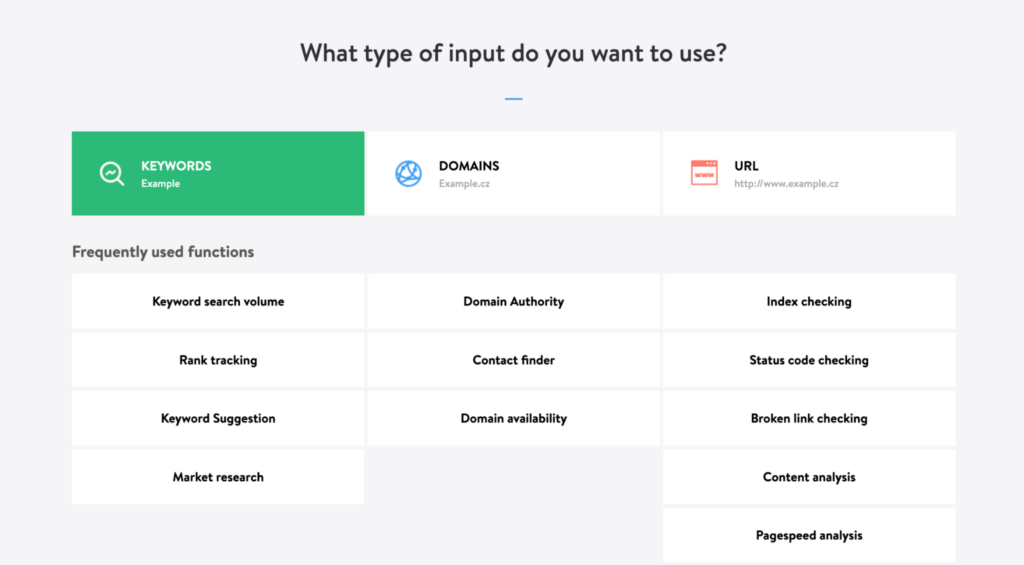 Now you can start adding keywords you want to analyze. When adding your keywords in batch, make sure you add one per row. Then set the country you want to get data for (we provide over 100 countries to choose from). Click on Next Step to continue.

Select miners, you want to use for your data set. For example, Search Volume, Keyword Suggestions, and Keyword Difficulty. Then click on the Get Data button to create your first report.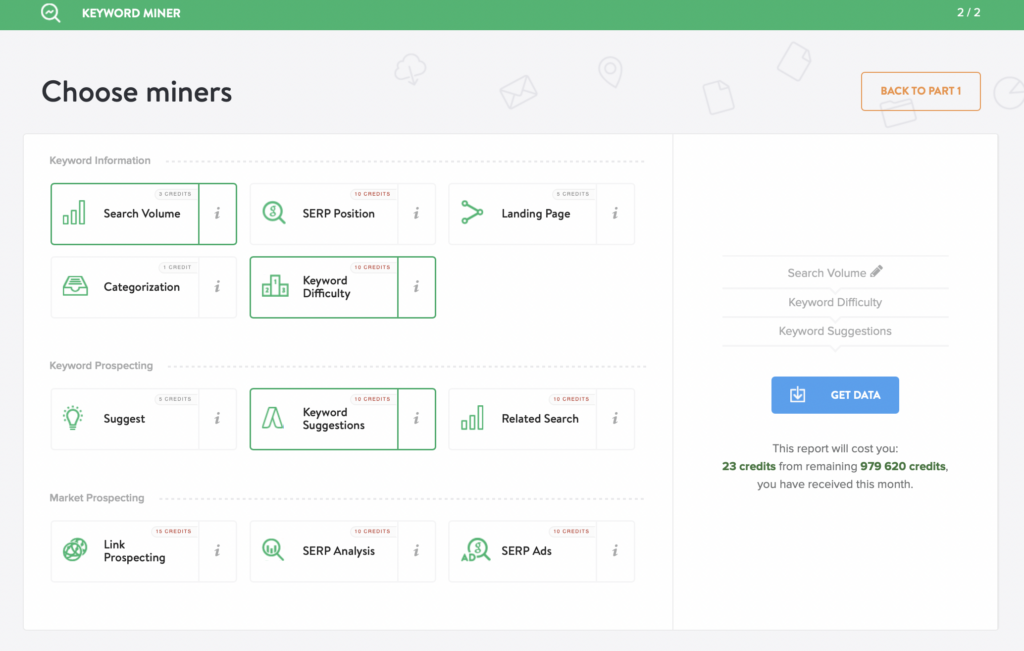 Our reports are usually processed within a few minutes (it depends on the size of your data set) and we will notify you via email when they are ready. When a report is completed, you'll finally see the report dashboard with all valuable insights and data visualization. By clicking on the Export button, you can:
Download the report in Excel format
Export it to Data Studio
Export report into Google Sheets
Collect data for your keyword research
Keyword profiler
Keyword Profiler is one of the most popular features in Marketing Miner. After entering your keywords into the Profiler, you'll find the following insights:
At the moment, you can analyze keyword data from 5 different regions: US, UK, CZ, PL, and SK.
If you want to get keyword search volume for different regions or analyze them in bulk, use the Search Volume miner in the Reports.
Website profiler
Similar to Keyword Profiler, you can use Website Profiler to quickly get an overview of any website's online presence in organic, paid, and 9 different SERP features in search results. You can analyze domains, subdomains, or specific URLs (often used for spying on competitors or discovering new link building opportunities) to get the following data: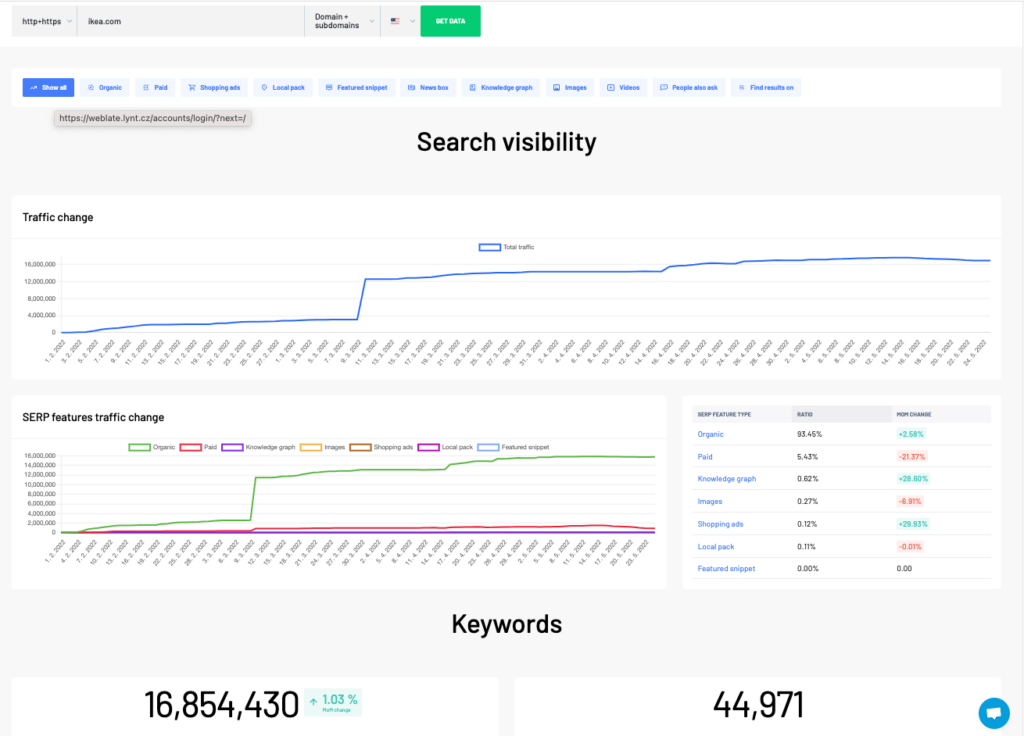 By clicking on the blue Export Data button, you will download all data from the table in a CSV format to work with them further in Excel.
Conduct Keyword research
Marketing Miner provides users with a lot of tools and reports to carry out in-depth keyword research. You will mainly use Profilers for a quick data overview and Reports for analyzing data in bulk.
What are the steps to take in MM when conducting keyword research?
Use Keyword profiler to discover search volume and new keyword suggestions
Enter your list of keywords to Reports and select the following miners:  SERP Position, Landing Page, Categorization, Keyword Difficulty 
Use Website profiler to do a content gap analysis
Perform an SEO audit + free checklist
An SEO audit is an integral part of every website's success. It's also often one of the first steps (together with the keyword research) that SEO specialists take when working on new web projects.
In short, it's a review of technical and content website elements. An SEO analysis focuses on identifying issues causing a block to organic visibility and suggesting fixes for them.
To carry out an SEO audit in Marketing Miner, navigate to the URL miner section in Reports and create your first report. 
Click on the Import from URL button to upload your sitemap. For example, we would enter the following URL https://www.marketingminer.com/sitemap.xml and click Upload to not have to manually enter all unique URLs on our site. Now, select the country you want to get data from and choose the following miners in the next step (you can, of course, choose different tools if you need to analyze other metrics):
Click on the Get Data button to complete your report.
Link building
Link building is one of the most weighted factors that search engines use to determine your website's ranking. Links are a signal to search engines that your site is a quality source of information. This activity is one of the off-page SEO factors referring to actions taken outside of your website.
Marketing Miner can also help you with the following link building activities:
Competitor Analysis
Our competitor analysis tools will help you track, analyze, and learn from your competitors' strategies.
Find help and support
We also offer a number of useful resources to walk you through our tool and help you get started with Marketing Miner.
Choose a plan
Marketing Miner offers several plan options to meet your needs. See our pricing plans for more details.
Request a demo
If you ever have any questions about our tool, just reach out and ask.
Book a 20-minute demo call with our team to see Marketing Miner in action! We will take you through our key features and show how Marketing Miner can improve your SEO strategy and boost rankings.