Marketing Miner is a complex tool that takes time to learn and master. Our platform provides tools not only for SEO and PPC specialists, but also for link builders and copywriters. There are many different ways to use this tool as each user needs different types of data.
In this guide we take you step by step through the process of how to work with different types of data and how to measure your digital marketing success by using Marketing Miner.
We will take you through the stages of setting up MM in these five different areas:
Projects  – tracking data regularly 
Keywords analysis – keyword miners
SEO Audit – URL miners
Keyword suggestions – keyword profiler 
Competitor analysis – website profiler
After signing up or logging in to Marketing Miner, you will be redirected to this dashboard: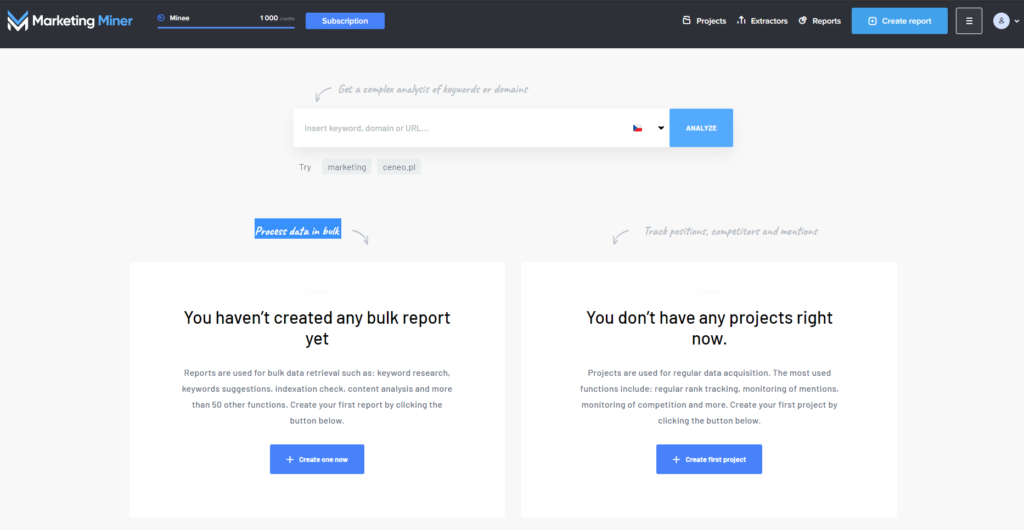 Creating report
In the Projects section in Marketing Miner, you can track keyword ranking in search engines, monitor brand mentions, check alerts or backlinks status.
While Marketing Miner reports have to be created repeatedly based on what input data you have, you only create your project once and then just keep monitoring all data.
For this reason, creating a project should be the first step when you start with Marketing Miner. To do so, click on the New project button in the right top corner. And now you can create a new project by clicking on Create new in the project section.
Once your project is created, you will have to wait a few minutes (it usually takes about 3-5 minutes) to get access to all data and view the project dashboard with advanced settings.
Monitoring search engine rankings (rank tracking)
Monitoring rankings regularly is useful especially when you want to keep an eye on certain keywords every day or track project's progress for different time periods.
When setting up a project, you can add 3 keywords (or 10 keywords for weekly checks) that will be updated immediately after a few minutes. If you set up daily tracking, you will be able to see all updates together with a new SERP Visibility chart next morning.
The rank tracking section should look something like this (for the start, you will have less data available):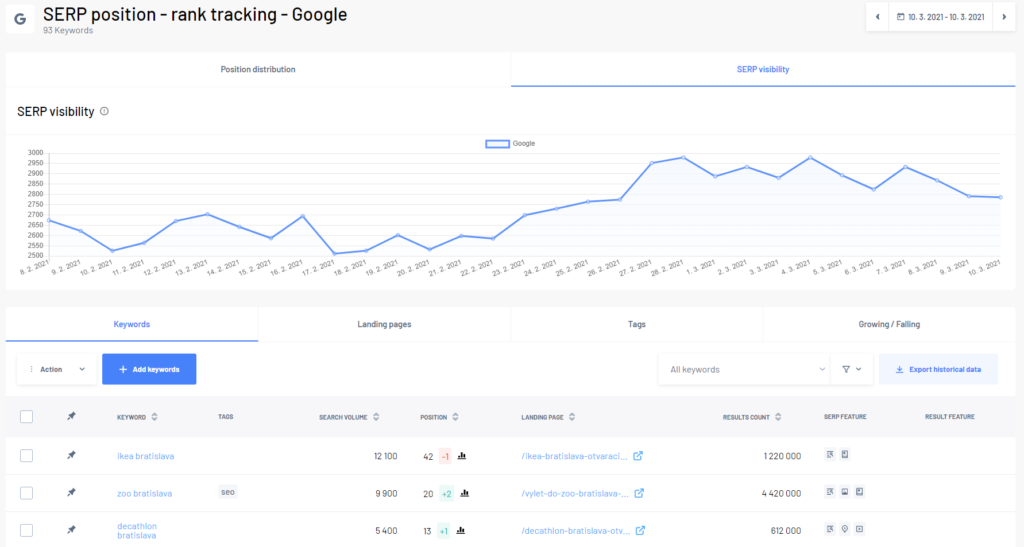 If you want to monitor more than 3 keywords daily, we recommend you looking at Marketing Miner pricing guide: https://www.marketingminer.com/en/pricing. With a Custom plan for 12 €, you can track up to 200 keywords daily or 1000 weekly for one project (one domain).

Competitors
In the Competition section, you can analyze and compare search rankings of your competitors. This section also includes a Market Share (a percentage metric that gives insight into how many many keywords the website shows up for in the top 10 search results).
In the left menut, go to the Competition section and then click on the Competition settings button to list all competitor domains you would like to track (you can monitor up to 5 competitors).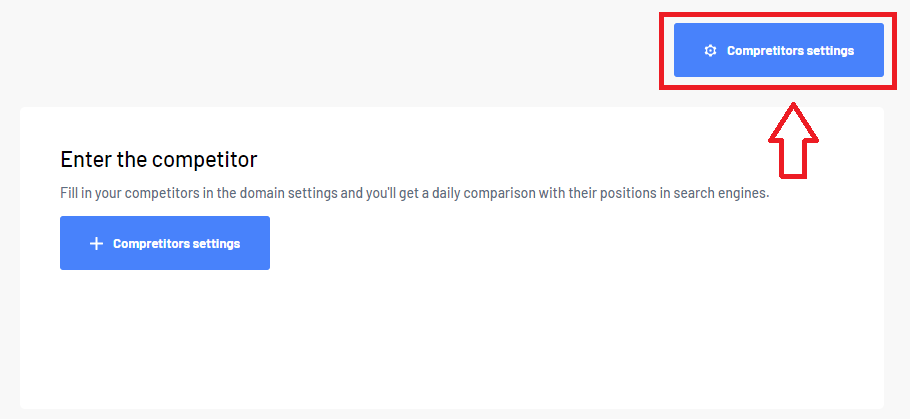 Next day, you will be able to see all your competitors data together with the Market Share chart.
Here's an example report:

The higher the number, the better results! 🙂
Mentions monitoring
Marketing Miner can monitor mentions of your brand, competitors or specific keywords based on the data available across websites (where people talk about them).
We recommend monitor the following mentions:
Mentions of your brand
Mentions of your competitors
Mentions of keywords or phrases that are relevant to your business
After setting up your mention alerts, go to the Mention Monitoring section to enter your first keyword that you want to monitor.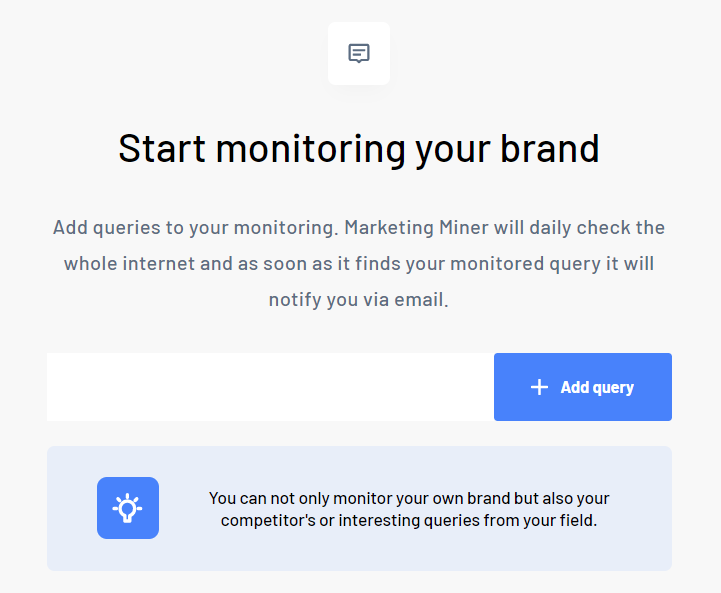 Marketing Miner starts monitoring your mentions right when you upload them. You will receive an alert email (if your notifications are turned on) every time when your term is mentioned somewhere or you can also view them in your dashboard.
After adding more keywords, navigate to the right menu and click the Monitoring settings button to add more keywords.
Keywords analysis – Keyword miners
Keyword research is one of Marketing Miner functions that collects lots of data and makes your life easier. It is one of the most powerful methods in digital marketing on so many levels. This collected data is essential mostly for all SEO and PPC specialists, but also for other experts that wouldn't do a proper job without having this knowledge.
A core part of keyword research is a document containing detailed information about user queries that are related to a client that you are working on. These queries should also include metrics that are categorized.
In Marketing Miner, you can carry out keyword research thanks to using Reports that analyze data in bulk.
Creating Reports in Marketing Miner is simple:
In the top menu, click on the Create Report button and select Keywords.
Add all keywords that are important to your business (one keyword per line). In the next step, select the market you would like to target (you can choose from more than 160 countries) and click on the Next step button.
Now it's time to select miners that will be useful for your keyword research. We recommend you to use the following: (Search Volume, SERP Position, Landing Page, Categorization, SERP Competition, Suggest, SERP Ads, and Related Search.). Then click on the Get Data button and Marketing Miner will do all the hard work for you!
After a few minutes, you should be able to find the completed report with all information (you will also receive an email alert). Now you can also view the report dashboard and download the report as a spreadsheet in Excel format or import it to Data Studio.
With a free Minee plan, you can only analyze maximum 5 keywords. If you want to change the limit, take a look at our pricing plan and select the Custom plan, where you can set how many keywords you would like to work with by changing the number of credits (the more credits the more keywords you can add).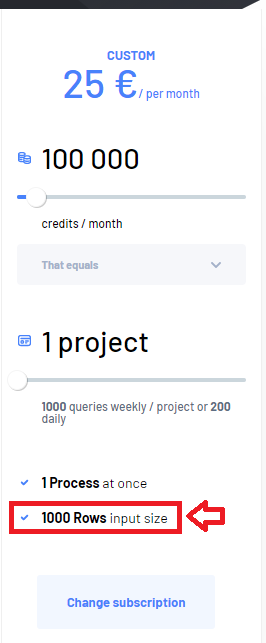 For example, the Custom plan with 100 000 credits costs 25 € that allows you to work with 1000 rows of data (keywords, domains or links) at the same time.
SEO Audit – URL miners
SEO audit is one of the most important aspects for a successful website. It's also one of the first steps (together with keyword research) that SEOs complete when working on new projects.
During an SEO audit, you need to analyze technical and content aspects of your website, identify issues that lead to its poor performance and suggest how to fix them.
For SEO Audits, you can use the Reports section in Marketing Miner and our URL miners. Just click on the Create report button and select URL.
Then go to the Import from URL tab to upload your sitemap (for example,
https://www.marketingminer.com/sitemap.xml) and click Upload. This will save you a lot of time by not having to upload all website links manually. Marketing Miner will simple download all links from your sitemap directly.
Don't forget to select the market (location) and choose what miners you would like to work with to complete your SEO audit. Everyone prefers to work with different tools, but we recommend using these at the beginning: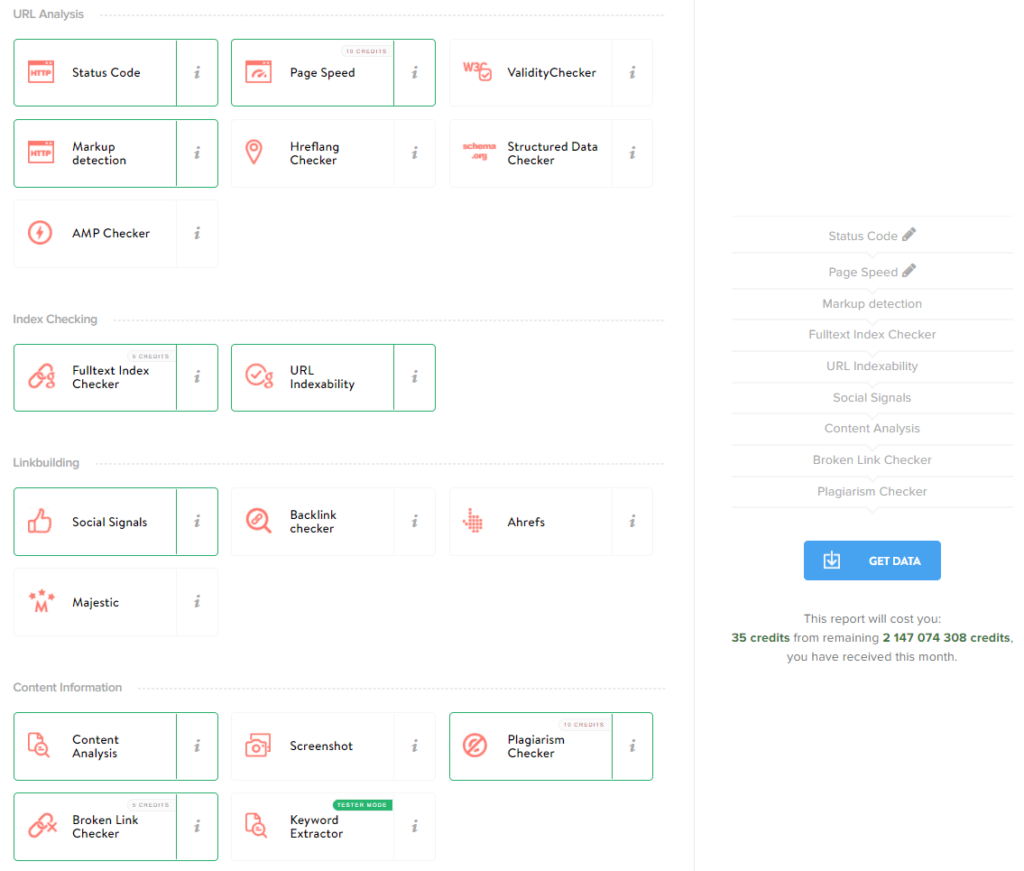 After selecting all miners, just click on the Get data button and MM will start working on your report. Within the next few minutes you will receive an email with the report that you can export to Excel format.
Getting keyword suggestions – keyword profiler
Keyword profiler is one of the most popular features (for copywriters, SEO and PPC specialists) in Marketing Miner.
After adding keywords to Keyword profiler, you collect information such as:
Keyword search volume
CPC (cost per click)
Searching trends
Keyword suggestions (relevant keywords)
… and if available, you can also find a preview of search results on Google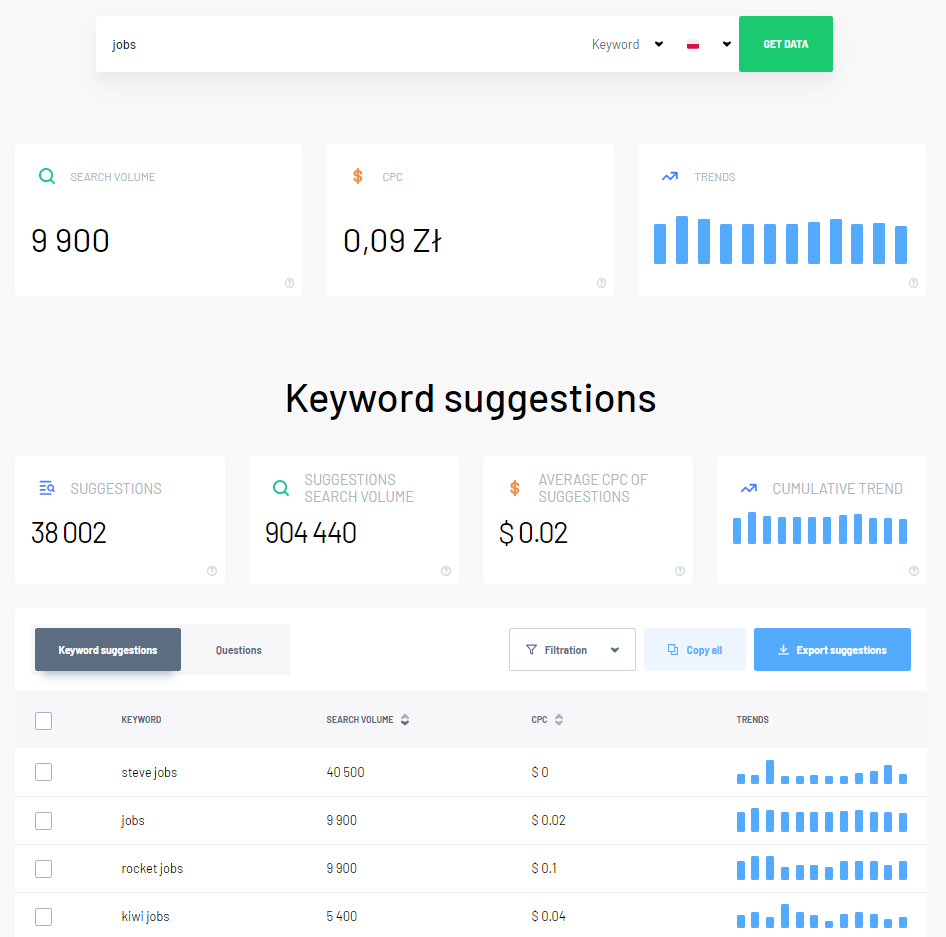 Keyword profiler is a perfect choice when you need to quickly find detailed information about specific keywords (only if there's not too many of them, in this instance we recommend you using miners in the Reports section).
Navigate to the main Marketing Miner dashboard https://www.marketingminer.com/en, enter the keyword that you want to get data for, select market and click on the Get data tab.
At the moment, our Keyword profiler can be used for SK, CZ and PL markets only. If you want to learn detailed keyword information for other locations (or if you want to find out search volume for thousands of keywords in bulk), visit the Reports section instead: https://help.marketingminer.com/en/article/keyword-search-volume/.
Competitor analysis – website profiler 
Website profiler, similarly to Keyword profiler, quickly analyzes any domain or URL (often used for the competitor analysis). 
This tool can mine lots of data about different domains, their current presence in the search engines, advertising, traffic and many more. It's a great tool for a quick domain overview or carrying out content gap analysis.
If you want to start using Website profiler, navigate to the MM homepage https://www.marketingminer.com/en and enter the domain you would like to analyze (for example, your competitor's website: amazon.com) 
In the next step, go to the Search visibility section, where you can view all keywords that the website ranks for in organic search results.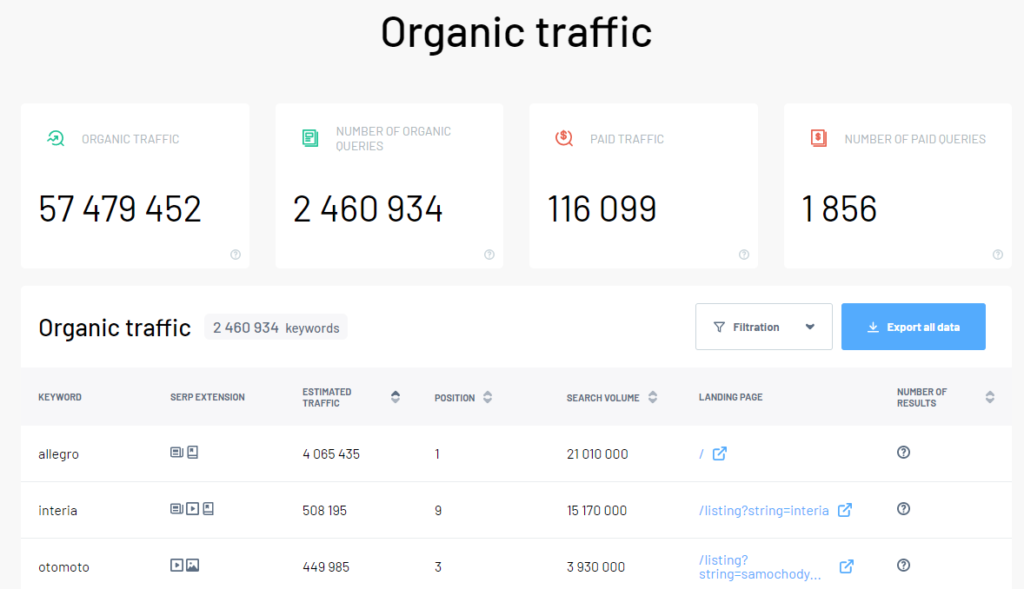 Click the Export all data button to download your keyword details (together with all metrics) in Excel format.
Conclusion
All of the functions listed above are the most popular features of Marketing Miner. And we hope you will love them too! Here are more resources to help you understand how to use our tool:
We hope you found this guide useful and that you now understand better how Marketing Miner works and how you can use it for your projects.
Contact us
If you are not sure about how to use Marketing Miner, feel free to contact us. We will be happy to walk you through the tool and help you discover ways of how Marketing Miner can help your business.