Links are an essential part of SEO. Without links, the web is not really connected at all. But if they are not working, they can be harmful to both – your rankings and user experience. Checking that all internal and external links on your site point to the existing page should be part of your SEO routine.
However, broken links are often not created intentionally. Anyone can make a typo when writing a URL, or the page you're referring to may no longer exist, and the user is not redirected to a page that does exist. In this case, both the user and the search engine do not end up on the page they were looking for, which can be quite frustrating.
When to use Broken Link Checker
As mentioned above, this miner is primarily used to check for broken links on a given URL. You will use it:
To see if all of your links are referring to the existing page or not.
For broken link building. This method involves getting links from a page that points to non-existent content that could be replaced by your content.
How to find broken links in bulk
In Marketing Miner, identifying all broken links on your website is super easy. Start by clicking the Create report button and selecting Broken Link Checker.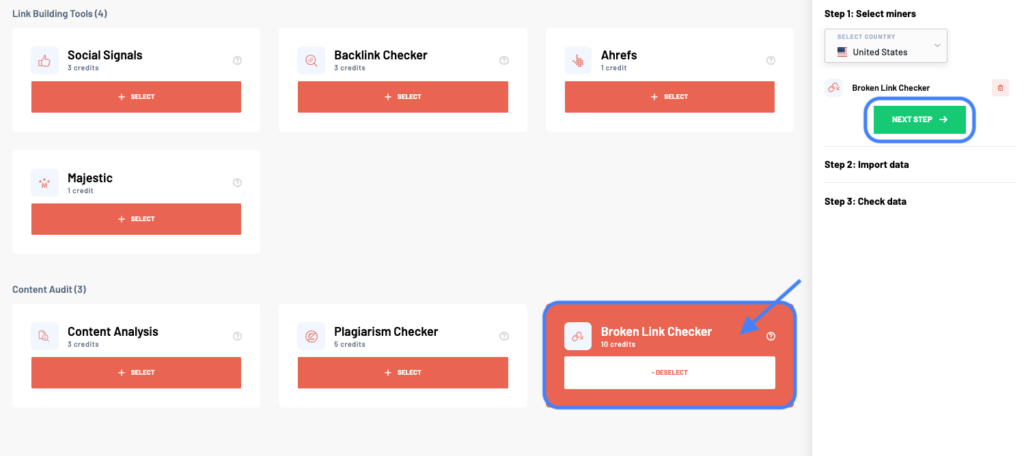 In the next step, enter a list of URLs you want to analyze in bulk. There are several ways to do this. You can either enter the list manually, upload it from a file, or import your data from Google Analytics, Search Console, and Google Sheets.
You can easily use this tool to analyze all the URLs stored in your sitemap too. Just select the Import Data from URL option and enter your sitemap URL to upload it.

Then click on the Import Data button to check your data before analyzing. If you work with a large number of URLs, we will notify you via email when your report is ready.
You can also watch this short video tutorial where we walk you through all the steps in more detail.
Broken Link Checker report example
Report columns
Input: Analyzed URL.
Destination: The URL that the link refers to.
Status code: The status code of URL you are referring to. Broken links are most often links that point to the URL with status code 404. See the status code guide to learn other status codes that may occur.
Anchor: The text that links to the referring page.
Type: The type of link. Internal links are placed within your site, and external links point to external pages outside your site.
Report data
Now you should fix any broken links. In case of internal links, you can either remove the link or change it to the URL with existing content. If you also found some broken pages, we recommend that you redirect them to the appropriate URL.
If you found broken links on an external site, try to contact the site and get a link back to your site. Of course, only in case you have compensation for this non-existing content. Read more about the broken building link on Ahrefs blog.