Part of SEO routine activities should also be checking if all internal and external links on your site are referring to the existing page. If not, search engines and users might consider your site as a less credible source.
However, broken links are often not created on purpose. Anyone can make a typo when writing an URL, or the page you're referring to doesn't exist anymore, and it was not redirected to an existing page. In this case, the user and the search engine do not land on the page they wanted, which can be quite frustrating.
In practice
As noted earlier, this Miner serves primarily to check broken links on a specific URL. You will use it:
To see if all of your links are referring to the existing page or not.
For the broken link building. This method involves getting links from a page that refers to non-existing content which could be replaced by your content.
Import data
Get started by clicking on Create report button and specifying URLs at the input. Then write or copy the dataset of the URLs for which you want to check the broken links.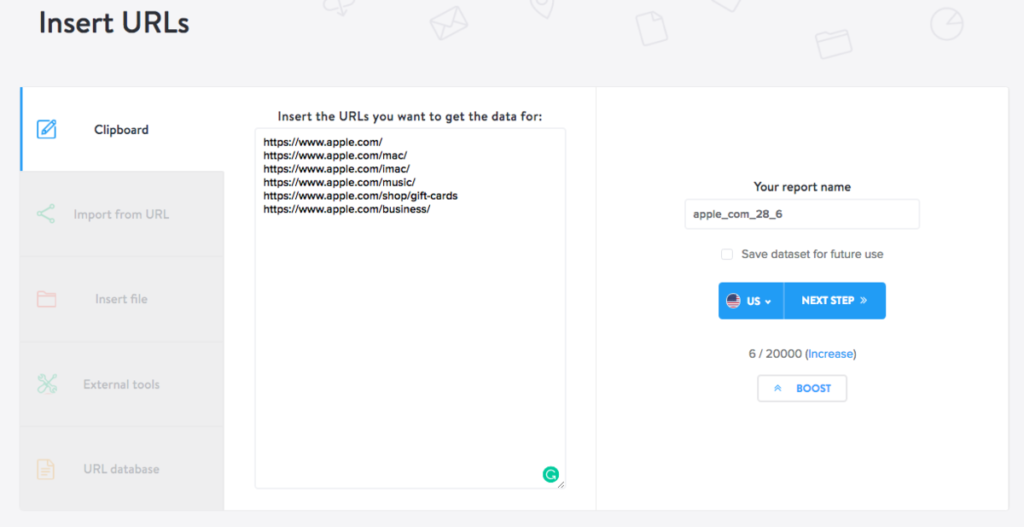 If you need to analyze all pages on the web and have a sitemap available, you can insert its link into the tool. To do so, click on the Import From URL section in the left sidebar.
For a report to be easily identifiable, it is good to name it. Simply click into Your Report Name field.
Then click on the flag to select the country for which you want to get the data and finish by clicking on Next Step.
Selection of the Miner
In the Content information section, click on Miner Broken link checker. Nothing else needs to be set. Click on Get Data to start processing your inputs. Once the report is complete, the processed data will be sent to you by email.

Output example
Column description
Input: The URL you entered at the input.
Destination: The URL that the link referrs to.
Status code: The status code of URL you are referring to. Broken links are mostly links referring to the URL with status code 404. See guide about status codes for other status codes that may occur.
Anchor: The text that links to the referring page.
Type: Type of link. Internal links are placed within your site, and external links are referring to external pages, outside of your site.
Output analysis
You should correct all broken links. In case of internal links you can either remove the link or change it to the URL with existing content. If you also found some error pages, we recommend you to redirect them to the relevant URL.
If you found broken links on an external site, try to reach out to the site and try to get a link to your site. Of course, only in case, you have compensation for this non-existing content. You can read more about the broken building link on Ahrefs blog.