If you're used to getting keyword ideas from Keyword Planner, you probably know that it gives you up to 800 suggestions for one keyword. And if you want to process a bigger volume of keywords, it is not possible. This problem might solve Miner Keyword Suggestions, which will get you suggestions in bulk for all the keywords you want. You can use it instead of getting suggestions for each keyword individually in AdWords (now Google Ads).
In practice
You will use this Miner when creating keyword analysis. Keyword Suggestions from Google Keyword Planner and other advertising systems are one of the primary ways to gather as much data as possible.
Import data
Get started by clicking on Create report button and specifying Keywords at the input. Then write or copy the dataset of the keywords for which you want to get suggestions from AdWords or another advertising system.
This miner will suggest a maximum of 800 search query suggestions from each ad system for the first 1,000 keywords entered. If you enter more than 1000 words for input to this miner, it will return a maximum of 100 words (output size limit) from each ad system, to each entered keyword.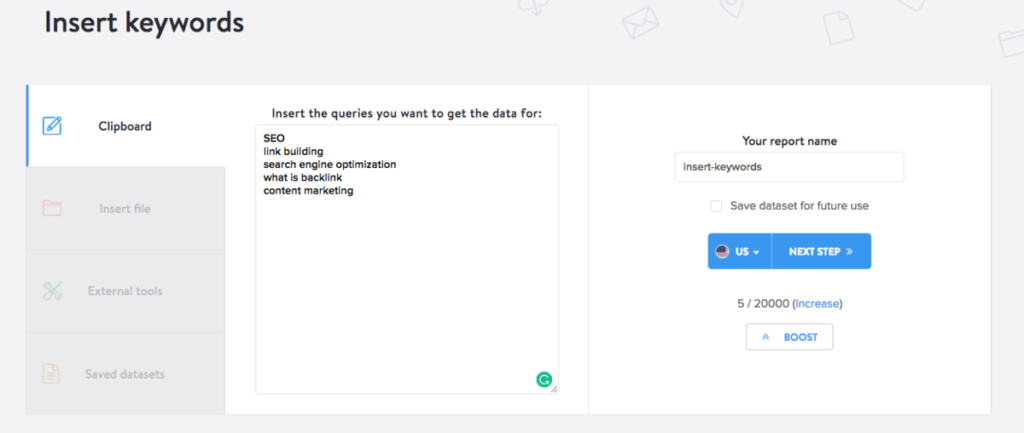 For a report to be easily identifiable, it is good to name it. Simply click into Your Report Name field.
Then click on the flag to select the country for which you want to get the data and finish by clicking on Next Step.
Selection of the Miner
In the Keyword prospecting section, click on Miner AdWords Suggest. Nothing else needs to be set. Click on Get Data to start processing your inputs.

Output example
Column description
Input: The keyword you entered in the input.
Keyword: Keyword suggestion based on the keyword you entered in the input.
CPC: Estimated bid for the click on the ad with a suggested keyword.
Competition: Keyword competitiveness. Read more about it here.
Search Volume: The average monthly search volume in the search engine. The number is calculated as the average number over the last 12 months.
Source: The advertising system/tool from which Marketing Miner gather suggestions. For some countries, it's not just about AdWords.
[Month]: Volume search for the keyword for a given month (may be useful when you want to determine trends).
Output analysis
Now, you can use these keyword suggestions for your keyword analysis.