Google Keyword Planner is a keyword research tool mainly for advertisers. But you can also use it to find keywords for SEO.
If you have worked with Keyword Planner you probably know that it only gives you up to 800 suggestions per keyword. And if you want to work with a larger number of keywords, it is not possible to do so. This issue can be solved by Keyword Suggestions miner, which gives you bulk suggestions for all desired keywords. You can use it instead of getting suggestions for each keyword separately in Google Ads. It will save you a lot of time and help you automate your work.
How to find new keyword suggestions in bulk
To get a large list of keyword suggestions, all you have to do is Create report, select Keyword Suggestions and a country from the list of available options.

Now click the Next Step to enter the keywords you want to get suggestions for.
There are several ways to do this. You can either enter the list manually, upload it from a file or spreadsheet, or import your data from Google Search Console or Google Sheets.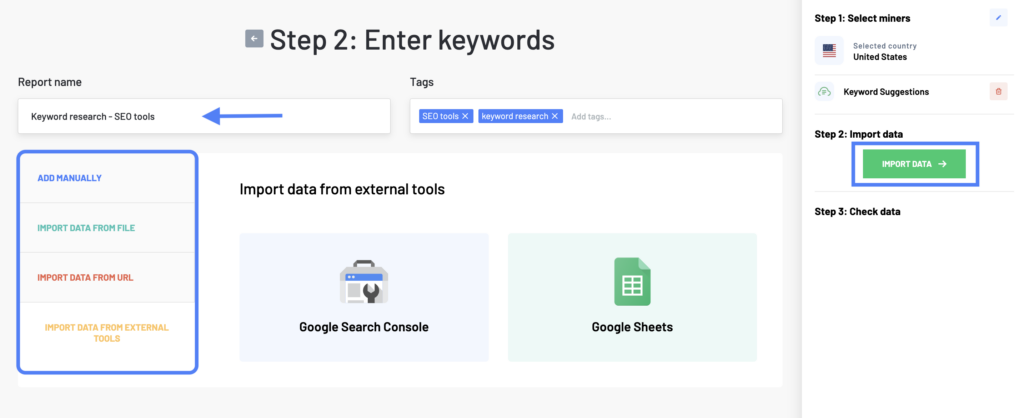 This miner will return a maximum of 800 query suggestions from each ad system for the first 1,000 keywords entered. If you enter more than 1,000 words into this miner, it will return a maximum of 100 words (report size limit) from each ad system for each keyword entered.
Keyword Suggestions report example
Report columns
Input: Your entered keywords.
Keyword: Suggested keywords based on the keyword you've entered.
CPC: Estimated amount you pay for each click on one of your PPC ads on platforms like Google Ads.
Competition: Keyword competitiveness. Read more about it here.
Search Volume: The average monthly search volume in the search engine. The number is calculated as the average of the last 12 months.
Source: The advertising system/tool from which Marketing Miner gathers suggestions. For some countries, there are more tools than Google Ads.
[Month]: Keyword search volume for a given month (useful if you want to see trends).
Report data
This tool can be your unlimited stream of keywords for your marketing strategy. You can also combine it with other keyword suggestion tools to use more sources for your research.