Wondering whether you have way too many identical or similar keywords spread throughout the content on your website to avoid keyword cannibalization? For this reason we developed the Cannibalization feature in the Website profilers section to find this information in one click. 
Try Marketing Miner now:
What is keyword cannibalization?
Keyword cannibalization means that you have two or more pages on your website that unintentionally compete for the same keyword.
What can you analyze with Website Profilers?
You can currently choose from four options to work with:
URL – to insert the exact URL of a page you want to get information about (for example: https://www.marketingminer.com/en/blog)
Prefix – by adding the URL prefix (for example: https://www.marketingminer.com/en/blog), you will get information about all subpages that are connected to this URL (https://www.marketingminer.com/en/blog/big-profiler-update.html)
Domain – in this case, you want to insert a domain or subdomain (for example: www.ceneo.pl) to get all information about the particular domain or subdomain.
Domain + subdomain – if you add a link to your domain (for example: ceneo.pl), then you will collect information about the whole website and its all subdomains (so for example the data for: ekspert.ceneo.pl too).
Cannibalization section
We recommend checking keyword cannibalization for all pages of your domain. However, in the example below we analyzed data only for a specific website section.
We added a URL https://www.ceneo.pl/Moda to analyze the Moda section. To examine all pages from this category, we also need to select the Prefix URL as input data type.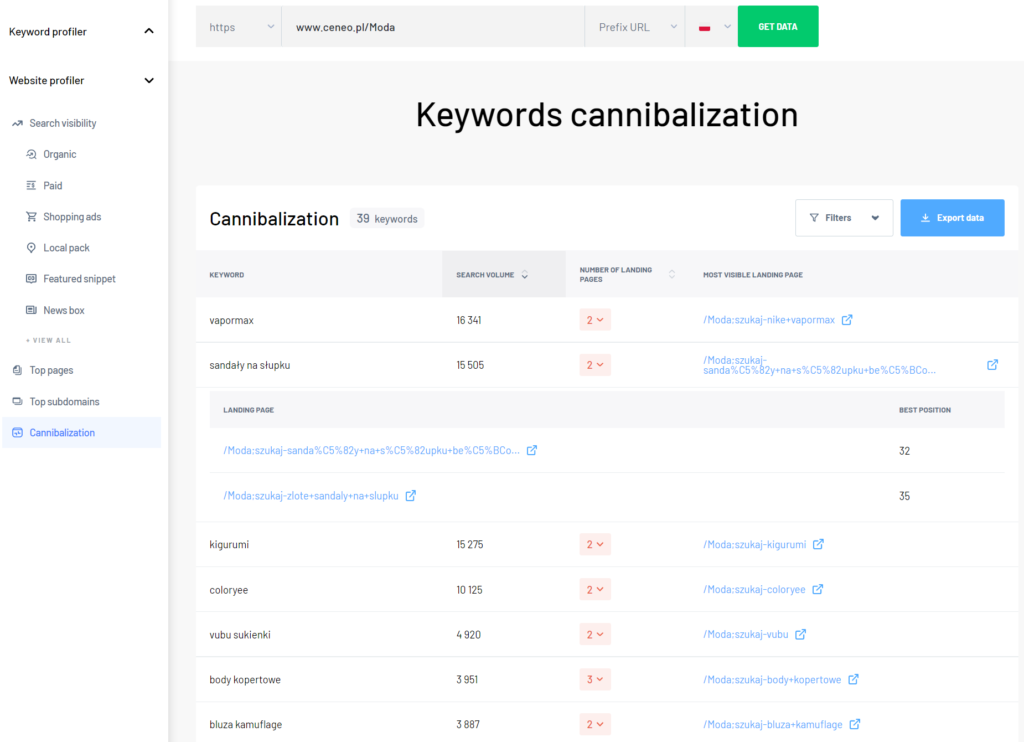 After you click on the Get data button, you will see keyword cannibalization data of those pages that rank for the given keyword.
Cannibalization table
INFO
: With a free Minee account, you can only view the top 10 results of keyword cannibalization. If you want to view all results, you will need to
upgrade your plan
.
After analyzing the website, you will find a table with the following information:
Keyword – a keyword that is causing the cannibalization issue.
Search volume – how many times a keyword is searched per month on average (during the previous 12-month period).
Number of landing pages – how many pages are targeting the same query. After clicking on the number, you will see two more columns:

Landing page – landing page of your targeted keyword
Top position – top ranking position of the page

Most visible landing page – a page that appeared in the top position for the given keyword. It's also the most authoritative page on the site for this topic.
Filters
In the top right corner of the table with keyword cannibalization, you can set up keyword filters for the following:
Search volume (more than, less than, between)
Exporting cannibalization data
You can download all keywords, that are causing the cannibalization issue, by clicking on the Export selected data button to work with them further in the Excel spreadsheet. The report charges 5 credits per keyword to download.
INFO: Price per exported keyword = 5 credits. 
What data does Keyword profiler work with?
Website profiler uses data from Marketing Miner's internal database that gathers information from the click-stream (third party data about user behavior) and Google search results of frequent queries for each market.
What to do with the keyword cannibalization report next?
You can use the keyword cannibalization data for the following:
Eliminating keyword cannibalization – analyze all keywords and landing pages to find out whether the keyword cannibalization is a problem for your website or not. You can eliminate this issue by merging pages, improving the internal linking structure (to build the authority of your page), or implementing the canonical tag.
Identifying relevant landing pages – take a look at which landing page is the most relevant for the given keyword (which has the highest page rank). Is this a page you want to rank for the keyword? If not, improve your internal linking structure to let the search engine know what page is more relevant to the topic.