You probably often face the situation when you need to get detailed information on some domains quickly (not on thousands for which you would use miners in Reports section). That's when Domain profiler.

This tool profiles detailed information about domains, their occurrence in search engines, advertisements, web traffic and many more. It serves mainly for a quick overview of the domain or for creating content gap analysis.
What data does it provide
Domain profiler pulls data from Marketing Miner's internal database which cumulates information from click-stream data (third party data on user behaviour) and Google search results for most searched keywords each month. Data in profilers are updated in the first week of each month.
Each month this database is recovered and currently we update Google search results on a monthly basis in the following estimated volumes:
Czech Republic: approx. 2 Mill. queries with search volume
Slovakia: approx. 1 Mill. queries with search volume
Poland: approx. 8 Mill. queries with search volume
Domain profiling and its history is based on these data.
Domain profiler section and its description
Below you will find a description of respective Domain profiler sections:
Web traffic
Web traffic estimates in Marketing Miner are taken from Alexa tool. TIt uses its own metric called Alexa Rank for evaluating domain traffic. This metric determines the global rank of the web in regards of traffic and thanks to that (and its development) the specific web traffic can be estimated.
The traffic estimates can sometimes be way off, but since Alexa has a similar number of panellists (followed users) in similar fields, it's probable that if it shows distorted estimates for one thematic web then data for another web about the same theme will have similarly distorted data.
It's highly recommended to take a look at your own web for which you have detailed information. Compare your web traffic estimate from Alexa rank and according to that you can estimate the real traffic of your competitors.
Alexa also provides basic information on user behaviour on the web which you can find in boxes under the traffic chart in Marketing Miner. These are as follows:
Average session duration on the web: Average session time the users spend on the entered domain.
Bounce rate: Percentage of users who enter the website but don't visit any other page and then leave.
Number of pages/session: Average number of viewed pages per one session.
The most important countries: The most important countries from which traffic comes to the domain.
Gaps in keywords: List of most important keywords which take users to the competition's domains but don't visit this web.
Visibility in search engines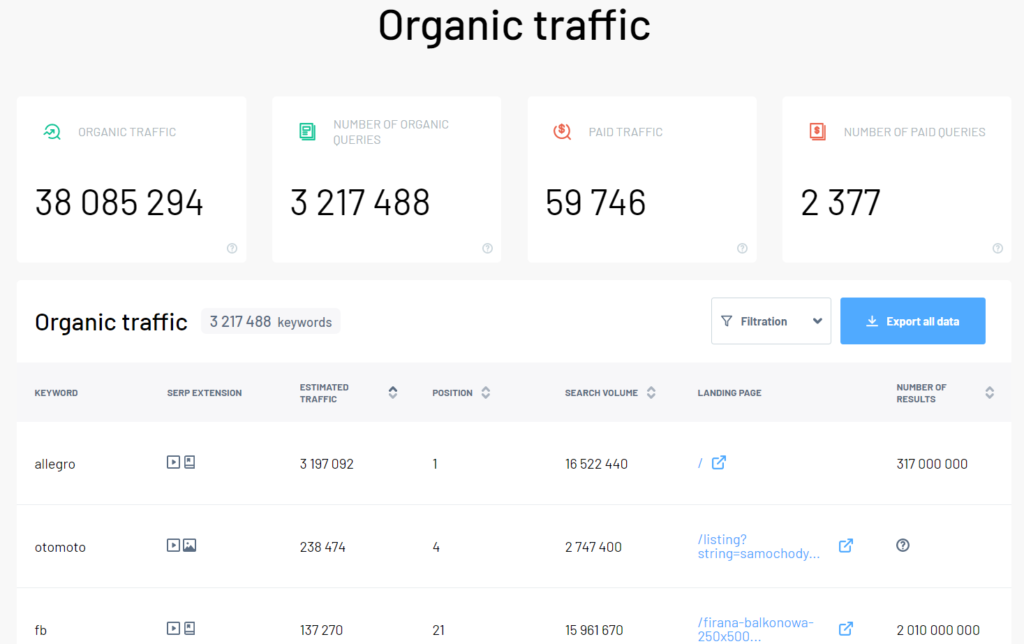 Marketing Miner goes through a large volume of keywords with search volume each month and stores them into the database. In the Visibility in search engines section you can find a list of keywords for which the domain shows in the first 100 search results or adverts (ordered by estimated benefit to web traffic from the query).
This section is divided in two subsections:
Organic web traffic: Keywords for which the domain was found among the organic search results.
Paid traffic: Keywords for which adverts were found for the entered domain.
Each table contains the following information:
Keyword: Keyword related to the given statistics.
SERP features: Search results features. You can find the list here.
Estimated traffic: Estimated domain traffic which is brought by the position of the keyword (it's calculated based on the estimated CTR and keyword search volume).
Position: Position at which the domain was found.
Search volume: Monthly keyword search volume in Google search engine.
Landing page: Found landing page of the domain in search results.
Number of search results: Number of search results in Google search engine.
You can then download the keywords by clicking the Download all data button and analyse them further in Excel.
Data from search results can be then used mostly for creating the so-called Content gap analysis which estimates for which queries does the competition rank for but the user domain doesn't. Other options are: analysis of the most important content that brings traffic from searches (own domain or competitor's), query analysis for which the competition advertises, keyword analysis and keyword identification with specific feature in search results.
Link profile
Marketing Miner pulls data for the link profile from Ahrefs tool, which has probably the biggest link database in the world. From this source we show the basic information on the link profile of the web such as the following:
Number of linking domains: Number of individual domains that link to the entered domain.
Number of links: Number of backlinks linking to the domain (we recommend using rather the metric of the Number of linking domains and consider this metric as more or less informative only).
Distribution of link types: Chart showing the distribution of link types (image, redirect, iframe,…).
Dofollow link ratio: What percentage of links linking to the domain have the nofollow attribute that prevents passing on link juice.
Web technology
Marketing Miner is trying to find out as much as possible about technologies used on the domain based on the source code and requests the web sends off.
This section shows detailed information on what we were able to detect.
Similar webs
Section showing the most similar webs based on overlapping visitors.