With Website Profiler, you can quickly get a complete picture of a website's online presence. You can see insights into the domain's organic and paid search traffic and learn more about its top-performing keywords. It's a perfect tool for competitor analysis or your link building efforts.

How often do you need to quickly get detailed information about specific websites or URLs? If the answer is often, then you have come to the right place.
(If you are looking for information on thousands of websites or links, we recommend you to look at miners from our Reports section).
Try Website Profiler now:
What data you can analyze in Website Profiler
Website Profiler can provide tons of useful insights into a competitor's domain or specific web pages in no time. Simply enter a URL and select on which level you want to analyze data:
URL – enter a specific URL, for example, https://www.marketingminer.com/en/blog and you will get the data for this specific URL only.
Prefix URL – enter a specific URL, and you will get data about all subpages that contain the URL prefix used for data input. For example, Prefix URL https://www.marketingminer.com/en/blog results include links such as https://www.marketingminer.com/en/blog/wordpress-plugin-v-1-0-launched.html
Domain – in this case, enter a domain or subdomain, for example, www.amazon.com, to get all information about the specific domain or subdomain.
Domain + subdomain – enter a domain, and you will get data about the whole website and all its subdomains. For example, for domain amazon.com, the results will include data for music.amazon.com too.

Traffic change data
After you add a site or URL, you will see detailed information with the Traffic Change graph, which shows the history of the estimated monthly traffic.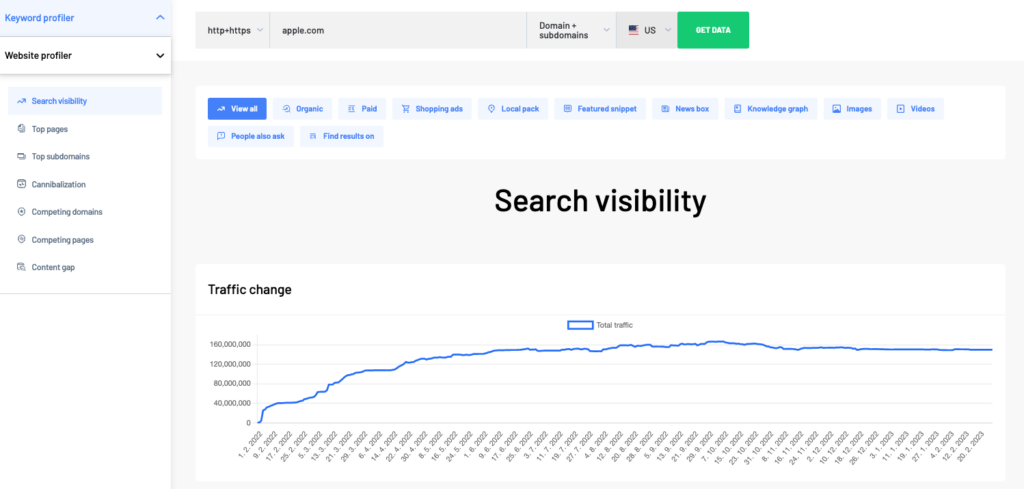 Below this graph, on the left side, is the SERP features traffic change graph. This graph shows the estimated monthly traffic from different SERP features.

Thanks to this data, you will be able to find out what is the estimated search visibility of the various SERP features that link to the website.
SERP features
A table showing all SERP features, their traffic share and MoM change from the previous period is shown in the graph on the right.
In total, there are 11 SERP features to analyze:
Organic
Paid
Shopping ads
Local pack
Featured snippets
News box
Knowledge graph
Images
Videos
People also ask
Find results on
Keywords
Below the SERP Visibility graph, you will find a table listing the keywords for which your site or page ranks.
INFO:
If you have a free Minee account, you will only be able to see the first 10 keywords that the website/page ranks for. If you want to see all ranking keywords, you will need to
upgrade your plan
.   
Above the table of keywords, there are two text fields:
Estimated traffic – the total estimate of monthly visits to a site from all SERP features (compared to the results of a previous period)
Number of keywords – the number of keywords for which the website/page ranks in the top 100 organic search results. 

You will also find a table below that contains the following data insights:
Keyword – a keyword for which the website/page ranks in the top 100 organic search results.
Extension type – which SERP features are available for a search query.
Estimated traffic – estimated monthly site traffic for each keyword (compared to estimated results from a previous check).
Search volume – how many times a keyword is searched per month on average (over the last 12 months).
Position – the position of the site in the organic search results for the given search term.
Total position –  where the site appears in the search results for a specific search query. If it's a query with four ads at the top of the search results and your site is #1 in the organic search results, your total position is 5. This metric shows how your site is visible across all search results.
Landing page –  which page of your website is relevant to a particular keyword.
SERP features – which SERP features link to your site for a specific keyword.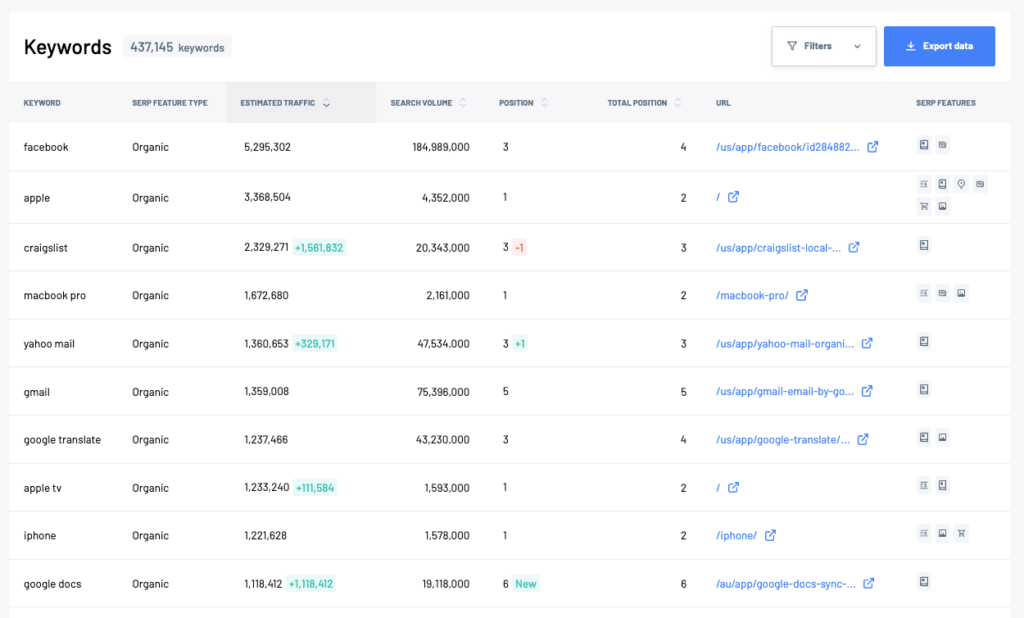 Filters
Above the table on the right side is the Filters button, which filtrates the results according to the following columns:
Keyword (contains/doesn't contain)
Estimated traffic (less than, greater than, in between)
Search volume (less than, greater than, in between)
Position (less than, greater than, in between)
Total position (more than, less than, between)
URL (contains/doesn't contain)
SERP feature (is)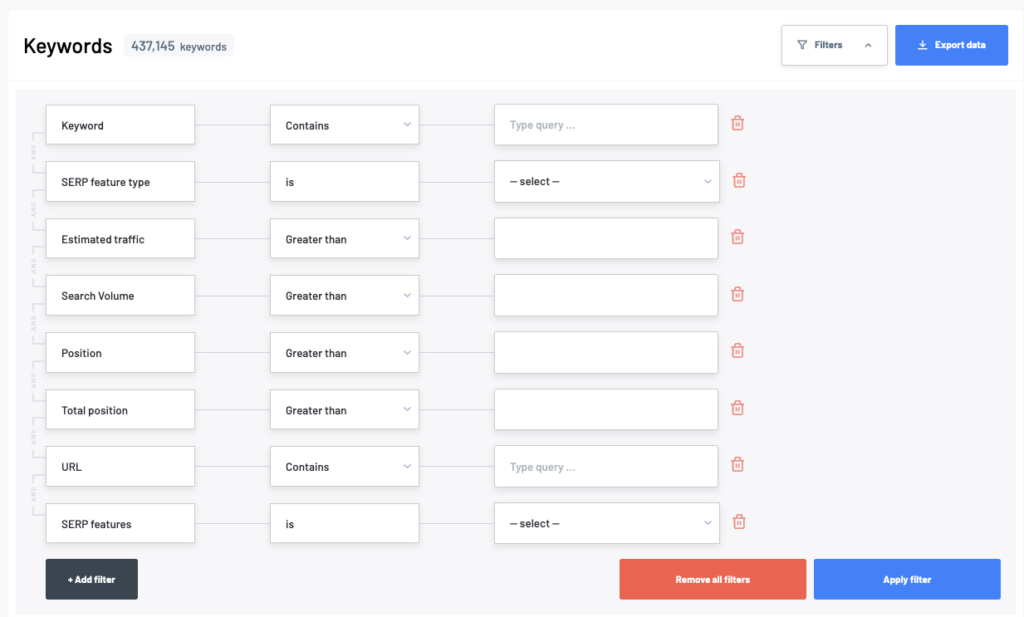 Exporting Keywords
You can download the entire list of keywords in Excel format by clicking the Export Data button. Exporting data for 1 keyword (one data row) will cost 5 credits.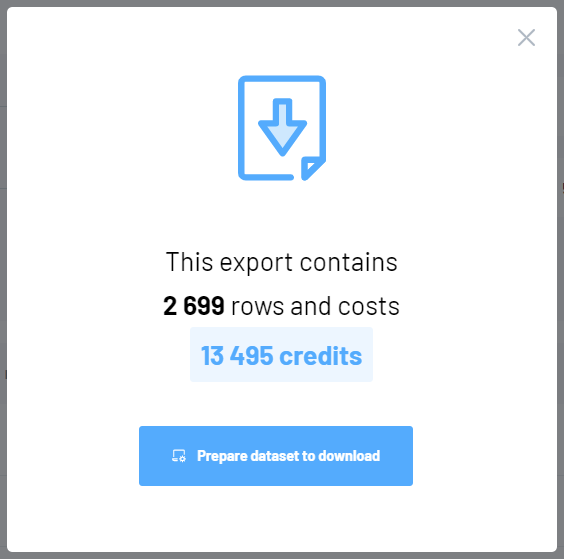 INFO: Exporting data for 1 keyword (one data row) will cost 5 credits.
What data does the Website Profiler use?
The Website Profiler uses an internal Marketing Miner database that gathers information from clickstream data (third party data about user behavior) and Google search results for popular keywords.
Search visibility section – example
How to work with Search visibility data
The data in this section can be used for:
Content gap analysis – to identify keywords for which you don't currently rank, but your competitors do.
SERP features analysis – o find out which SERP features are driving traffic to your site to improve visibility. You can find a list of Google SERP features here: https://help.marketingminer.com/en/article/list-of-serp-features-on-google/
Content analysis – to determine which keywords are driving the most traffic and which landing pages are most important for search visibility.
PPC competitor research – to determine which keywords your competitors are bidding on.
Keyword research and identifying keywords with different SERP features.