Want to find out which landing pages bring the highest traffic to your domain or subdomains? Take a look at Website profiler and its Top pages section.
Try Marketing Miner now:
What you can analyze with Website Profilers?
There are currently four options for Website profiler's input data:

Top pages
If you want to collect detailed information about popular landing pages that your domain or subdomain shows up for in the search results, just simply enter its name and select Domain, or Domain + subdomains option.
After you click on the Get data button, you should see all Top pages data to know what keywords your website shows up for in Google's search results.
Top pages table
INFO
: If you have a free Minee account, you will be able to view only the first 10 keywords that your page ranks for. If you want to view all ranking keywords, you will need to
upgrade your plan
.
After collecting data, you should see a table with the following information:
Landing page – a list of pages that bring traffic to your domain.
Estimated traffic – estimated landing page monthly visits together with traffic change stats (compared to results from the previous period).
Total keyword search volume – how many times a keyword is searched per month on average.
Keywords count – for how many keywords a landing page has appeared in search. Clicking on this information will take you to the Search visibility section to see a table containing all keywords that your page is ranking for.
Average position – the average position of a landing page in the search results for the given keyword with position change data (compared to results from the previous period).
Top keyword – top-performing keyword for your page that brings the highest monthly (estimated) traffic.
Filters
In the top right corner of the table, you can set up filters for keywords by a variety of indicators:
Estimated traffic (more than, less than, between)
Total search volume (more than, less than, between)
Keywords count (more than, less than, between)
Average keyword position (more than, less than, between)

Exporting landing pages
You can download all keywords, that your landing page shows up for, by clicking on the Export suggestions to work with them further in the Excel spreadsheet. The report charges 5 credits per landing page to download.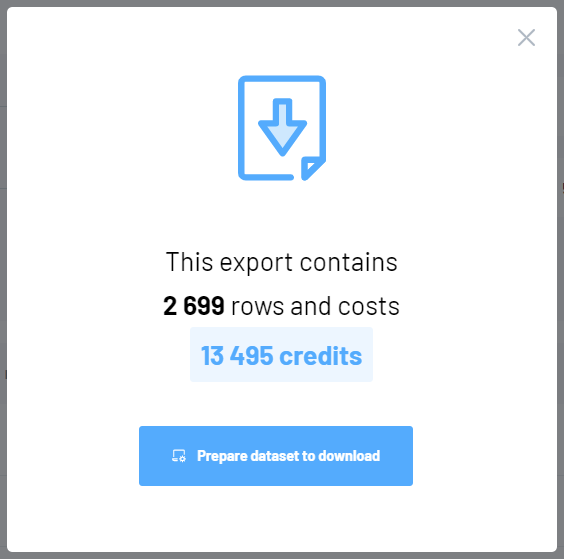 INFO: Price per exporting a landing page (data row) = 5 credits. 
What data can Website profilers provide?
The Website profiler uses an internal Marketing Miner database that gathers information from the click-stream data (third party data about user behavior) and Google search results of frequent queries. This database is updated every month.
Example of Top pages section
How to work with collected data
Your collected Top pages data is a valuable source for:
Competitor research – find out which competitor's pages are bringing the highest website traffic.
Content audit – discover what pages bring the highest website traffic and what keywords are the most important. Remember, you can also do this research for any competitor's website to be one step ahead!
Identifying landing page relevance – after clicking on keywords that a given page ranks for, you can identify how relevant your landing page is to different keywords. This will help you to decide whether the landing page a site visitor has landed on is relevant to them or not.