DNS Info miner lets you check DNS records of multiple domains in bulk. It takes DNS records of individual domains and differentiates them within several categories with appropriate values. It also lists IP address information for each domain.
How to use DNS Info miner
This miner can be useful for link building, for example, if you are trying to find out if any of the domain names share just one IP, i.e. they are hosted from the same server.
The MX record tells you which email server is used within a particular domain. This can be useful if you are in business and offer your own email services.
In Marketing Miner, you can find this information in bulk for even hundreds or thousands of domains by using DNS Info miner.
Start by clicking the Create report button and selecting DNS Info miner. Before proceeding to the next step, select your target country from the left menu too.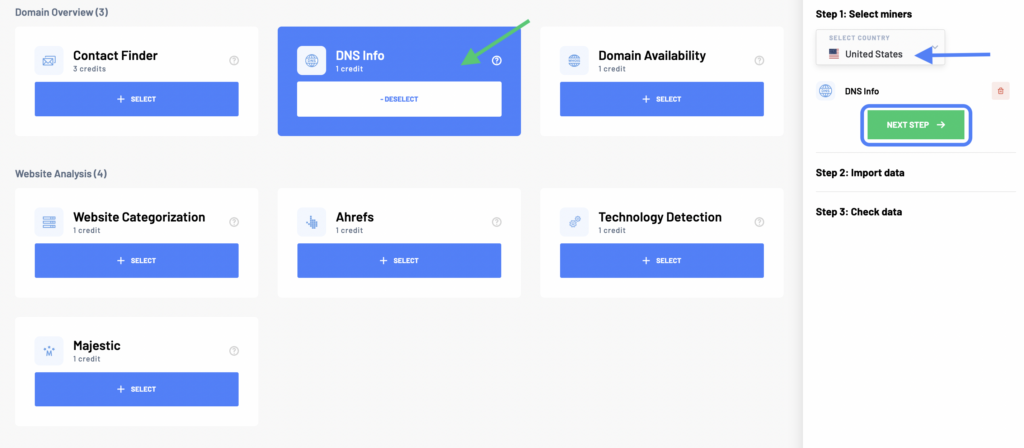 Then, click the Next Step to enter the domains you want to analyze data for. There are several ways to do this. You can either enter the list manually, upload it from a file, or import your data from Google Sheets.
Before you generate your keyword report, don't forget to give it a name and add tags to keep your reports organized and easily accessible for future use.
Now click on Import data to get data for your domains in bulk.
DNS Info report example
Report columns
Report data
When building links, you can focus on domains that are located on the same IP address. You can find the information about the domains with the same IP address in your output report.

Then you can either sort the report by IP address or download the Excel spreadsheet where you can use the filter function.
If the domains are on the same IP address, it is quite possible that they have one owner. You can then contact them for multiple sites. However, be careful. In some cases, these people have too many sites on one IP address, which can also indicate a content (spam) farm. So evaluate the site with your own eyes and check their link portfolio to make sure there are no unfair tactics before contacting the owner.