Keyword search volume tells you how many times a particular keyword is searched per month on average. This number makes it easier to determine what questions your potential users are searching for and how often. The higher the number, the more popular (and often the more generic) the keyword is.
Search volume is also a key metric that you'll need for your keyword research. Keywords are essential to any website optimization. You need to use them effectively in content and metadata. Depending on the keywords, you will also need to decide how to build a site structure or which new landing pages to create.
Why is keyword research important?
Keyword research and data analysis are the most important aspects of a successful marketing strategy. Your keywords are words and phrases in your website content that allow people to find your website through search engines. It's a good practice to include them where relevant. Using your keywords in places like the title tag or meta description helps users decide which links in search results to click on.
For this reason, using the right keywords in the right way is all about communicating to users and search engines. Keywords are always going to play an important role in guiding your content and SEO strategy.
Keyword search volume data can give you valuable insight into your audience's behavior, interests, intentions, or preferences. It can also help you understand how popular and seasonal keywords tend to perform.
This is an important finding for all SEO and PPC specialists who work with keywords on a daily basis. This valuable information helps with:
creating an SEO-friendly site architecture (search/category hierarchy, search filters)
deciding how much inventory you should have in stock (trending product searches)
content ideas (adding new content topics, solving your audience's biggest pain points)
creating and improving your PPC campaigns
… and much more!
Keyword Search Volume – tools
Before we dive into a tutorial, let's look at a few ways you can get keyword search volume and see how to use it in practice.
Google search volume
Google is the world's most popular search engine, so it's no surprise that Google keyword volume is one of the most important metrics for SEOs.
Google search volume in Marketing Miner
Marketing Miner pulls keyword search volume data directly from Google Ads and clickstream data. Thanks to the combination of these two sources, we can determine the actual search volume of the keywords in the search engine. Not the clustered metric.
Google search volume is displayed as monthly search volume. This is calculated as the average monthly search volume over the last 12 months.
The advantage of Marketing Miner over Google Ads is that it provides accurate data and not just monthly search volume ranges, which is often seen lately among advertisers who don't spend enough on Google Ads. Our tool also allows you to collect data in bulk, as in Google Ads you can get a maximum of 800 keywords at a time.
Google Trends
Another option to Google Ads is Google Trends. It is a tool where a user can find progress of keyword search volume since 2004. But the graph doesn't contain exact data on search volume. It only helps to determine the trend of searches in the range from 0 to 100 over time.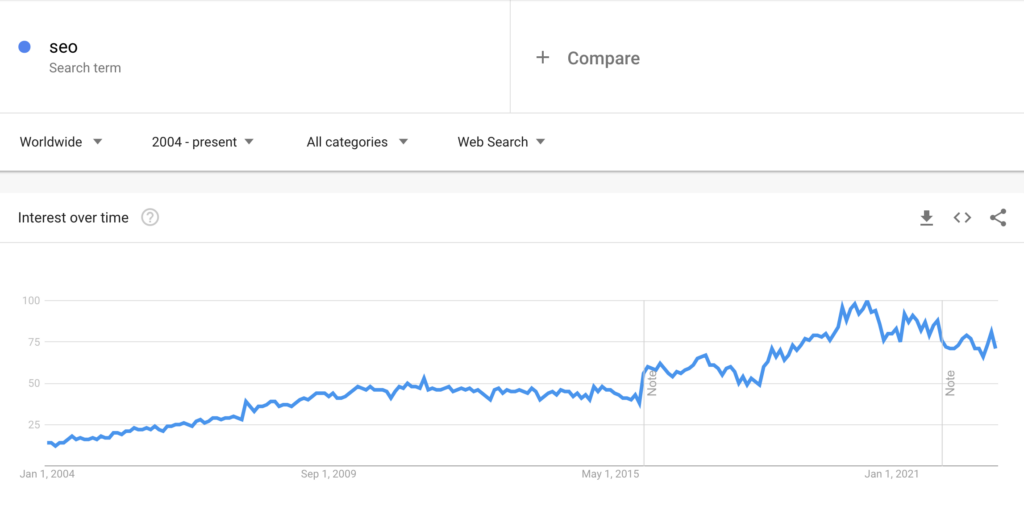 Google Trends is most useful when used to compare search volume over time. It's often used by big brands to see if there's been an increase or decrease in their popularity over time. It also allows them to see how popular or trending their competitors are. Google Trends also lets you compare multiple keywords, so you can use it to compare your brand to your competition.
Google Keyword Planner
Google Keyword Planner is a tool that is included in Google Ads. It collects data about the search volume of keywords on Google. It can also show you keyword suggestions. Read more about the tool here.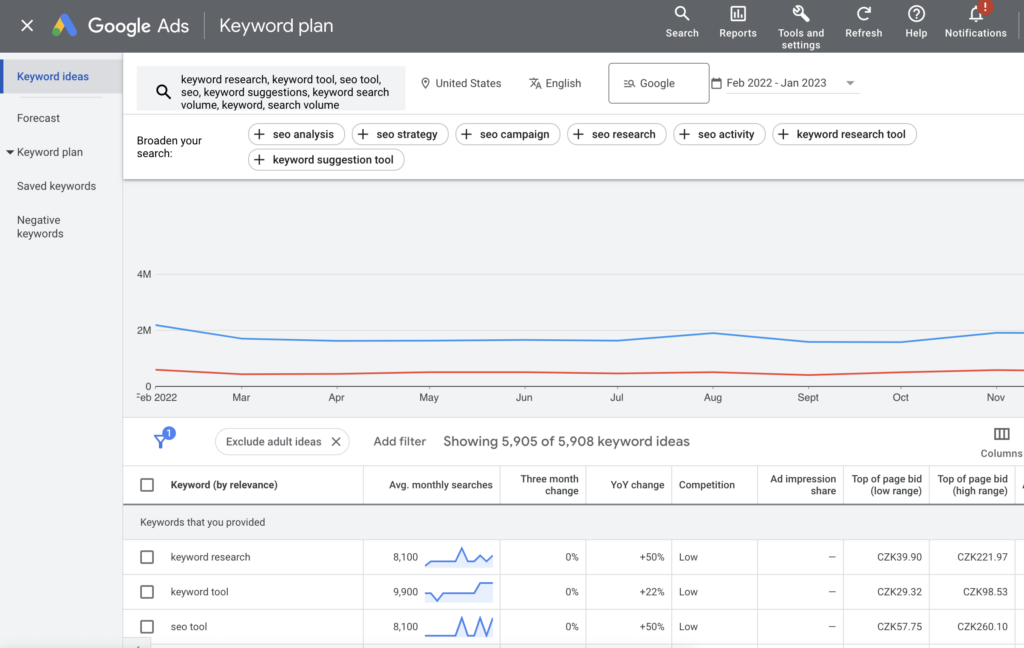 Keyword suggestions
In order to discover new keyword suggestions for your content, you can use miners, which pull data from suggestion tools and the database of search queries. Learn how to use them:

How to get keyword search volume in bulk for Google
If you want to get search volume data for multiple keywords in one report, log in to your Marketing Miner account and click the Create Report button in the top right corner.
Then, select the Search Volume tool and the country you want data for.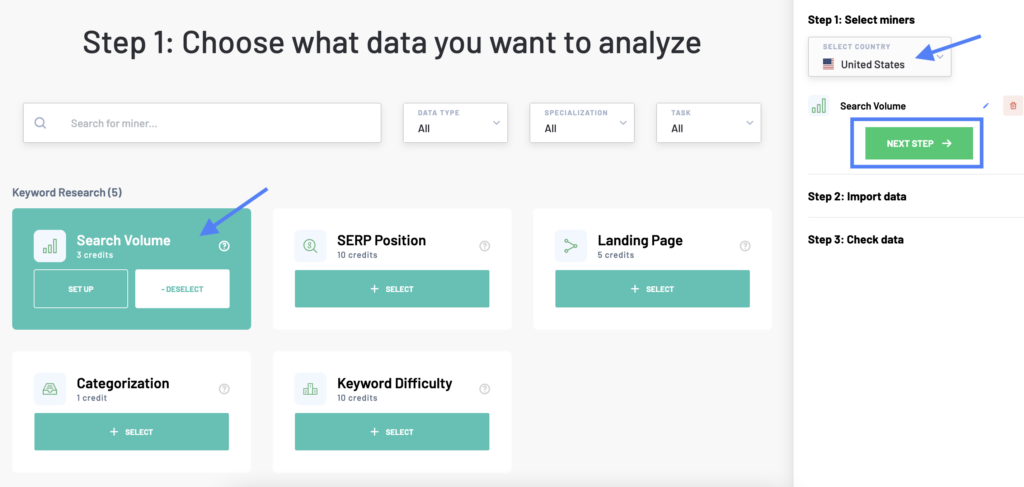 In the next step, name your report and add your keyword list. There are several ways to do this. You can either enter the list manually, load it from a file or spreadsheet, or import your data from Google Search Console or existing Google Sheets.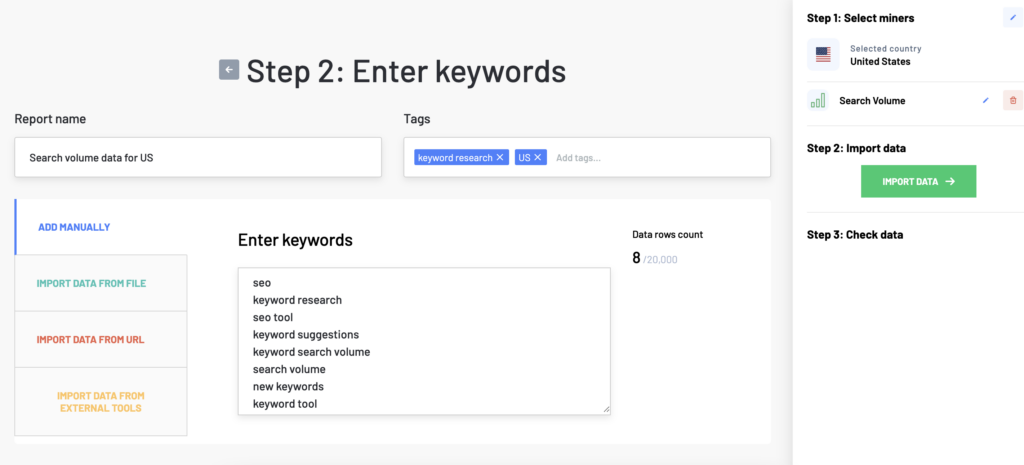 Now you click on Import Data to see how many data rows you have to analyze and check your data before processing. In the menu on the right, you will also be able to see how many credits this report will cost you.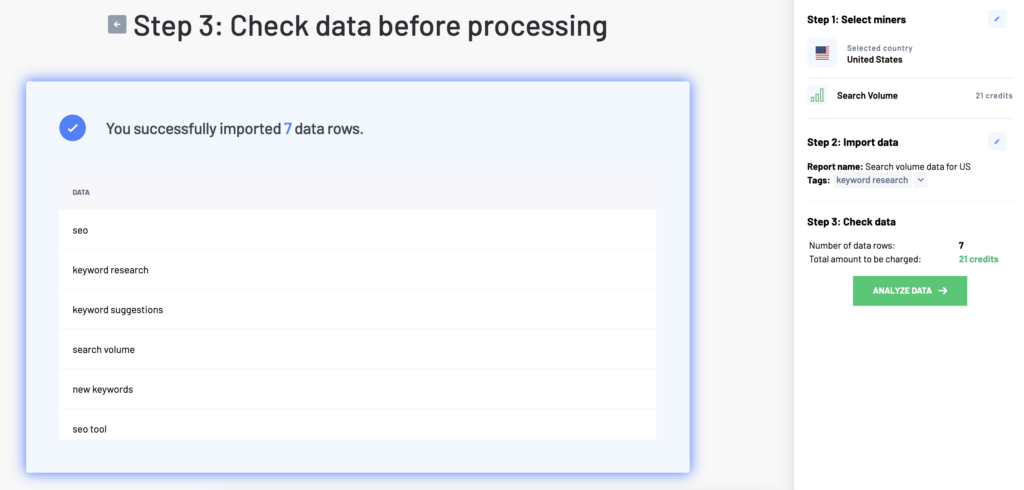 Then click on Analyze data to finish the report. Once the report is generated, you will be emailed the analyzed data.
Search Volume report example
Report columns
Google Search Volume: It determines the average monthly search volume of a query on Google. This is calculated as the average search volume over the last 12 months.
Google CPC: An estimate of the cost of clicking on ads in search results for a given query.
[Month]: Search volume for a given month in the previous year (used to determine trends).
Report data
Let's take a quick look at what you might find interesting in the Search Volume report and why:
The most popular keywords are logically those with the highest volume.
However, the higher the volume, the higher the competition. You'll find out how competitive the keyword is by checking the Google CPC column. In general, we can say that a higher CPC means that the keyword is more competitive.
If you work with a product that might be trending based on the season (typically holidays, which are not as searched in the winter and peak in the summer), it will also be interesting to check the search volume for a particular month to adjust your content strategy.