When you type a word into Google, you get a list of suggested searches that you might want to search for. This feature is called Autocomplete which quickly completes searches as users type.
Autocomplete is a great feature not only for users, but also for marketers. Users save time writing and thinking about how to formulate their search query. Marketers have a great tool to find out what keywords users are searching for. Autocomplete can help you optimize your content to better match user intent by providing insights into popular search queries related to your target keywords.
By including these related search terms in your content and meta tags, you can improve your chances of higher search rankings and relevant traffic to your site.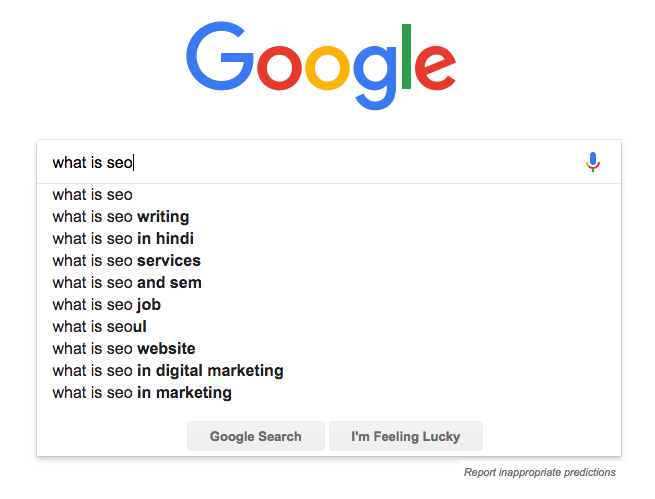 As a marketer, you probably want to save time and automate your work to avoid manually searching for these suggestions. This is exactly the task Marketing Miner can help you with, saving you tons of time and finding all autocomplete suggestions in bulk.
Finding new keywords with Google Suggest in bulk
This bulk Google Suggest tool can help you with:
Keyword research. By including these keyword suggestions in your content and meta tags, you may improve your chances of ranking higher in search results and attracting relevant traffic to your website.
Content creation. There is no need to do extensive keyword research every time you write an article. Just take a quick look at the Autocomplete suggestions. You can easily find out what users are looking for related to your topic. It can also be an aid to the structure of your article around these keywords.
New long-tail keyword ideas. You can start typing different keywords into a search engine and easily find some new interesting long-tail keywords for a topic you haven't covered yet. You can start typing in queries like "how to", "where is", "what is", "what does it mean", and so on.
Featured snippets. It's also useful if you plan to optimize your website to answer different questions in featured snippets. There are a lot of questions out there waiting to be answered, and your content should provide answers to questions your target audience is asking in order to attract a lot of quality organic traffic.
New content ideas. From social media content to newsletters. An autocomplete tells you what your users are currently looking for and how they think when they search. This can give you a lot of ideas for different types of content that can be used across multiple channels.
Brand reputation. You can easily check what queries users are looking for related to your brand. For example, if a word like "scam" appears in autocomplete within your brand, you might want to know about it. You can also check if you have a web page covering each keyword users search.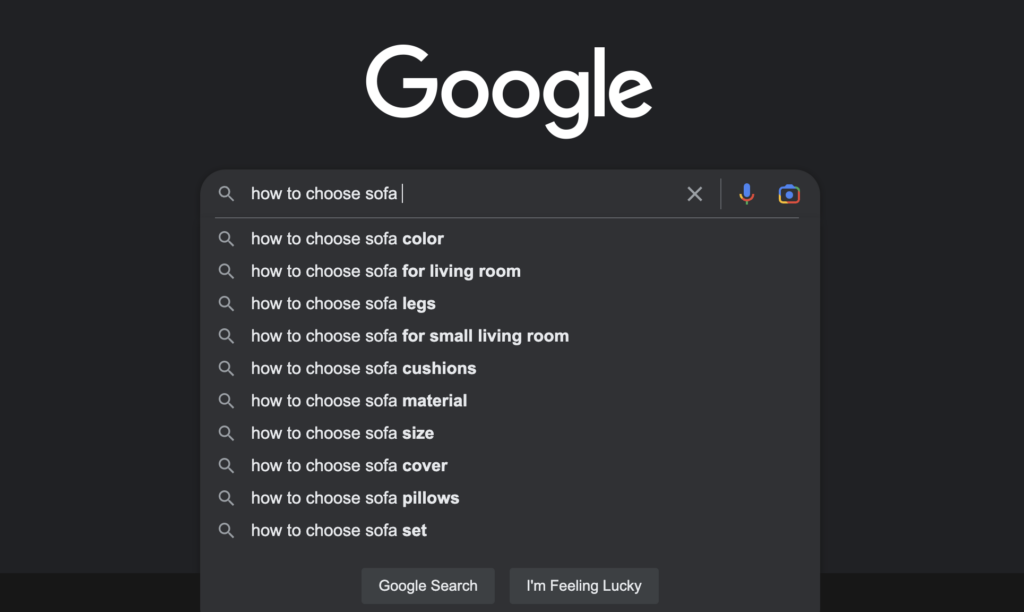 Let Marketing Miner do all the hard work for you and save time by manually typing phrases into the search engine.
How to find keywords with Google Suggest in bulk
Find popular long-tail keywords for your content in bulk with Marketing Miner. Start by clicking the Create report button and selecting the Suggest tool. Don't forget to also select the appropriate location in the right menu.
After selecting Suggest tool, choose what match type you want: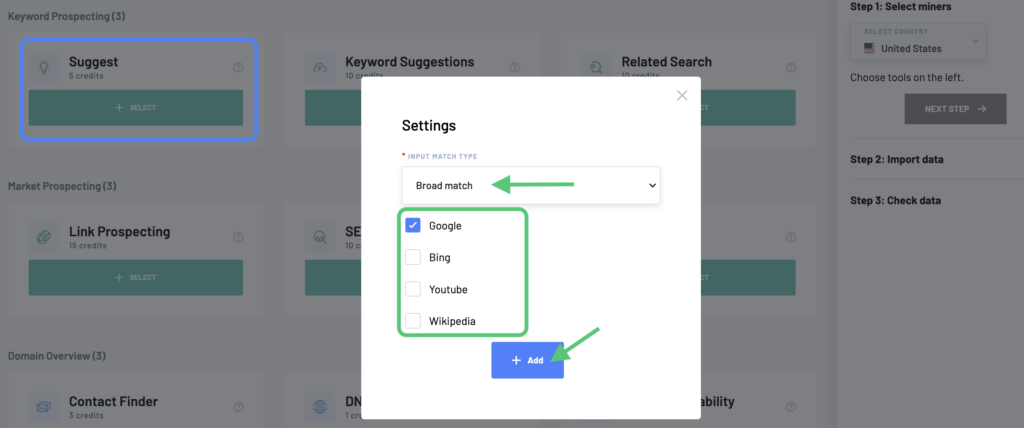 Broad match. For example, if you type "SEO" into the search engine, a broad match will include keywords that contain the letters "SEO" anywhere in the word. For example, you might find the city "Seoul" in South Korea in the results.
Exact match. But if you type "SEO" into the search engine, you will only get expressions that contain the word "SEO" as an exact match.
Let's look at another example of how to distinguish between a broad and an exact match.
Marketing Miner found these exact match suggestions for the keyword "coin".

Marketing Miner found these broad match suggestions for the keyword "coin".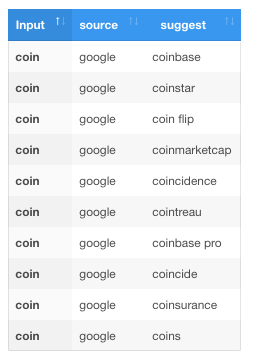 In Marketing Miner you can get keyword suggestions from other search engines in addition to Google's Autocomplete:
Google
Bing
Youtube
Wikipedia
Select the platforms you want to use for your keyword research and click Add to continue.
We recommend that you have your seed keyword list ready before finding new suggestions. There are several ways to do this. You can either enter the list manually, upload it from a file or spreadsheet, or import your data from Google Search Console or Google Sheets.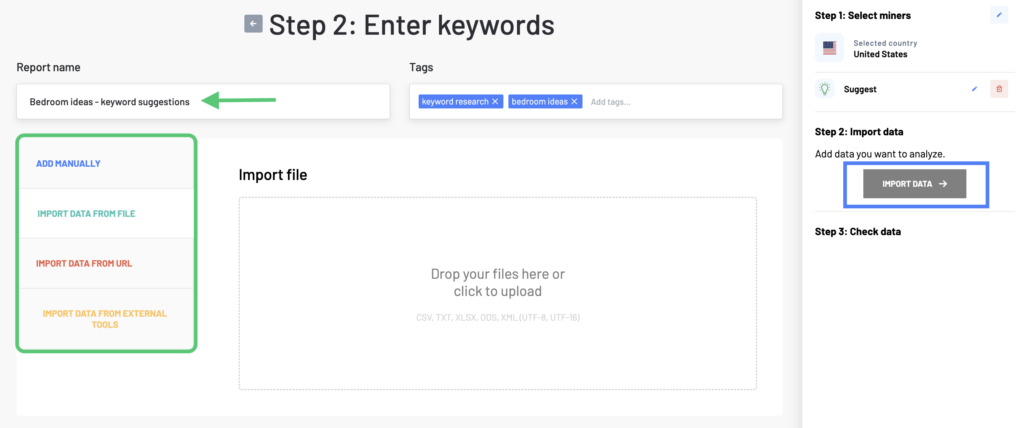 Before you generate your keyword report, don't forget to give it a name and add tags to keep your reports organized and easily accessible for future use.
Now click on Import data to see how many data rows you have to analyze and check your data before processing. In the menu on the right, you will also be able to see how many credits this report will cost you.
Then click on Analyze data to finish the report. When the report is ready, we will notify you by email.
Suggest report example
Suggest report columns
Keyword: Analyzed keyword you want to get suggestions for.
Source: This is the source of the keyword suggestions (e.g. Google, Bing, YouTube,…)
Suggest: Keyword suggestion.
Report data
You can use suggested keywords for keyword research, content planning, creating a blog post structure, or creating new landing pages on your website.