Did you just start working on a new project and you need to find out how you are doing in search engines? If you just want to check your rankings and you don't need to keep track of your keywords history, for now, you can use our SERP Position Miner.
SERP Position Miner can help you to find out the ranking not only for classic full-text searches but also for image and video searches.
In practice
You can use bulk keyword rank checker:
if you need to make a quick picture of the project you are starting to work with.
if you are preparing a keyword analysis that should include current rankings for specific keywords.
If you work sporadically on a project and do not measure rankings on a regular basis, but you still need to find out about the change in your rankings after a certain period of time.
Import phrases that you want to collect data on
Get started by clicking on Create report button and specifying Keywords at the input. Then write or copy the dataset of the keywords for which you want to get your rankings for.
For a report to be easily identifiable, it is good to name it. Simply click into Your Report Name field.
Then click on the flag to select the country for which you want to get the data and finish by clicking on Next Step.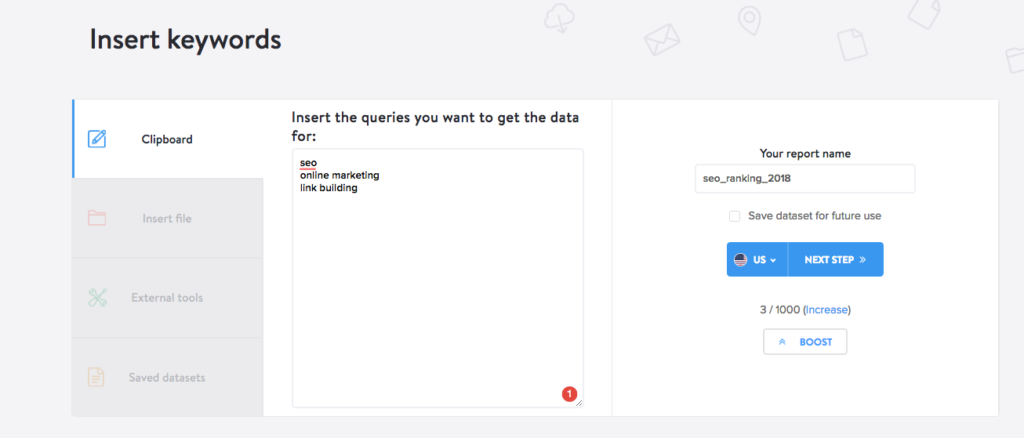 Selection of the Miner and the type of search
In the Miner section, click on Miner SERP Position that collects data on the domain position in search. Enter the name of the domain you want to track and choose the type of search (Fulltext, Pictures, Video).

If you're done, just click on Get Data to start processing your inputs. Once the report is complete, the processed data will be sent to you by email.
Output example
Column description
Keyword / URL: Your phrase.
Domain: Your domain.
Google SERP Feature: A list of all SERP features that appear in Google search results for specific keywords. You can find the list of SERP features on Google here
Google Position: Ranking of your domain for the specific keyword in Google.
Google Search Volume: The average monthly keyword search volume over the last 12 months. This column is available only for CZ, SK and PL market. Use miner Search Volume to get keyword search volume for other markets.
Number of results: The number of search results on Google (can help to estimate the competitiveness of the query).
Google Landing Page: Your landing page that ranks for the keyword in Google search results (if the domain is found).
Report analysis
You can analyze the output by using one of the following tools. Below you will find also links to the tutorials that can help you out with further analysis:
https://help.marketingminer.com/en-us/article/data-analysis-of-exported-data-dodm0g/