Have you just started working on a new project and need to find out how you are doing in organic search? If you want to check your current position or that of your competitors and you don't need to track their entire ranking history, you can use our SERP Position Miner.
SERP Position Miner can help you find out the ranking not only for traditional web searches, but also for image and video searches.
When to use SERP Position miner
You can use our bulk SERP Position miner:
when you need a quick overview of the project you just started working on.
when you are conducting keyword research and you also need to know the current rankings for specific keywords.
if you work on a project occasionally and do not monitor rankings regularly, but you need to know how your rankings changed after a certain period of time.
if you are doing a competitor analysis and want to check current rankings for multiple competitors in bulk.
How to use SERP Position miner
To check rankings in bulk for thousands or hundreds of keywords, click the Create report button, choose the country you want to get data for, and select SERP Position miner.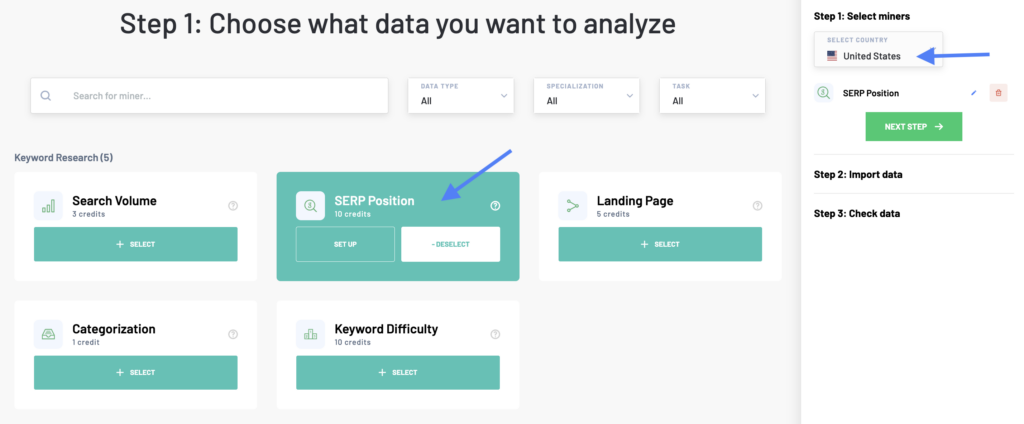 Then enter the domain name you want to analyze. In Advanced settings, you can also add up to 5 competitors to compare your rankings with theirs. If you add your business name, we will also check your business presence in the local pack. This feature is especially useful for local SEO.
You can also choose to check your rankings in web, image, or video search results. In the Location tab, you can also specify a specific street or city for which you want to check your rankings.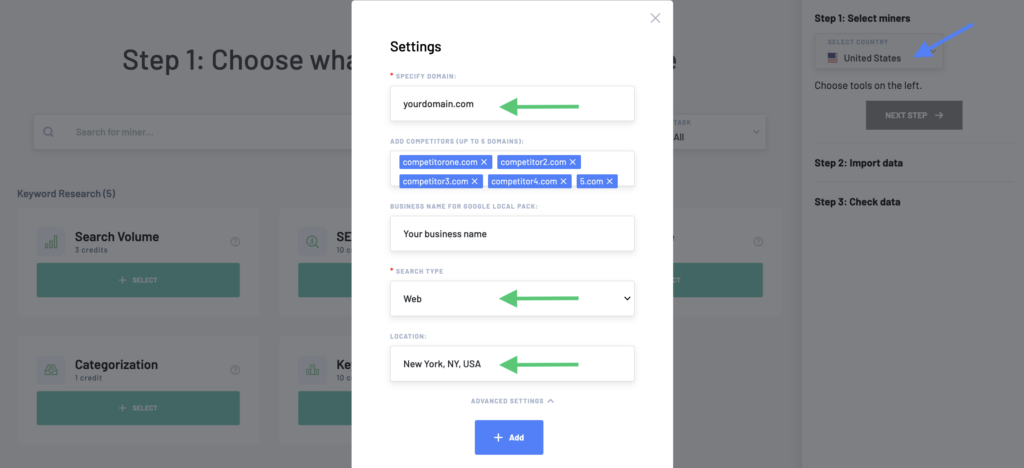 After you add all your details, click on Add to save the settings. Then click on Next step to name your report and enter your list of keywords. There are several ways to do this. You can either enter the list manually, upload it from a file or spreadsheet, or import your data from Google Search Console or Google Sheets.
SERP Position report example
SERP Position columns
Keyword / URL: Your keyword list.
Domain: A domain name.
Google SERP Feature: List of all SERP features that appear in Google search results for specific keywords. You can find the list of SERP features on Google here
Google Position: Ranking of your domain for the specific keyword in Google.
Google Search Volume: The average monthly keyword search volume over the last 12 months. This column is available only for CZ, SK and PL markets. Use Search Volume miner to get keyword search volume for other markets too.
Number of results: The total number of results found on Google (can help estimate how competitive the query appears).
Google Landing Page: Your landing page ranking in Google search results for the keyword (if the domain is found).
Report data
You can analyze the data using one of the following tools. Below are also links to tutorials that can help you with further analysis:
https://help.marketingminer.com/en-us/article/data-analysis-of-exported-data-dodm0g/