Marketing Plan is more than just a marketing checklist. You can use it as a step-by-step SEO strategy based on best practices to level up your project.
Basically, this is the marketing foundation that you can go through, apply to your web project, and then check off the tasks that you have completed.
You can access the checklist from the left-hand vertical navigation bar in your Project.
Creating a project
If you want to start using the Marketing plan, you must first create a new project. If you haven't created one yet, you can use the button below.
Marketing plan in Marketing Miner
If you have already created a project, navigate to the Marketing Plan section. The Marketing Plan is divided into 5 sections:
Web analytics and technical audit
Keyword research
On-page optimization
Off-page optimization
Local SEO (if applicable)

IIn each subsection you will find a number of tasks that you should apply to your web project. Each task has an additional description that explains why you should apply it to your project. We also include links to useful resources and tools to help you complete the task.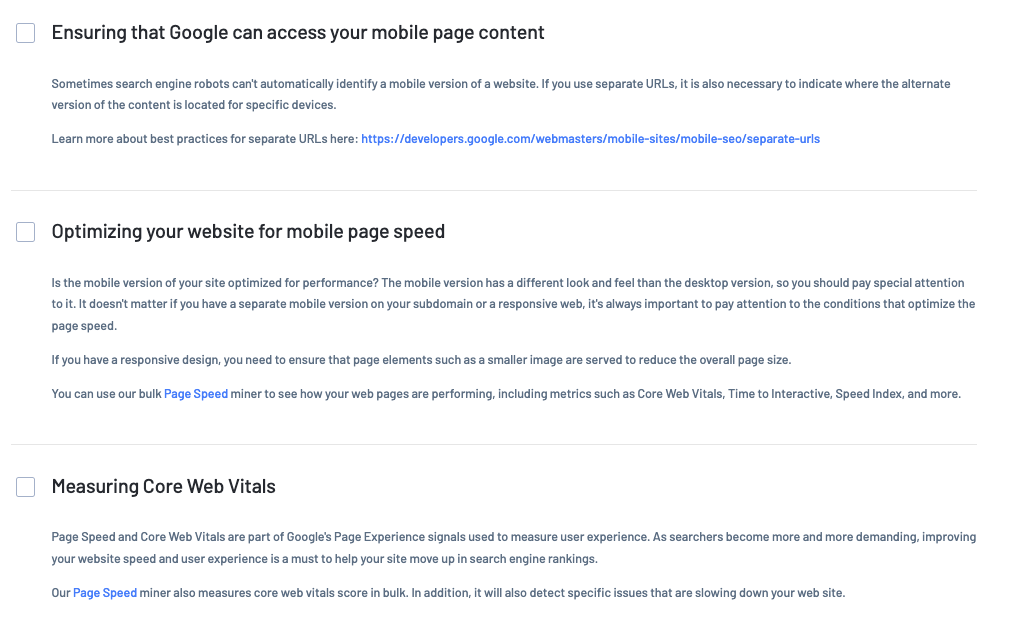 Once you have completed a task, you can simply check it off. You can return to unfinished tasks at any time.
Using Marketing Plan in Marketing Miner
As mentioned at the beginning of this article, this section is mainly intended as a checklist for beginners. However, even experienced marketers can use the marketing plan to check if the tasks have been applied to their/their clients' projects.