Apart from regular rank tracking in search engines you should also regularly check changes on the web which can affect your search engine traffic and prevent problems.
Creating a project
If you want to start using Alerting you need to create a project first. In case you haven't created a project yet you may do so by clicking the button below:
Alerting section
In the Alerting section you can select to check the following things:
Check robots.txt – if there's a change, MM will automatically notify you via email that there was a change in the robots.txt file
Daily control of indexability of random URLs in sitemap – MM will crawl URLs daily and as soon as there's a URL that isn't indexable you'll be notified via email
Page load speed check and changes in comparison to the norm – in case the load speed of checked URLs changes by more than 30% you'll be notified
Check of status codes of landing pages
Malware detection on domain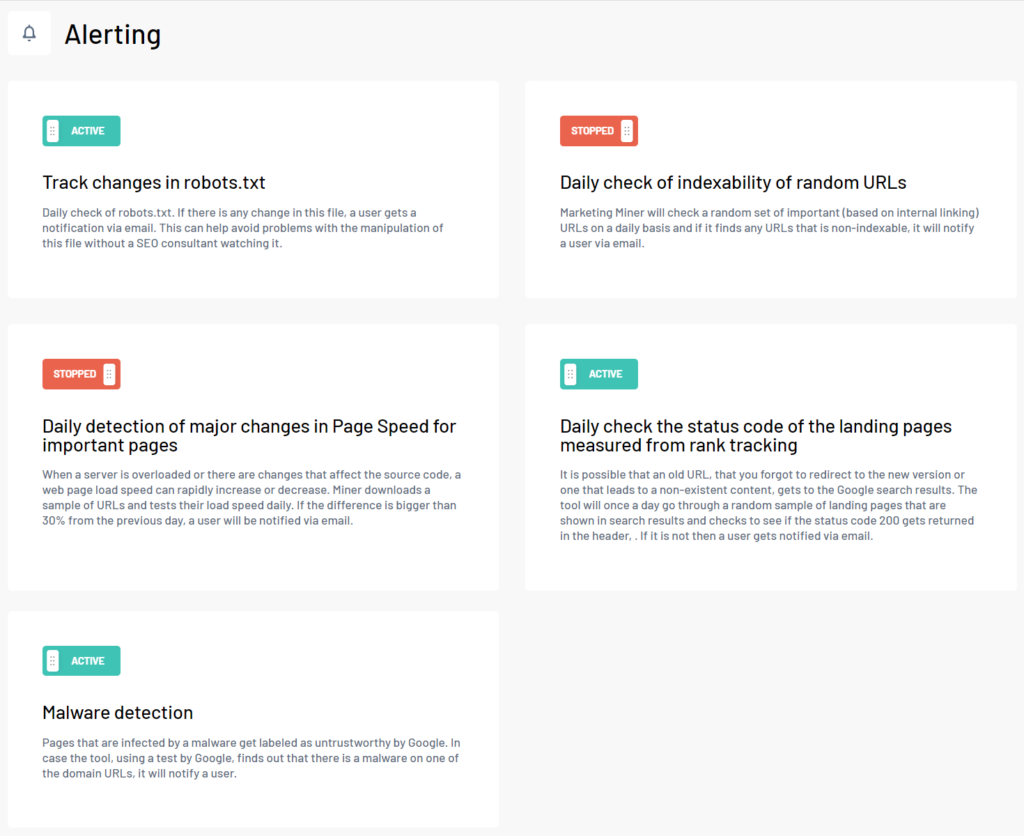 By clicking you can activate the control you are interested in. Marketing Miner will then check them daily – each morning and as soon as it detects a change you'll receive a notification to your notification email.
Use in practice
You will make use of Alerting especially when working on a project with more people and you want to stay informed about changes on the web. This way you will avoid time-consuming manual checking of web elements.
Changes in robots.txt may have fatal consequences on web indexation and that's why it's very important to check any changes in this file and make sure they are correct.