Apart from rank tracking, you should also regularly check changes on the web that can affect your organic search traffic and prevent problems.
Creating a project
To start using Alerts, you must first create a new project. You can use the button below if you haven't created one yet.
How to set up Alerts
Once you have created the project, you can go to the Alerts section in the left vertical navigation bar in your Project section. First, navigate to the Alerts settings to enter URLs you would like to monitor and be notified of any changes.
TIP: You can also add competitors' URLs to your alerts to automatically check what changes they're making.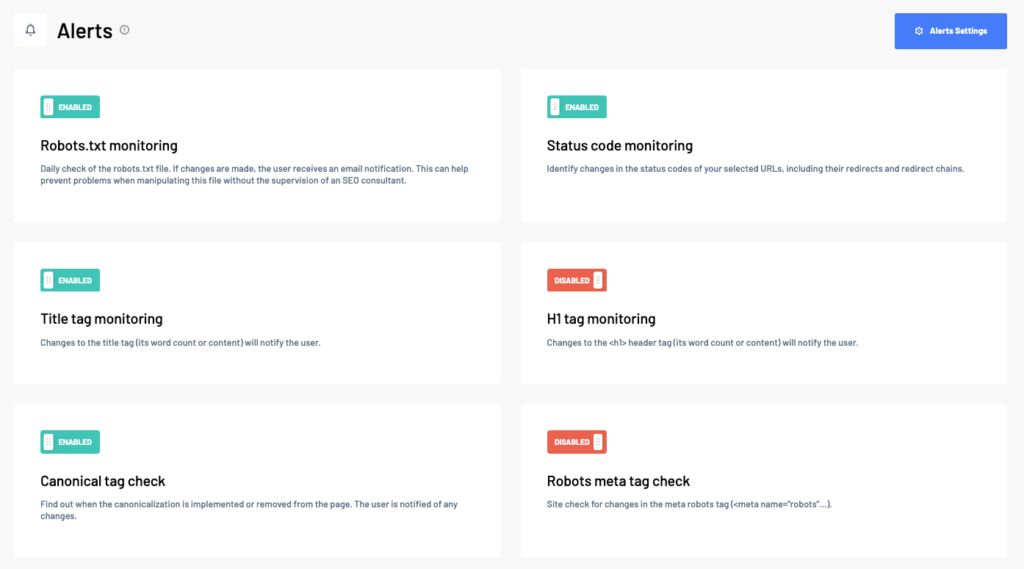 Once you have inserted URLs, you can enable different alerts to be monitored. You can choose from the following alerts:
Track changes in robots.txt
Status code check
Check title changes
Check header tag (H1) changes
Check canonical tag changes
Check robots meta tag changes
Check AMP status changes
Check structured data changes
By clicking the button you can activate the alert you are interested in. Marketing Miner will then check your URLs on a daily basis and as soon as it detects a change, you'll receive a notification in your email inbox.
Using Alerts in Marketing Miner
Want to know what changes your competitor is making? Simply enter your competitor's URL into Alerting and MM will check their site for changes and notify you by email as soon as it detects a change.
You will use Alerts especially if you are working on a project with several people and want to stay informed about changes on the web. You can avoid time-consuming manual checking of web elements.
Changes in robots.txt can have fatal consequences for web indexation, so it's very important to check any changes in this file and make sure they are correct.