Profilers API allows you to automatically process keyword search volume and keyword suggestions data from Marketing Miner.
What is a Profilers API?
Profilers API helps you to retrieve data from profilers in Marketing Miner without having to log in to the tool. Thanks to the Profilers API, you can now get the following data from Keyword profiler:
INFO:
All Marketing Miner users with a
paid plan
that has
at least 1 million credits
(Custom plan with minimum 1 million credits, tariff Digger or more) can access the API. 
This new feature will allow you to automatically retrieve data from Marketing Miner, for example when you are carrying out keyword research.
Where can I find my API key?
You can find the API key in your user profile in the API keys section.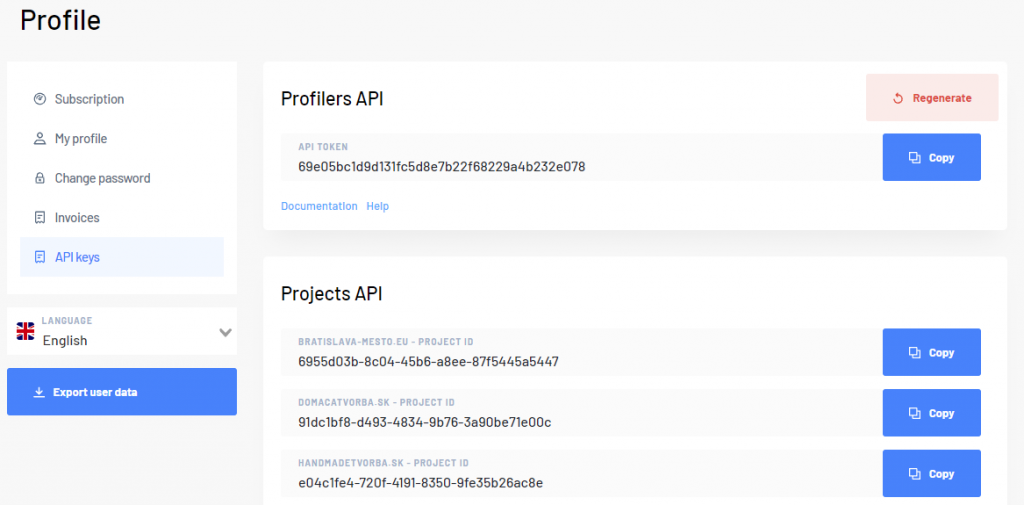 As you can see above, my Profilers API key is: 69e05bc1d9d131fc5d8e7b22f68229a4b232e078
The Profilers API key can be regenerated any time.
Endpoints and limits
Profilers API has currently 2 endpoints with GET method and they have following limits:
/search-volume-data
Rate limit: 120/minute
Credits cost: 3
/suggestions
Rate limit: 60/minute
Credits cost: 10
Documentation
Full Profilers API documentation can be found here: https://profilers-api.marketingminer.com/docs.
What else can you use Profilers API for?
There are many ways to use the Profilers API. For example:
Run automated updates of keywords search volume in keyword research regularly
Trigger the automated retrieval of website search visibility for ranking keywords
Get data for Content gap analysis
Carry out analysis of domains and URLs search visibility and authority
Quickly identify similar websites or content (for your company or competitors)
… and more!
Conclusion
Have you found different ways to use our Profilers API? Get in touch and we'll be happy to share your ideas with others!