Validity Checker can be used to quickly validate URLs in bulk. In general, code validation can help search engines to process web content more effectively. It can also prevent errors when displaying content in different browsers. The W3C validator from World Wide Web Consortium can be used for a single validation, but you can also use Marketing Miner to validate your entire website in one go.
How to use Validy Checker
This miner can help you if you have finished your website and need to check all URLs at once to see if some pages might have more errors than others.
Start by clicking the Create report button and selecting Validity Checker.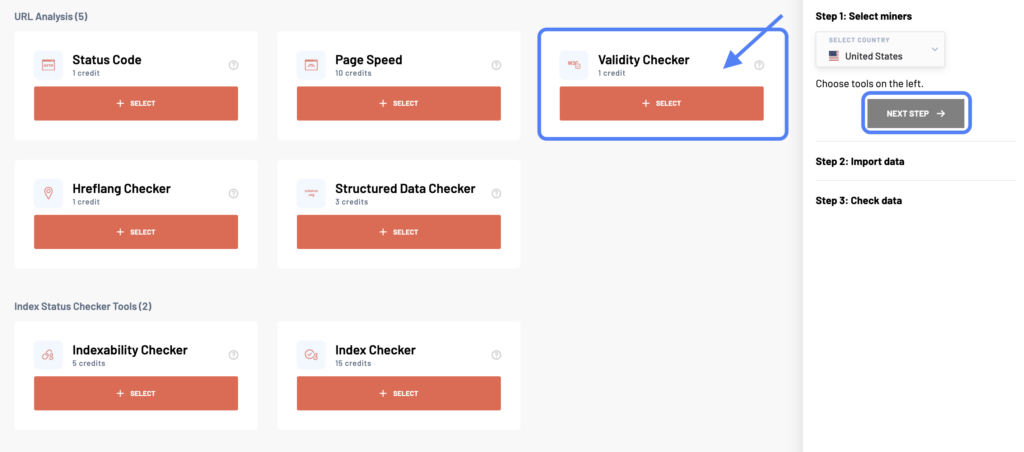 In the next step, enter a list of URLs you want to analyze in bulk. There are several ways to do this. You can either enter the list manually, upload it from a file, or import your data from Google Analytics, Search Console, and Google Sheets.
You will usually use this tool to analyze all the URLs stored in your sitemap. For this instance, you can select the Import Data from URL option and enter your sitemap URL to upload it.

Then, click on Import Data to identify the validation errors. Once the report is generated, you will be emailed the analyzed data.
Validation Checker report example
Report columns
Validation warnings: Number of warnings found in the W3C validation test.
Validation errors: Number of errors found in the W3C validation test.
Report data analysis
Review the report data. Then manually enter the URLs that return a greater number of errors or warnings than other URLs into the W3C validation tool. Find out what causes these errors, and where and if they need to be updated.