Miner Domain availability will help you in case you need to verify the availability of more domains. In the report, it will show you which domain is still available and which is already taken by the different owner.
In practice
You will use this Miner, for example, when you are looking for a suitable domain for your new website or blog. In case you have more suggestion for the name of the domain, you will probably want to know first, which of these domains are available and which are not.
What is a domain name?
Domain names are used to identify particular web pages. It is the address of your website that people type in the address bar to visit your site. Instead of entering an IP address (e.g. 47.99.255.253) into the address bar, users can simply type a domain name (such as marketingminer.com) that is more user-friendly and easier to remember.
As domain names are used to establish a unique identity, they can only point to one website at a time. That's why there is such high demand for short and good domain names.
Anatomy of a domain name
A domain name is composed of several different parts. It can also be thought of as a series of "labels" separated with dots.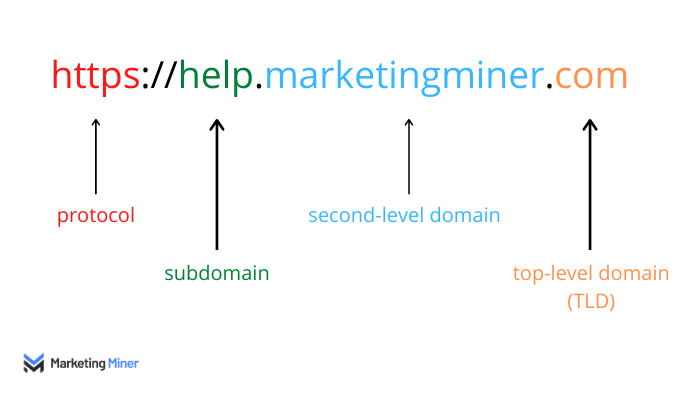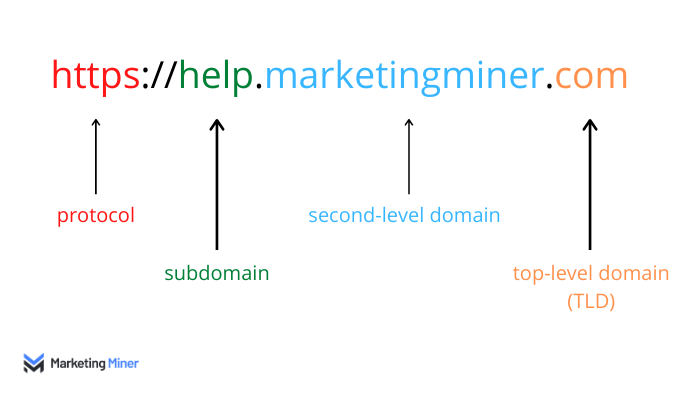 A top-level domain (TLD) is the last segment of a domain name that comes after the final dot. TLDs refer to the rightmost part of every domain name. They are also classified into two main categories:
country-specific: .sk, .cz, .pl, .hu
generic: .com, .net, .org, .eu
A second-level domain (e.g. marketingminer.com) is a part of a website address that comes before the TLD. It's what most people think of when they mention the name of a website. This part of the domain name is unique to the person that registers it.
A third-level domain is also often called a subdomain (e.g. help.marketingminer.com).
Choosing a domain name
It's important to take your time and do your research when choosing a domain name.
It should be short, easy to say (you want people to type it accurately, especially when advertising on TV or radio) and remember.
People also often use keywords in their domain name to boost their SEO. However, using keywords in your domain name doesn't automatically help you to rank better. Instead of focusing on choosing a generic domain name with stuffed keywords, we recommend you to pay attention to your domain authority and high-quality website content. Remember, short domain names are more effective, easy to remember and easy to share!
Available domains
Available domains are any domains that are unregistered and anyone can buy them.
So how do you find out if a domain already exists? Well… You can simply type the URL into the search bar, although you won't be able to tell if the domain is parked (that's when a domain name is registered but not associated with a specific website yet). For this reason, you should use a domain availability checker tool (e.g. Marketing Miner) to find out if the domain can be registered or not. These tools are using a so-called domain registrar's database.
A domain name registrar is any company that handles the reservation of domain names and allows you to officially register them. Each domain name registrar has its own database that is automatically updated when someone registers a new domain name. For example, the .cz domain is managed and administered by CZ-NIC.
Expired domains
An expired domain is a domain that was previously registered by an individual or organisation but was not renewed after its expiration date. Any domain that reaches its expired status and is not renewed by the owner will be automatically available for resale.
Picking a short and catchy domain name can be pretty difficult when so many of them have already been taken. If you can't find your desired available names, you can also have your eye on domains that are already taken and wait until they expire.
Once a domain is dropped from the registry, you can buy it through a backorder drop catching services such as:
GoDaddy auction
snapnames.com
Here you can find all information you need to spot good expired domains:
https://www.expireddomains.net/backorder-expired-domains/
You can also find lists of all deleted domains here:
https://www.expireddomains.net/deleted-domains/
What can you use expired domains for?
There are lots of things expired domains can be used for, such as:
Creating new content – you can check archive.org to see old versions of the website and see what content it had before buying to get new ideas for renewing it.
Creating redirects – take the expired domain pages and 301 redirect them to your content. Once again, you can use web.archive.org to detect URLs of old pages that you want to redirect visitors to.
Creating microsite – you can also use an expired domain to build a separate microsite with content that links to your existing website.
Selling expired domains – another reason people buy expired domains is to sell them for a profit.
Do you have a list with more domain names that you would like to claim? Here is how you can check the availability status of domain names in bulk.
How to check availability status of multiple domains in one go
Start with logging into your Marketing Miner account and click on Create report. Then select Domains to add your list with domains you want to find out availability for.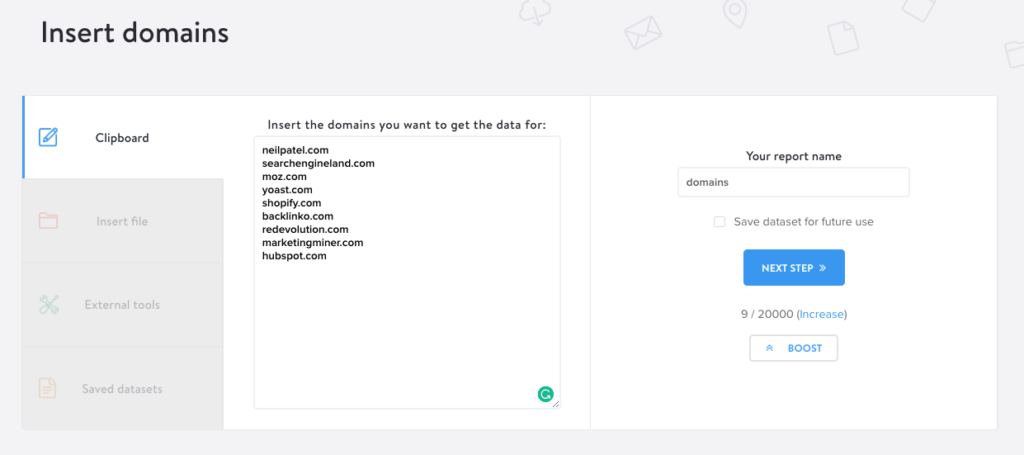 If you have all domains in one document, you don't have to copy them, but you can easily import the entire file with the list. To do this, click on the Insert Files section in the left sidebar.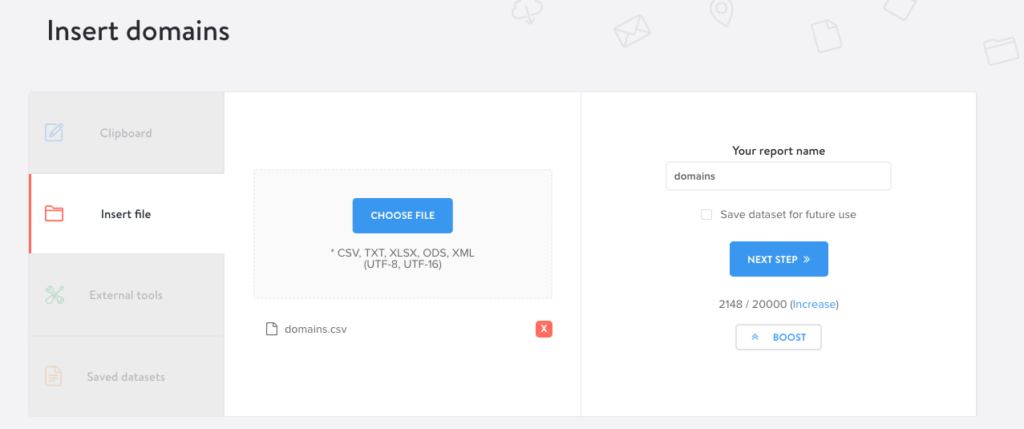 For a report to be easily identifiable, it is good to name it. Simply click into Your Report Name field.
Then click on the flag to select the country for which you want to get the data and finish by clicking on Next Step.
Selection of the Miner
In the Owner / Domain information section, click on Miner Domain availability. Nothing else needs to be set. Click on Get Data to start processing your inputs.

Output example
Column description
Input: The domain, that you entered at the input.
Domain availability: Verification, if the domain is available.
Possible states and error codes in the domain availability column:
Taken = domain is not available.
Available = domain is still available.
NODATA = DNS server returned answer with no data.
FORMERR = DNS server claims query was misformatted.
SERVFAIL = DNS server returned general failure.
NOTFOUND = Domain name not found.
NOTIMP = DNS server does not implement requested operation.
REFUSED = DNS server refused query.
BADQUERY = Misformatted DNS query.
BADNAME = Misformatted host name.
BADFAMILY = Unsupported address family.
BADRESP = Misformatted DNS reply.
CONNREFUSED = Could not contact DNS servers.
TIMEOUT = Timeout while contacting DNS servers.
EOF = End of file.
FILE = Error reading file.
NOMEM = Out of memory.
DESTRUCTION = Channel is being destroyed.
BADSTR = Misformatted string.
BADFLAGS = Illegal flags specified.
NONAME = Given host name is not numeric.
BADHINTS = Illegal hints flags specified.
NOTINITIALIZED = c-ares library initialization not yet performed.
LOADIPHLPAPI = Error loading iphlpapi.dll.
ADDRGETNETWORKPARAMS = Could not find GetNetworkParams function.
CANCELLED = DNS query cancelled.