The hreflang attribute is an essential part of a multilingual website. Hreflang can definitely make life a lot easier for owners of multilingual sites. It tells Google about the variations of your content so that it can understand that these pages are localized variations of the same content.
Hreflang annotations can be difficult to implement correctly, so we've created this Hreflang Checker to help you quickly check that hreflang annotations are working correctly for specific pages.
Read this useful post about Multi-regional and multilingual sites to learn how to tell Google about your different language versions.
Thanks to Hreflang Checker you can quickly and easily check if the hreflang attribute is set correctly on all pages.
It has been said that the implementation of the hreflang attribute almost never works on the first try. That's why it's important, especially at the beginning, to focus on checking and re-running the check after each fix to see if hreflang is valid and working correctly on all URLs.
Once the implementation is successfully completed, there is no need to run these checks very often. We recommend that you run them from time to time, especially after changes are made to the page that could affect hreflang. For example, editing a web structure, changing the canonical URL, etc.
If you want to check for errors on an ongoing basis, you can use the International Targeting report in Google Search Console.
How to check your hreflang tags in bulk
Start by clicking the Create report button and selecting the country you want data for and the Hreflang checker. Then, click on Next Step to continue.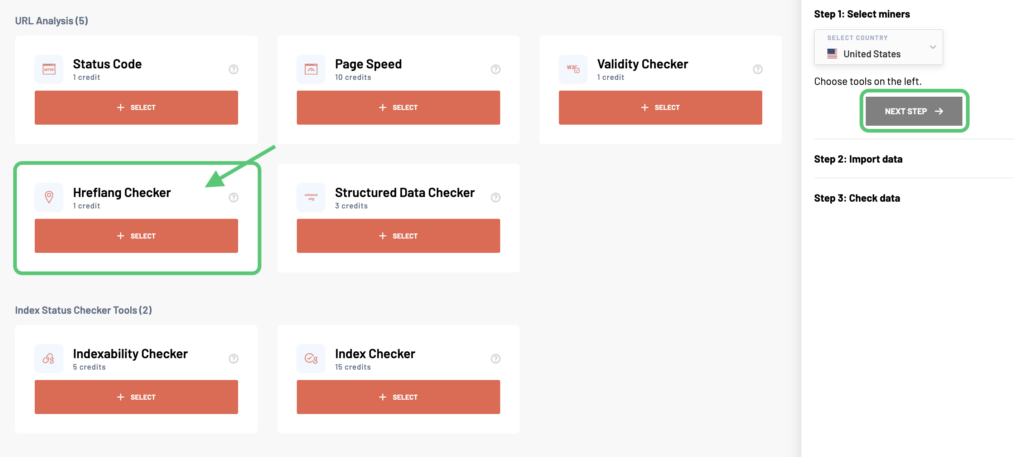 Name your report and add a list of URLs you want to check. You can either enter the list manually, upload a file or sitemap, or import your data from Google Analytics, Google Search Console, or Google Sheets.
We recommend that you primarily enter URLs that return status code 200. For example, if you enter redirected URLs, the output report may be confusing for you.

Once the report is generated, you will be emailed the analyzed data to check your hreflang tags.
Hreflang Checker report example
Report columns
Input: The URL you added to the report.
Hreflang in SRC: Number of hreflang attributes found.
Status: Status of hreflang setting and report of possible errors.
Hreflang values: Languages for which the hreflang attribute exists.
Alternate URLs: Targeted URLs specified in rel="alternate".
Report data
In the Hreflang in SRC column, focus on the rows that contain a zero or any number other than the expected number of language mutations.
In the Status column, focus on the rows that do not contain the value "OK". If you see return tag errors in this column, it means that you have URLs in rel="alternate" that do not point to every language version. Fix any errors and run another check.