Search results haven't been just about paid and organic results for a long time. See for yourself. Type any general search query in the search engine and check out the results.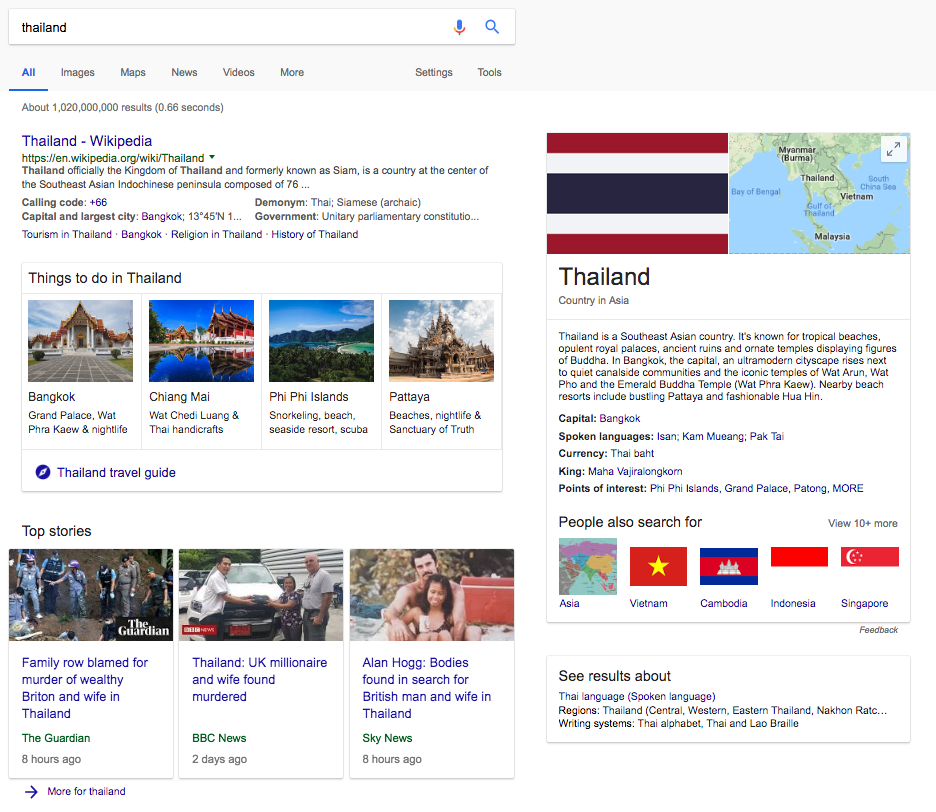 Depending on your input, you might see in search results images, product cards, local results, map, recent articles, or different structured data.
Also, Google often offers an answer to your question directly in search results. You don't even have to visit any site. This is possible thanks to knowledge cards that appear at the top of search results or knowledge panel on the right side of the search.
You can read about all the features that can be found within the search results in this article from Moz.
Why you should analyze search results then and when is the right time for this analysis?
In practice
You can use SERP analysis in combination with Keyword Analysis. You won't probably analyze the results of every single keyword that you have in your analysis because you can have hundreds or thousands of keywords in there. However, you can focus on analyzing keywords with high priority. These are usually the ones with higher search volume and lower competition.
SERP analysis might also be handy when analyzing your competition, looking for content inspiration, or when you just need to find out which domains are appearing most often in the search results.
Miner can be also used in case of Barnacle SEO. This tactic basically means that you're trying to get your site to the page that appear in search results for highly competitive phrases, for which you do not stand a chance to rank with your site. For example, a forum like Quora, an encyclopedia like Wikipedia, or an authoritative article from where you can try to get a backlink.
Thanks to Marketing Miner, you can analyze search results for multiple keywords in bulk. You will then have all the data in one spreadsheet and you can work with them as needed.
Now, let's take a look at how to work with this specific Miner and what kind of outputs you can expect.
Import data
Get started by clicking on Create report button and specifying Keywords at the input. Then write or copy the dataset of the keywords for which you want to analyze search results.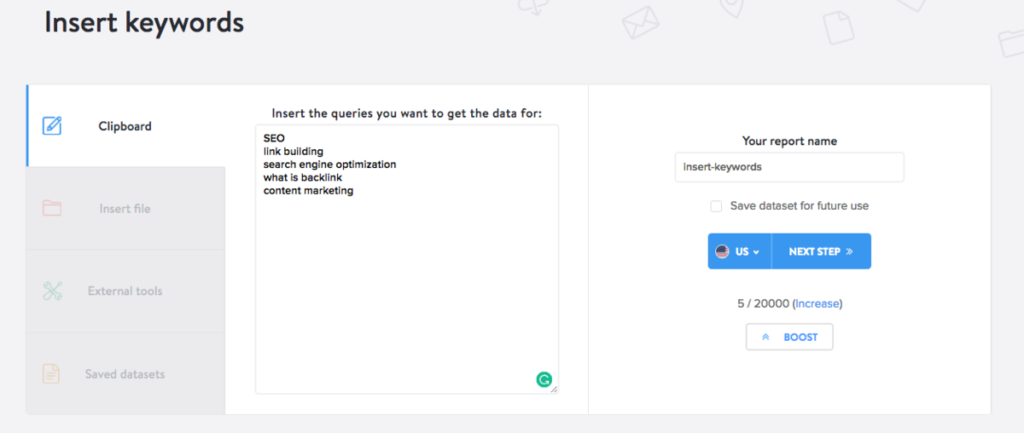 For a report to be easily identifiable, it is good to name it. Simply click into Your Report Name field.
Then click on the flag to select the country for which you want to get the data and finish by clicking on Next Step.
Selection of the Miner
In the Market prospecting section, click on Miner SERP Analyzer. Nothing else needs to be set. Click on Get Data to start processing your inputs.

Output example
Column description
Input: The keyword you entered in the input.
Position: Ranking position.
Type: Type of the result. Numbers 1 to 10 represent the basic organic results. Number 0 represents mainly featured snippets.
Domain: The domain that ranks for that keyword.
URL: The URL that ranks for that keyword.
Features: Various features of search results, for example, breadcrumbs, ratings, related search, etc.
Title: Meta title in SERP for a specific URL.
Description: Meta description in SERP of a specific URL.
Output analysis
In the output report, you can see right away aggregate charts that show occurrences and ratio of individual search types within search results.

When analyzing the output, you should focus on:
How to stand out in search results with your webpage that ranks for the specific keywords. You might stand out by rewriting titles, descriptions or adding structured data.
How to get your site to featured snippets. Featured snippets are a quite broad topic, so we recommend to study this little bit further. You can read, for example, these articles from Hubspot, Searchenginejournal or Mangools.