Search results are no longer just about paid and organic results. See for yourself. Type any keyword into the search engine and check out the results.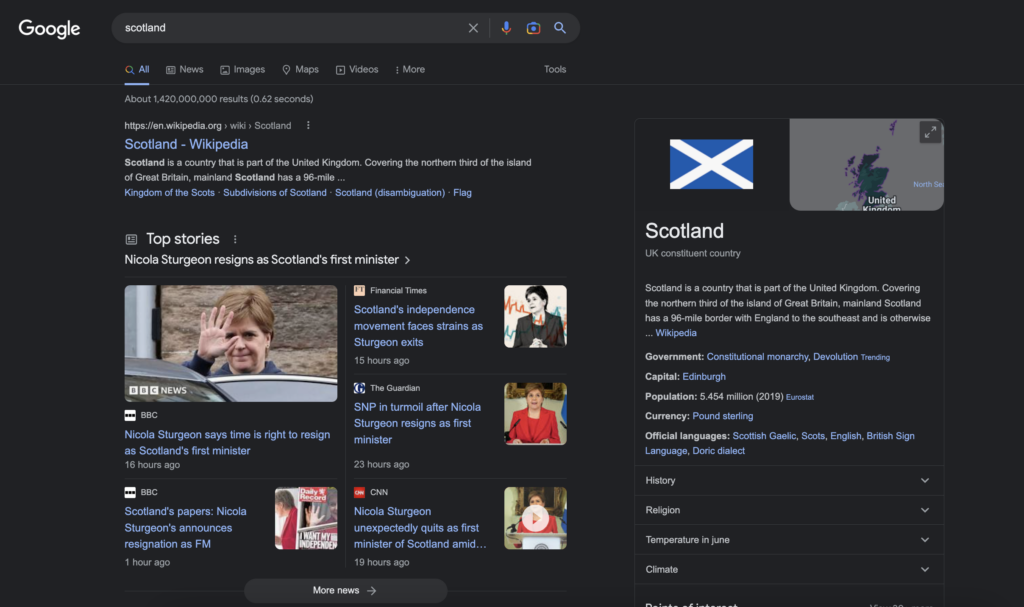 You'll find many elements in search results today.
Depending on your search, you may also see images, videos, shopping tab, local pack, maps, people also ask, featured snippets, knowledge graphs, carousels, or other rich snippets in your search results.
Google often provides an answer to your question right in the search results. You don't even have to visit a website to find the answer to your question. This is possible thanks to Answer Boxes that appear at the top of search results or in the Knowledge Panel on the right side of search.
For more information, read this guide to know what additional elements you can find in search results.
Why should you analyze search results and how does SERP analysis benefit your SEO strategy?
How SERP analysis benefits your SEO
You can use SERP analysis to help with your keyword research. You probably won't analyze the results of every single keyword you have in your analysis, as you may have hundreds or thousands of keywords. However, you can focus on analyzing high-priority keywords. These are usually the ones with higher search volume and lower competition.
SERP analysis can also be useful if you are analyzing your competition, looking for content inspiration, or if you just want to find out which websites appear most often in search results.
This miner can also be used for Barnacle SEO. This tactic basically means that you try to get your site linked from the page that appears in the search results for highly competitive keywords for which you don't have a chance to rank with your site. For example, a forum like Quora, an encyclopedia like Wikipedia, or an authoritative article from which you can try to get a backlink.
Thanks to Marketing Miner, you can analyze search results for multiple keywords in bulk. You will have all the data in one spreadsheet and can work with it as you need.
Now, let's take a look at how to do SERP analysis in bulk and what tool to use.
How to do SERP Analysis for multiple keywords in bulk
To do SERP Analysis for multiple keywords in bulk, start by clicking the Create report button, selecting your target country and the SERP Analysis tool.

Now click the Next Step to enter the keywords you want to analyze data for. There are several ways to do this. You can either enter the list manually, upload it from a file or spreadsheet, or import your data from Google Search Console or Google Sheets.

Before you generate your keyword report, don't forget to give it a name and add tags to keep your reports organized and easily accessible for future use.
Now click on Import data to see how many data rows you have to analyze and check your data before processing. In the menu on the right, you will also be able to see how many credits this report will cost you.
Then click on Analyze data to finish the report. When the report is ready, we will notify you by email.
SERP Analysis report example
Report columns
Input: The keyword you entered in the input.
Position: Ranking position.
Type: Type of the search result. Numbers 1 to 10 represent basic organic results. Number 0 represents mainly featured snippets.
Domain: The domain that ranks for the keyword.
URL: The URL that ranks for the keyword.
Features: Various features of the search results, such as breadcrumbs, reviews, related searches, etc.
Title: Meta title in the SERP for a specific URL.
Description: Meta description in the SERP of a given URL.
Report data
In the SERP analysis report, you can instantly see aggregated graphs showing the frequency and ratio of each search type within search results.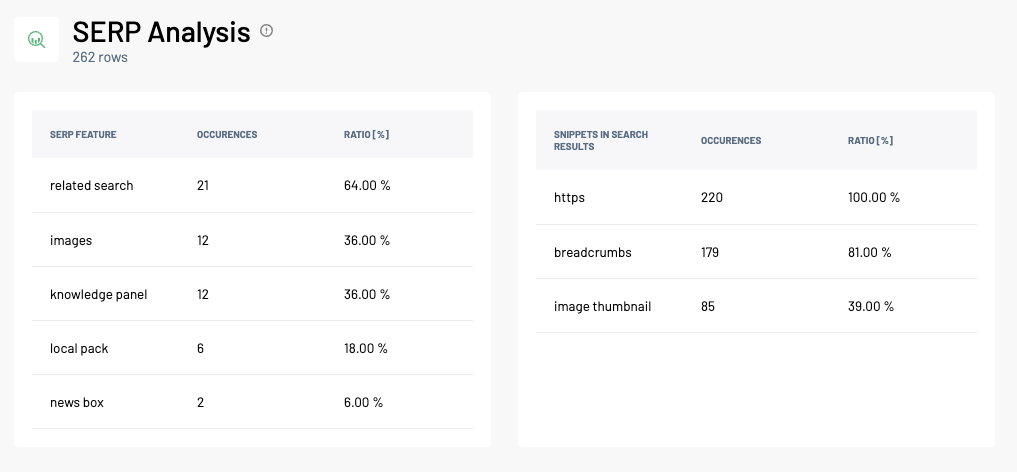 When analyzing the report, you should focus on:
How to make your web page stand out in the search results for specific keywords. You can stand out by rewriting titles, meta descriptions, or adding structured data.
How to get your site into featured snippets. Featured Snippets are a pretty big topic, so we recommend you do some research before start optimizing for them. For example, you can read these articles from Hubspot, Search Engine Journal, or Mangools.