Type any keyword into the search box and scroll to the bottom of the search results page to see keyword suggestions related to your search. This Google feature is called Related Search.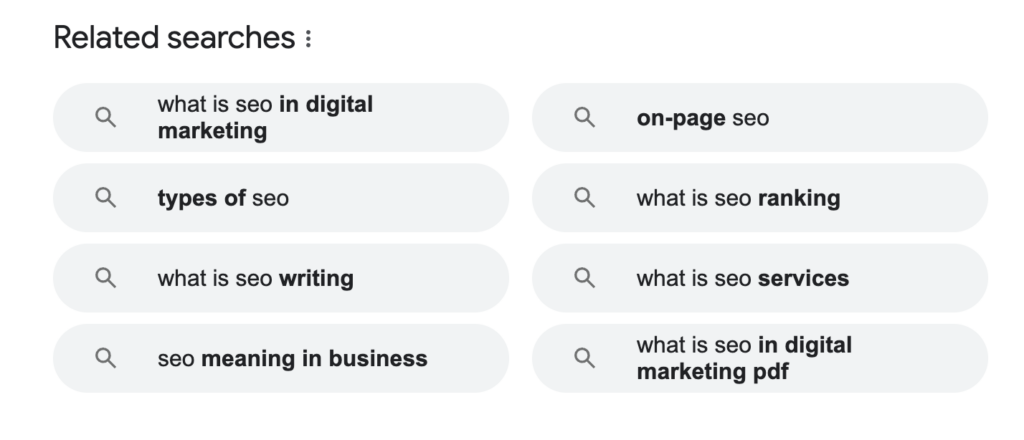 Google Related Searches are eight related search results at the bottom of a search results page. They provide great insight into what customers are searching for and help marketers find keywords that are relevant to their content strategy. If you are looking for a way to find Related search suggestions for multiple keywords in bulk to save time, you have come to the right place!
Here is how Marketing Miner can help you find all related search suggestions for multiple keywords in one go.
Related search miner is quite similar to Suggest miner. However, it's a good practice to use both of them. This will help you find even more new keyword ideas for your SEO strategy.
What are keyword suggestions?
In search, keyword suggestions are the related search terms that appear below or next to the search results when a user enters a search query. These suggestions are generated by the search engine's algorithms and can help users refine their search or discover related topics to find exactly what they are looking for.
Related Searches vs Keyword Suggestion tools
Wondering which tools to use for your keyword research? Unlike Keyword suggestion tools, Related search at the bottom of the search page focus on related topics. It's not about filling in the likely query that the user entered into the search engine, but rather a list of similar topics that people often search in connection with the entered phrase.
These related topics don't necessarily contain the exact phrase or keyword you entered. They can be just related suggestions associated with other topics. Take a look at the example of Prague city suggestions with suggested queries such as prague city tour, what to do in prague, prague country, what is prague known for, is prague safe, etc…).
How to use Google's Related searches?
Related searches are very useful for SEO as they help marketers find suitable keywords for their content strategy. You can use this tool for:
Keyword research. They can be a very helpful source of new keyword ideas. You can also use tools such as Keyword Difficulty or Search Volume to see their competitiveness. This will give you an idea of which phrases you are more likely to rank for.
New content ideas. If you do not know what to write about because your topic is too complex or you have already covered it in detail, try to get inspiration from related keywords. Thanks to Related Search, you can find out what users tend to search for in relation to your topic.
Understanding user intent and answering questions they ask. Related searches also help understand the intent behind a search. When you know the kind of questions searchers ask, it's easier to know what question you should answer.
Here's how you can find Related searches in bulk.
How to find Related searches in bulk
To find Related searches in bulk for your seed keywords, click the Create report button, select Related Search and a country from the list of available options.

Now click the Next Step to enter the keywords you want to get suggestions for.
There are several ways to do this. You can either enter the list manually, upload it from a file or spreadsheet, or import your data from Google Search Console or Google Sheets.

Before you generate your keyword report, don't forget to give it a name and add tags to keep your reports organized and easily accessible for future use.
Then click on the Import Data button to check your data before analyzing. If you work with a large number of keywords, we will notify you via email when your report is ready.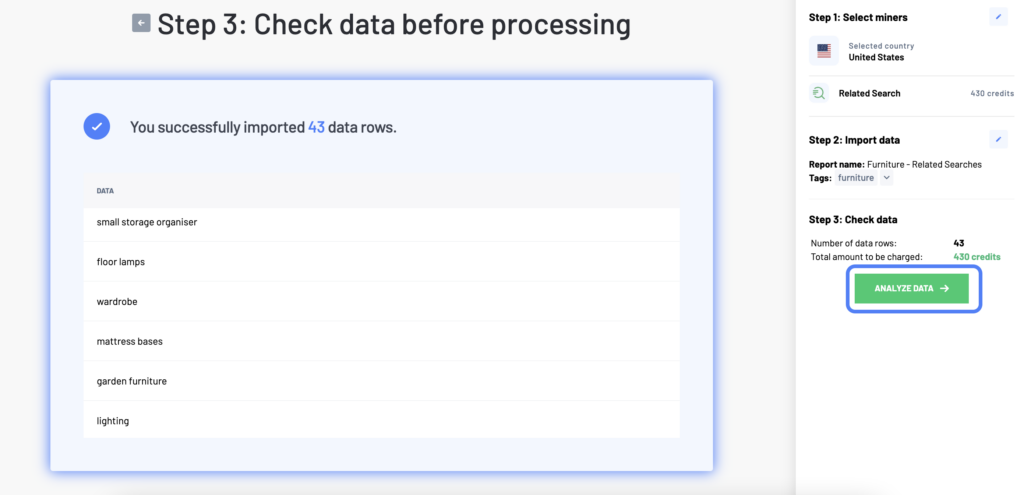 Related Searches report example
Report columns
Input: The keyword you wanted to get suggestions for.
Source: Source from which the suggested keywords were downloaded (Google).
Related Search: Keyword suggestions from Related searches.
Report data
You can use the related keyword suggestions for your keyword research or come up with new content ideas for your website. However, you should also check the search volume and keyword difficulty to make sure that it makes sense to work with these keywords before you start implementing them into your SEO strategy.