Enter any keyword in the search and scroll to the end of the first page of search results. Now, you are probably looking at suggestions that are related to your keyword. This feature from Google is called Related search.

When you are a marketer and you want to avoid searching for these suggestions manually, you can use Marketing Miner that will do it for you and provide you with up to 8 related suggestions for your keyword.
Miner Related search is very similar to Miner Suggest. Even though the primary function is different, in practice, you can use both Miners for the same purpose.
What are keyword suggestions?
Keyword suggestion (or also related queries) is a feature of search engines which shows users similar queries related to their search or which were searched previously.
Difference between related queries (search) from search engines and suggestion tools
In comparison to suggestions from suggestion tools, keyword suggestions in the bottom part of the search focus on related topics. It's not about filling in the probable query the user wanted to enter into the search engine but rather a list of similar topics which users often search in connection with the entered query.
These related topics don't necessarily need to contain the entered keyword itself. These may be just related suggestions associated with other subject matters. Take a look at the example of suggestions Prague city where there are queries like (pension prague city, hotel prague city, etc…).
In practice
You can use this Miner in these situations:
When working on keyword analysis. Suggestions from Related search are one of the many ways on how to gather your data.
When you are seeking inspiration for the new blog post. If you do not know what to write about, because the topic you are dealing with is too comprehensive, or you already covered it in detail, try to inspire yourself with related keywords. Thanks to related search you might find out what users tend to search regarding your topic.
When you are looking for any content inspiration. Whether for social networks or email. A Related search will tell you what are your users searching for, and how they think while searching.
Let's see how to work with this Miner.
Import data
Get started by clicking on Create report button and specifying Keywords at the input. Then write or copy the dataset of the keywords for which you want to get suggestions from Related search.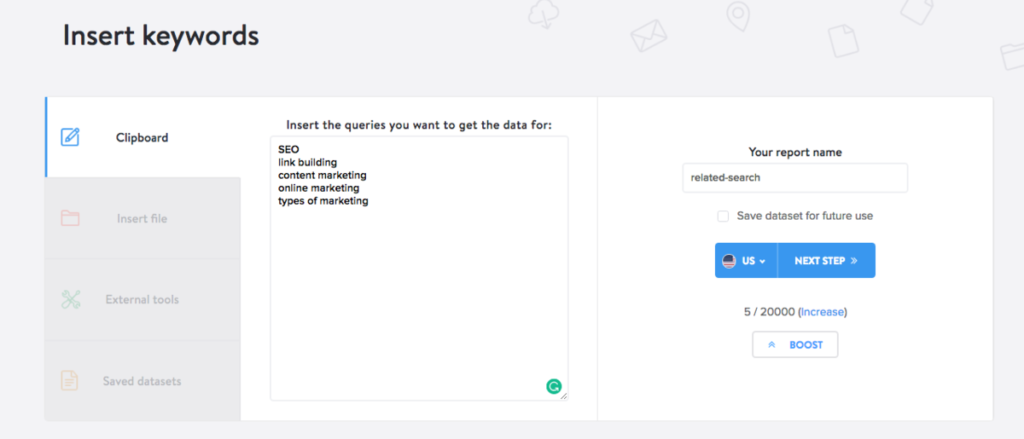 For a report to be easily identifiable, it is good to name it. Simply click into Your Report Name field.
Then click on the flag to select the country for which you want to get the data and finish by clicking on Next Step.
Selection of the Miner
In the Keyword prospecting section, click on Miner Related Search. Nothing else needs to be set. Click on Get Data to start processing your inputs.

Output example
Column description
Input: The keyword you wanted to get suggestions for.
Source: Source from which the suggested keywords were downloaded.
Related Search: Keyword suggestion from Related search.
Output analysis
You can use related keyword suggestions for keyword analysis or as an idea for new content on your website. But before you start thinking about using a specific keyword, you should first find out its search volume so you can be sure that it makes sense to work with these keywords.