Plagiarism is anything but not pleasant. Nobody is happy to find his own content on the different website. And not only because it cause creating of duplicate content, which means that two pages compete with each other and it might seem suspicious for both search engines and users, but also because the stealing of content is not ethical at all, it is forbidden, and it shouldn't occur.
Plagiarism is basically copying text from one site to another, without any citation to the original source. Miner in Marketing Miner considers plagiarism as two pages that match a significant part of the content.
In practice
You might use this Miner when you suspect that your content might be copied somewhere else without you knowing this and you want to find these pages.
Also, if you create a lot of content on the web and you know there is a significant chance it might be copied to another site, it makes sense to check plagiarism on a regular basis.
Import data
Get started by clicking on Create report button and specifying URLs at the input. Then write or copy the dataset of the URLs, where you want to check if its content was copied somewhere else.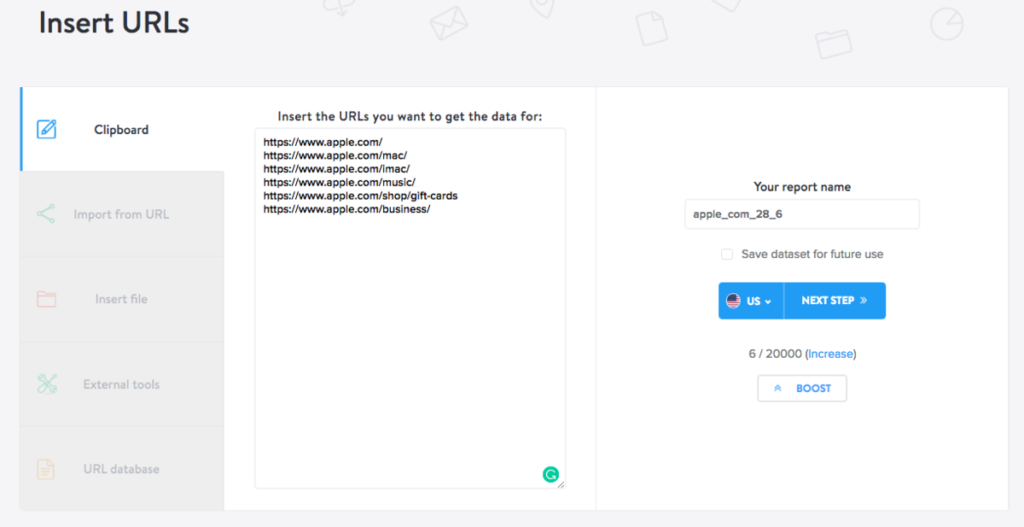 If you need to analyze all pages on the web and have a sitemap available, you can insert its link into the tool. To do so, click on the Import From URL section in the left sidebar.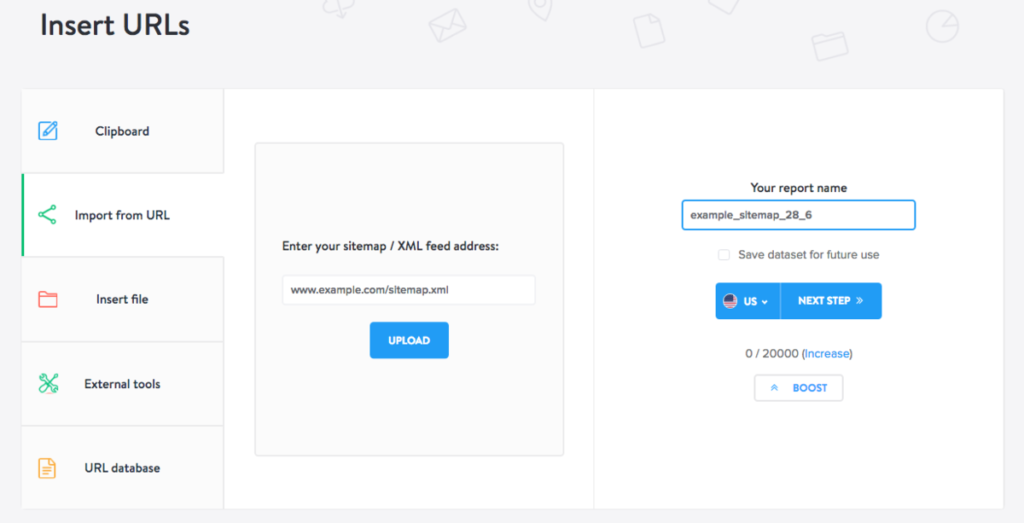 For a report to be easily identifiable, it is good to name it. Simply click into Your Report Name field.
Then click on the flag to select the country for which you want to get the data and finish by clicking on Next Step.
Selection of the Miner
In the Content information section, click on Miner Plagiarism Checker. Nothing else needs to be set. Click on Get Data to start processing your inputs.

Output example

Column description
Input: URL you entered at the input.
Plagiarism URL: URL where is part of your text copied.
Duplicate content: Link to output in Marketing Miner. After clicking on this link, you will see duplicate content that is on both URLs. Duplicate content is highlighted by red color. An example is in the picture below.

Output analysis
First, check all outputs. Miner could evaluate duplicate content within your site that is very similar or recycled. If this is the case, you can either edit the content on the page or use the canonical tag to explain to the search engine that this is duplicate content and to tell which URL to prefer.
If you find copied content from your site on a different site and you are convinced that they stole it from you, make sure to contact them. You can ask to either completely delete the text from the page or give credits to you by placing a link to you initially written content.