Are you looking for new content ideas to answer your customer's questions? We created a Keyword profiler and Questions section to find detailed information about questions that people are asking about your keywords. 
Try Marketing Miner now:
After adding your keyword to the Keyword profiler in the Questions section, you will be able to view the following information:
Keyword search volume – average monthly search volume on Google (during the previous 12-month period).
CPC – average cost per click in Google Ads.
Difficulty – It's a number representing the difficulty to rank for the keyword in the TOP 10 search results. The higher number in the difficulty column is, the harder it is to rank for the top positions.
YoY Search volume change – It is a percentage value representing the percentage of the year over year change that compares the monthly search volume of the latest month with the same month the previous year.
Trends – search volume of the keyword in individual months searched within the last 12 months.
SERP features – the column shows a list of SERP features appearing in the search results for the given keyword.
Try Questions section:
Keyword metrics
After analyzing your keyword, you will be able to see its metrics overview.
You can collect information such as keyword search volume, CPC, search volume YoY comparison, or trends that we described above.

This section provides a quick overview of your keywords.
Questions
Below the keyword data overview, you can view a table with all related questions to your search query.
There are also three boxes at the top that contain a data overview of all questions:
Number of suggestions
Total search volume
Average CPC

In the table below, you can find the following information for each suggested query:
Search volume
CPC
Search volume (YoY)
Trends
INFO:
With a free Minee account, you can only view the top 10 related questions (data rows). If you want to view all keywords, you will need to
upgrade your plan
.
What data can Keyword profiler provide?
Related question suggestions pull data from Marketing Miner's internal database that collects information from the click-stream (third party data about user behavior) for each market. At the moment, we collected keyword data for the following markets:
Slovakia: 8M keywords with search volume more than 3
Czechia: 15M keywords with search volume more than 3
Poland: 29M keywords with search volume more than 3
The keywords from Marketing Miner's database are not sensitive to capitalization, word order, or diacritics.
Filters
In the top right corner of the table with question suggestions, you can set up keyword filters for the following:
Keyword – contains/doesn't contain

Exporting questions
You can also download all suggestions by clicking on the Export suggestions button to work with them in Excel. The report charges 5 credits per keyword to download.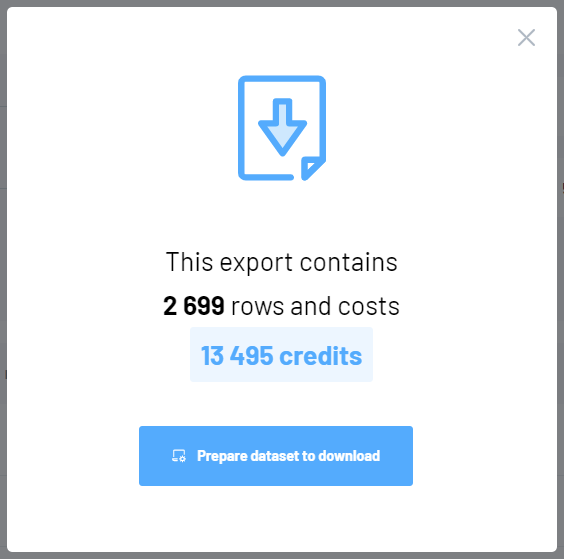 INFO: Price per exported keyword = 5 credits. 
How to work with question suggestions data
After you download all related questions data to your keywords, you can remove any suggestions that are not relevant to your website and work with them further in your Keyword research to identify:
Keyword opportunities – enter the queries (questions) you've missed out to the Landing Page miner to see if any pages cover these keywords already.
Your pages ranking for queries that are not relevant – it's important to not just monitor queries that are not covered on your website, but also monitor those keywords that your website ranks for with pages that are not relevant.
Keywords with high potential – identify keywords with high search volume but low competition, so-called low hanging fruit keywords. To identify such keywords, we recommend adding another column in your spreadsheet with keywords and name it as Opportunity score. Then add the following formula: Search Volume/(Competition +1). The higher the number, the better performance. As more searched keywords with lower competition are ideally what you want to achieve. To find out keyword difficulty metrics, use our SERP competition miner.
Optimizing for featured snippets – Featured snippets show up fairly often depending on the kind of question that's asked. Try to optimize your content for featured snippets to answer questions that your audience often asks on Google.