Structured data is a standardized format that provides relevant information about a webpage and organizes its contents into categories. For instance, on a recipe page, structured data would classify the ingredients, cooking time and temperature, calories, and other similar details.

Structured data will help you to make your site more visible in the search results, which can lead to a higher CTR.
Check if your webpage is using structured data markup
Structured Data Checker will help you determine if structured data has been implemented on a particular URL, and if so, what type of data it represents. You will use this miner if you:
Want to verify that the structured data is being used correctly on your website, especially after the initial implementation or after a number of changes on the site that may have an impact on it. For continuous monitoring, you can also use the Structured Data report in Google Search Console.
Find out what structured data your competitors are using so you can get inspired.
To check structured data for multiple URLs in one go, click the Create report button and select Structured Data Checker.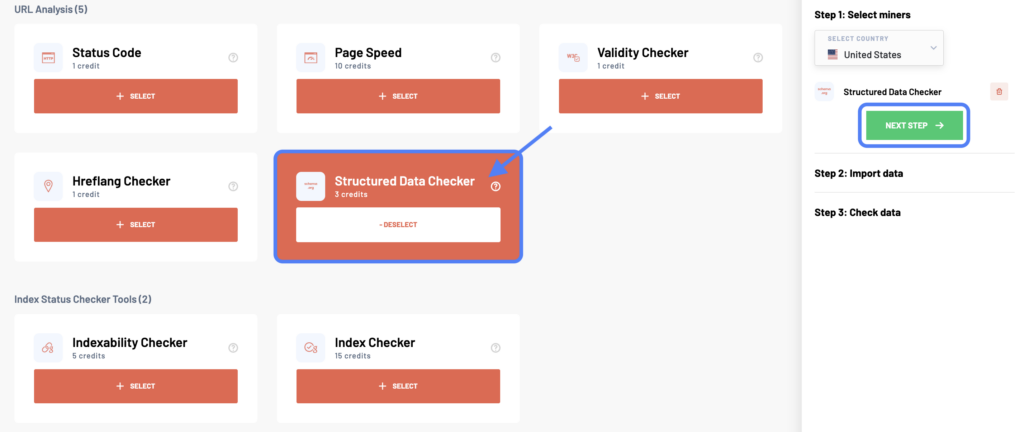 In the next step, enter a list of URLs you want to analyze in bulk. There are several ways to do this. You can either enter the list manually, upload it from a file, or import your data from Google Analytics, Search Console, and Google Sheets.
You can easily use this tool to analyze all the URLs stored in your sitemap too. Just select the Import Data from URL option and enter your sitemap URL to upload it.

Then, click on Import Data to validate your structured data. Once the report is generated, you will be emailed the analyzed data.
Structured Data report example
Report columns
Input: Tested URL.
Structured data found: Indicates whether the structured data was found on the page or not.
Markup type: Markup type.
Found entities: Detected structured data types.
Status: Structured data implementation status.
Report data
Verify that all structured data is correctly implemented. If you see "Yes" in the Structured DataFound column, you should also see "OK" in the Status column. If not, fix the errors and recheck the URL. You can also debug specific errors in structured data using Google's Structured Data Testing Tool.
Check rows with a value of "No", which means that the structured data is not implemented. However, if they should be implemented, you should take a closer look.
When you analyze your competitors, focus on the types of structured data that you find and decide if some of them would be useful for you to implement as well.