Link building plays an essential role in successful search engine optimization (SEO). It drives good traffic to your site and indicates the relevance and quality of your content.
Most articles about link building only focus on information about gaining lots of good quality (relevant and authoritative) backlinks. In fact, by following this advice, you only get an unnatural link profile (that could also get you penalized as it goes against Google's Link schemes Guidelines).
What is an unnatural link profile and how do I avoid it, you ask? Let's take a look at what a link profile is and what makes a natural link profile to not get penalized by Google.
What is a link profile?
A link profile describes all links that are pointing to your site.
Link profile factors
There are lots of theories about which backlink attributes have an impact on organic search results and it's difficult to name them all. As we all know, not all backlinks are created equal and some factors make links more valuable.
What factors play an important role in building a natural link profile?
Trust and authority of linking sites – the more important and popular a site is, the more weight the links have
Quality and quantity of links – what links are leading to your site and how many of them (it's better to get more links from different domains than multiple links from the same domain)
Type of link – in-text or image backlinks
Anchor text – what anchor text is used by other websites linking to your site (natural links will come from various anchor texts as all website editors link differently – raw URL, branded keywords…)
Ways of link acquisition – exchanging or buying links is a violation of Google's Webmaster Guidelines
Why is a natural link profile so important?
Complex search engine algorithms can easily detect backlink patterns and it might categorize your activity as "unnatural" link building. Bad link building tactics can hurt your ranking or get your website penalized by taking it out of the search results (this action can affect your entire site or just selected pages).
A natural link profile includes links that are useful to your audience and to your brand's goals. Not only it will protect a site from algorithm updates, but it will also help you avoid penalties.
What does a natural backlink profile actually look like?
Here we are at another question that doesn't have a clear answer. It depends on what website you have and what industry you are in. One thing you should always focus on is having a diverse backlink profile (gaining different types of links) and avoid getting too many backlinks in a short period of time (as search engines might view it as link spam).
This is how you can keep away from search engines detecting a pattern of unnatural links pointing to your site or being penalized.
A natural link portfolio should be as diverse as possible and contain the following elements:
Links from high-authority sites relevant to your niche
Social media backlinks
Links with a brand name used as anchor text
Links pointing to your homepage and other useful pages
Nofollow links (they are also necessary for a natural backlink profile as not all website owners want to allow search engine bots to follow these links)
Links from low-quality websites in your niche
Text and image backlinks
How to check your link profile
Marketing Miner – Website profiler
Here's how to find and check your backlinks with Marketing Miner. To quickly view your backlink profile, you can use our Website profiler that pulls data directly from Ahrefs tool.
Thanks to this tool, you get important SEO metrics such as:
Number of referring domains
Number of backlinks
Link distribution
Dofollow vs nofollow ratio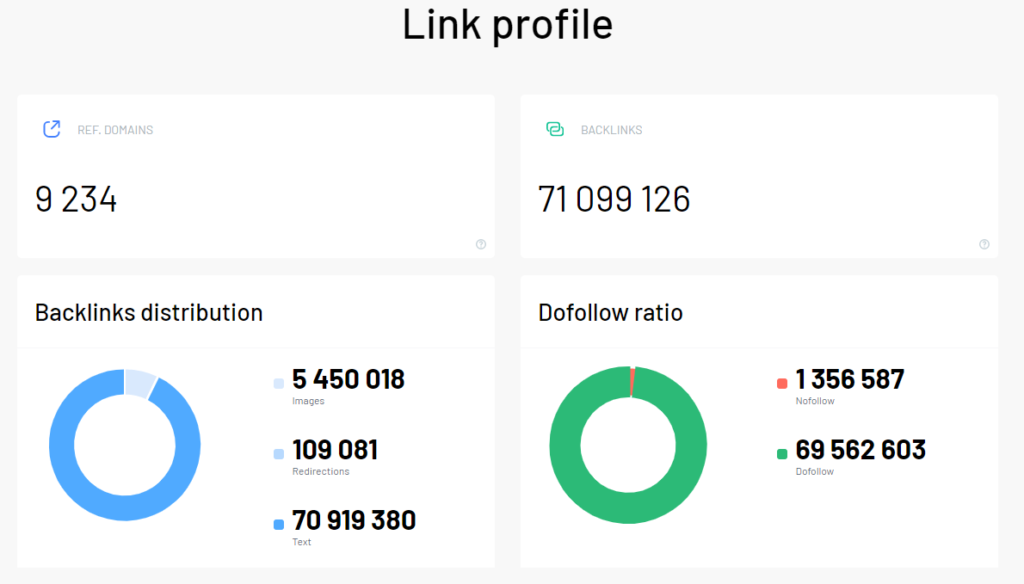 Example: https://www.marketingminer.com/en/profiler/domain/mall.cz/en_en#links-profile
Paid SEO tools: Ahrefs and Majestic
If you want to get a very detailed backlink analysis, we recommend you to use different tools that specialize in this area. The most popular backlink data tools are Ahrefs or Majestic.
How to remove unnatural links
As we mentioned above, Google penalizes websites that have many unnatural backlinks. Sometimes you don't even know about having them as many of them are generated automatically (spammy sites, affiliate pages, poor authority sites that generate 1000 links in one click etc.), or in a worse scenario, they are created by your competitor to hurt your website.
Unfortunately, you can't control your external backlinks (links that point to your site). So how do you tell Google to remove all these bad links from your backlink portfolio?
You can audit your link profile in Google Search Console and use Disavow tool
to tell Google which links pointing to your site you would like it to ignore.
Disavow tool
Our advice is to use the Disavow tool carefully – as it can do more harm than good to your website rankings if you don't know exactly what to do. For this reason, use it only when you are 100% sure that a backlink from a given website can hurt your rankings.
Google says that you should use this tool only if:
You believe you have a significant number of spammy, artificial, or low-quality links pointing to your site
These links have caused or will likely cause a manual action on your site
Read more to find out how to create a list of links to disavow here: https://support.google.com/webmasters/answer/2648487/
A final point
You need to understand how search engines work first to attract backlinks through your link building campaigns. Depending on your site and industry, some link building tactics will be more fruitful than others, so find the right mix for your case to create a natural link profile portfolio.
We also recommend you to watch the following video with Matt Cutts where he shares some effective techniques for building links: