You will use Miner Backlink checker mostly to analyze backlinks in the case of one-time check of existing links on a specific page.
If you want to monitor your backlinks on a regular basis, we recommend you to create a project and then set up the link monitoring within this project.
In practice
When can you use a one-time backlink check?
If you don't want to assigns links to the specific project that you monitor on a regular basis.
If you downloaded links from Search Console or Ahrefs, which often have obsolete data, and want to find out which of these links are still live.
If you want to find out part of the content, where is your link placed.
Import data
Get started by clicking on Create report button and specifying URLs at the input. Then write or copy the dataset of the URLs where should be a link for your page placed.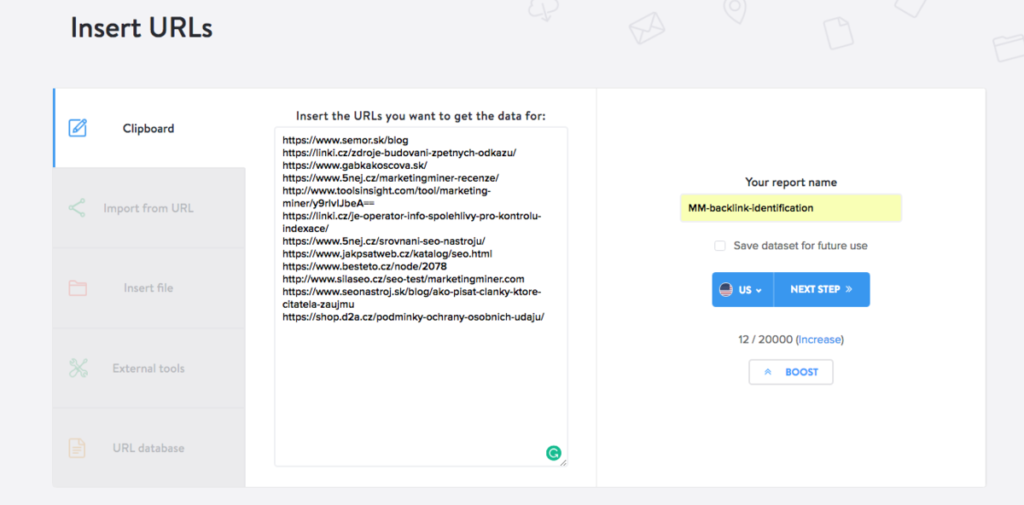 For a report to be easily identifiable, it is good to name it. Simply click into Your Report Name field.
Then click on the flag to select the country for which you want to get the data and finish by clicking on Next Step.
Selection of the Miner
In the Linkbuilding section, click on Miner Backlink checker.

Then insert the domain for which you want to check existing backlinks.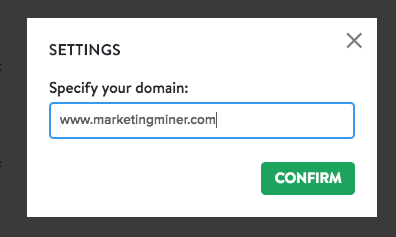 Afterward, click on Confirm and then on Get Data to start processing your inputs.
Output example
Column description
Input: URL that you enter at the input.
Domain: Domain that you enter at the input and for which you want to check existing links.
Backlink existence: Number of your links on the URL you enter at the input.
Backlink source code position: Percentage of the approximate location of the link in the code. The lower the number, the better the location of the link.
Estimated position: Estimated position where your link is located. It can be, for example, a text, header, or footer.
Backlink content: A sample of the text that is located near the anchor text.
Anchor text: Visible link text.
Status detail: The status code of the URL you entered at the input. Read more about status codes in this guide.
Landing page: The URL that the link refers to.
Output analysis
Check URLs where your link isn't placed anymore. Try to find out the reason why the link was removed and, if possible, try to get the link back. If that's not possible, you can remove those URLs from your link lists.
For existing links, make sure you don't have backlinks from any suspicious URLs, or from suspicious anchor texts.
For more on how to work with links and analyze your backlink portfolio, check out this guide.