The Competitors section helps you monitor and compare your competitors' search rankings (for up to 5 competitors). It also includes a market share metric for more data insights (we discuss what it means below).
Having access to this data will allow you to easily compare your website's visibility in search results for different keywords (which you can set up in the Rank Tracking section) against your competitors.
Using Competitors in Marketing Miner
You will find the Competitors section especially useful when working on competitor research to find out how your competitors are performing in search results.
If you notice significant changes in your competitor's ranking, we recommend that you look at what on-page or off-page SEO changes they have implemented to get more insight.
Now let's take a look at how you can easily track your competitor's ranking for different keywords in Google thanks to Marketing Miner.
How to use the Competitors section
Once you have successfully created a project, go to the Competitors section in the left menu.
The report should look similar to the following: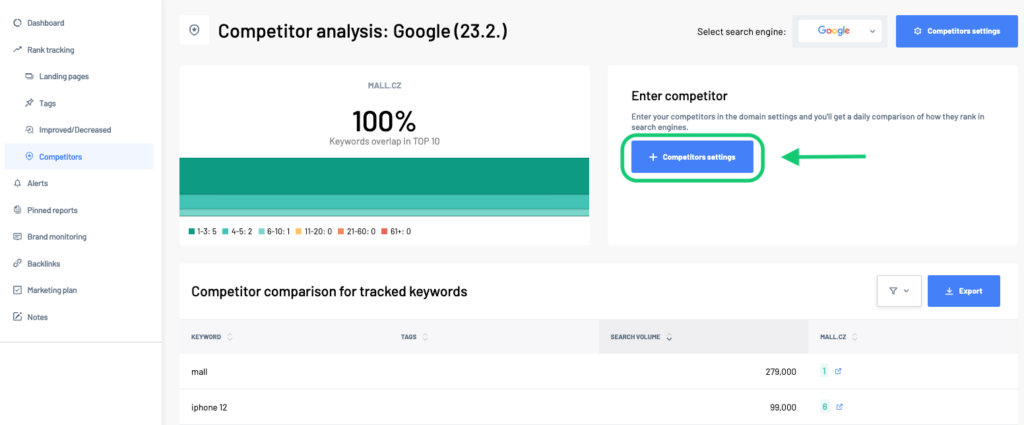 Now click the Competitors Settings button to enter all the competitor domains you want to track (for example, amazon.com).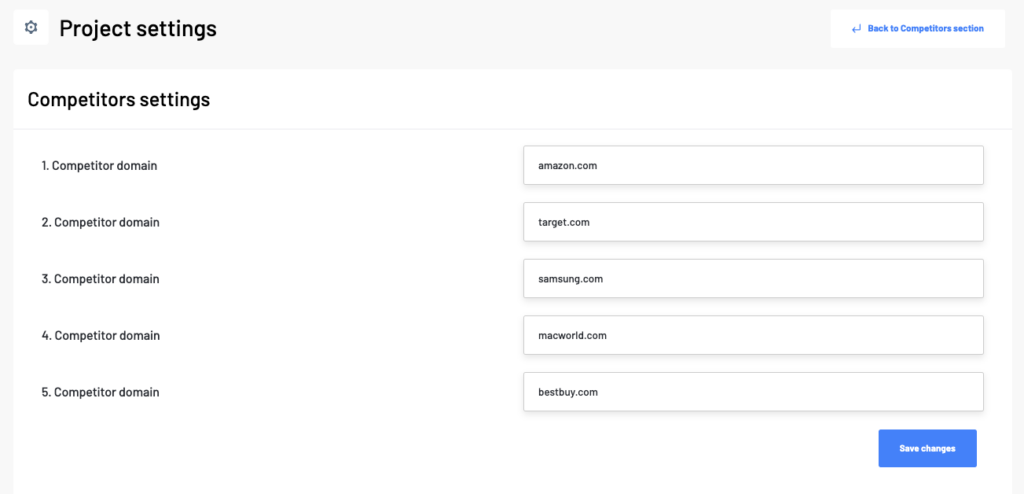 When you have added all your competitors, click Save Changes (you can always return to this section to change or add more domains).
Return to the Competitors section and refresh the page to see your competitors. At first, you will see only question marks instead of the actual competitors' ranking data, as it is loaded after the first measurement of your project (if you have set up your project to be measured daily, your data will appear the next day).
This is what you should see next: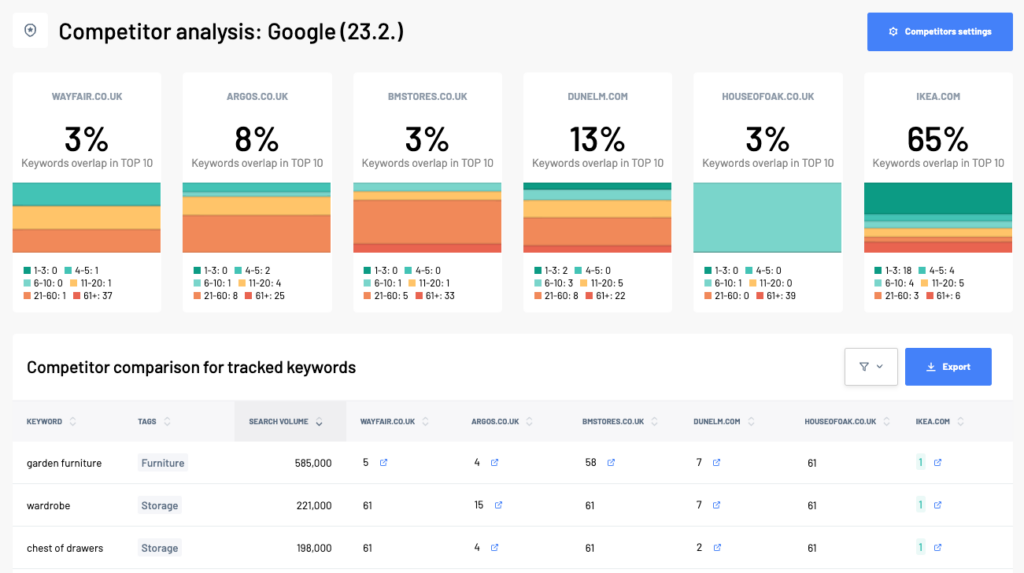 Based on the data collected from the competitor rankings, you can also calculate the Market Share metric (see the image above).
What is the Market Share metric?
Market share is the percentage of how many keywords the website shows up for in the top 10 search results (the first page of SERPs). To determine this metric, you can use the following formula:
[The number of keywords ranked on the first page of SERPs] / [Total number of keywords] * 100

The higher the number, the better the results!
Competitors section in Marketing Miner
If you haven't created a new project yet and would like to know what this section looks like, you can take a look at the example project below:
Competitor analysis and measuring your SEO performance
You should strive for the highest market share value among your competitors. First, you need to focus on improving your rankings for the keywords that are important to your business and for which your competitors are ranking higher.
If you decide to improve your rankings and make changes to your website, don't forget to monitor any changes in website traffic that may be affected.
Also, remember that it takes time to crawl and reindex your content, and you won't see changes immediately when you investigate whether the changes you've made have had a positive or negative impact on your rankings. If the changes caused a ranking increase for different keywords, it's obvious that your work is having a positive impact and you should apply these changes to other content as well.
If your rankings have dropped, it's a good idea to undo the changes and wait patiently to see if the drop was caused by the changes you made to the site or by something else (such as an algorithm update).
We recommend that you do not focus on specific keywords, but rather look at the overall results (market share metric). This is because some changes may only have a positive impact on a small number of queries, while the average rank (market share) may have dropped in the meantime.