Accelerated Mobile Pages (AMP) is a flexible technology for creating fast websites and web ads that work smoothly across all devices and platforms. It's relatively new and interesting technology.
AMP is designed to naturally fit to existing web structure and code. The main advantage of AMP pages is extremely fast loading.
From 17.12.2021 we ended the support of the AMP Checker miner.
In practice
Miner AMP Checker will help you to check correct AMP implementation and AMP HTML validation.
AMP should be validated after the first implementation and after any web modifications that can affect AMP HTML or rel links. For ongoing monitoring, you can use AMP report in new Google Search Console.
Import data
Get started by clicking on Create report button and specifying URLs at the input. Then write or copy the dataset of the URLs for which you want to check correct AMP implementation.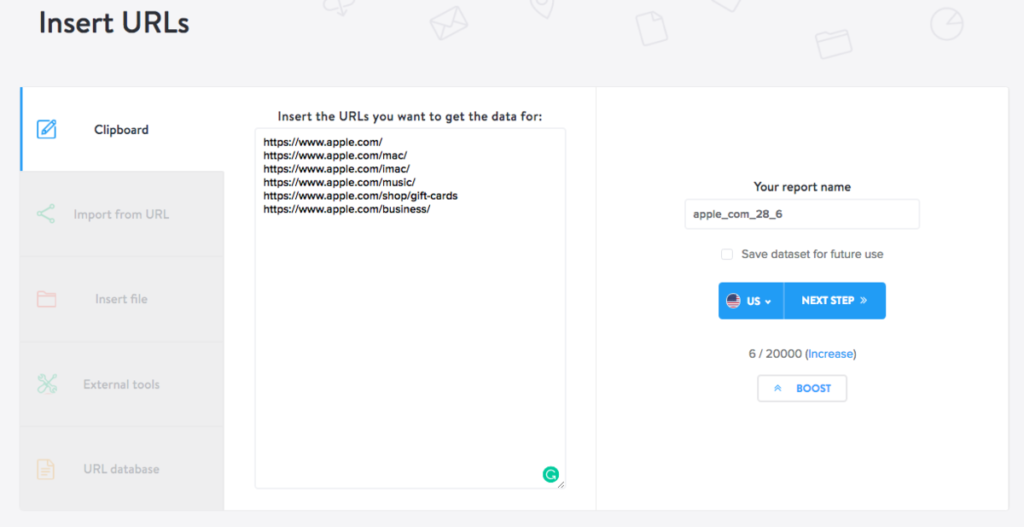 If you need to analyze all pages on the web and have a sitemap available, you can insert its link into the tool. To do so, click on the Import From URL section in the left sidebar.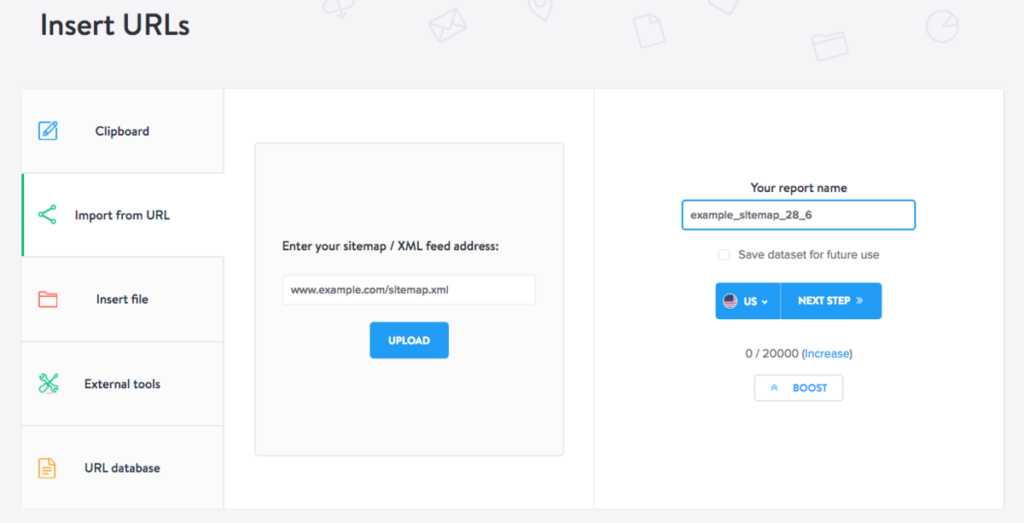 For a report to be easily identifiable, it is good to name it. Simply click into Your Report Name field.
Then click on the flag to select the country for which you want to get the data and finish by clicking on Next Step.
Selection of the Miner
In the URL Analysis section, click on Miner AMP Checker. Nothing else needs to be set. Click on Get Data to start processing your inputs.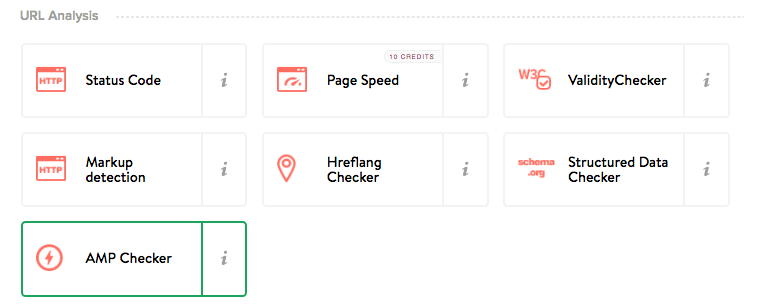 Output example
Column description
Input: URL that you entered at the input.
Status code: Status code of URL you entered. Read more about status codes in this guide.
AMP: Information if AMP markup was found on the page.
rel=amphtml: Information about AMP URL.
Valid: Information if AMP markup is valid.
Schema.org: Found entities of Strutured Data markup.
Canonical URL: Canonical URL for URL you entered.
Output analysis
In column AMP focus on rows that don't contain "yes". Fix all errors and run another check. Pages containing only rel=amphtml will have a value "no". This is fine because AMP markup should not be there but on the rel=amphtml page.
In columns rel=amphtml and Canonical URL focus on rows that contain other than expected URL. Both columns must contain valid URLs. Pay attention to these data and run multiple checks to be sure everything is OK.
In column Valid focus on rows that don't contain yes. Fix all errors and run another check.
Our recommendation
We recommend inputting mainly URL that returns status code 200. AMP HTML errors can be debugged before implementation in tool The AMP Validator. For regular checks, you can also use a Chrome plugin AMP Validator.
AMP is an interesting technology worthy of some exploration. It's mostly used by web publishers, but it's slowly penetrating also e-commerce market. Nevertheless, you should consult with a specialist before deciding to implement AMP. It's still niche technology and it doesn't have to be the right thing for you.