How secure is the site for its users, what are the security gaps and what to watch out for? Miner Security Analysis will help you out with these questions.
Marketing Miner uses two resources within this Miner:
From 20.02.2021 we ended the support of Website security miner. You can try other
Domain miners
instead.
In practice
You will use this Miner to find out if your site or your competitor's site is safe enough for users.
Import data
Get started by clicking on Create report button and specifying Domains at the input. Then write or copy the dataset of the domains for which you want to test its security.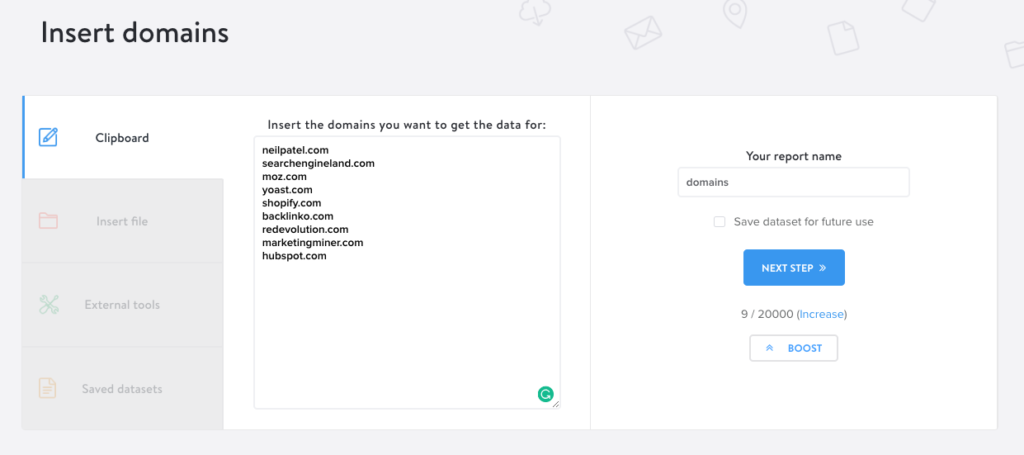 If you have all domains in one document, you don't have to copy them, but you can easily import the entire file with the list. To do this, click on the Insert Files section in the left sidebar.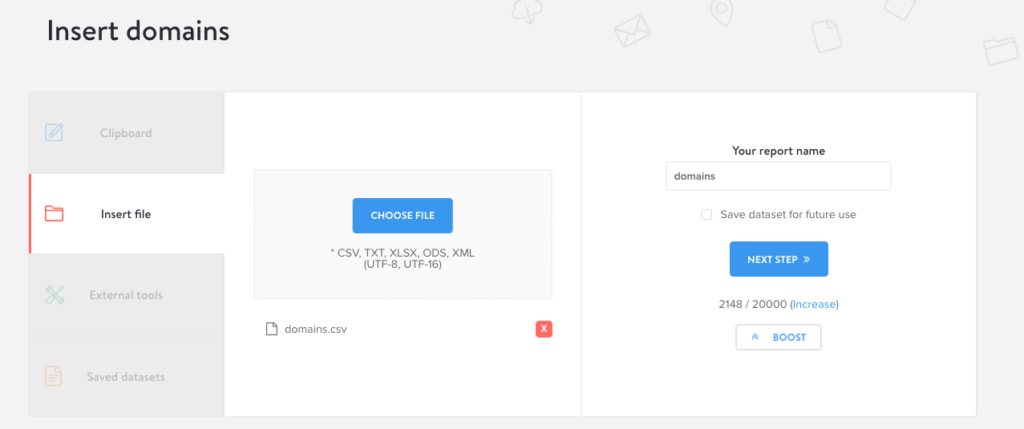 For a report to be easily identifiable, it is good to name it. Simply click into Your Report Name field.
Then click on the flag to select the country for which you want to get the data and finish by clicking on Next Step.
Selection of the Miner
In the Website analysis section, click on Miner Security Analysis. Nothing else needs to be set. Click on Get Data to start processing your inputs.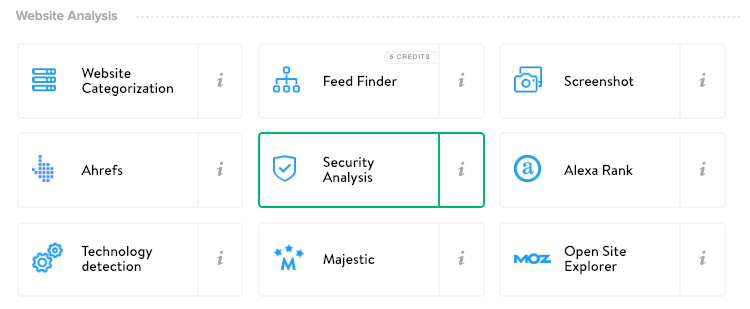 Column description
Contains Mallware: Test from Google Safe Browsing to check whether there is malware on this domain.
Grade: Grade of the overall security rating from the Mozilla Observatory, where A indicates the best rating and F the worst.
Score: Score of the overall security rating from the Mozilla Observatory expressed by a number. The higher the number, the better the result.
Tests Failed: The number of security tests in which the domain failed (according to the Mozilla Observatory).
Tests Passed: The number of security tests, in which the domain passed (according to the Mozilla Observatory).
URL to scan: URL with test details.
Output analysis
Focus on domains with the worst grade or the lowest score. Then check out the URL for the test details and try to discover the cause of the bad rating of the domain.
Be aware when there is malware is on your site and take all necessary steps to remove it.