Miner Feed Finder will help you in situations where you need to automatically find the sitemap or RSS feed for a larger number of domains. Miner will go through the robots.txt, source code, and the most common places where these files can be placed. After that, you will get the results in the summary report.
In practice
Information about sitemap or RSS feed for different domains might be useful when:
Working on the competition analysis, and you need to find out which of your competitors have a sitemap available and who doesn't.
When creating your own sitemap and looking for inspiration on how others prepared their sitemap.
If you want to follow the RSS feed of individual blogs and want to add it to your RSS reader, for example.
Import data
Get started by clicking on Create report button and specifying Domains at the input. Then write or copy the dataset of the domains for which you need to know the availability of a sitemap or RSS feed.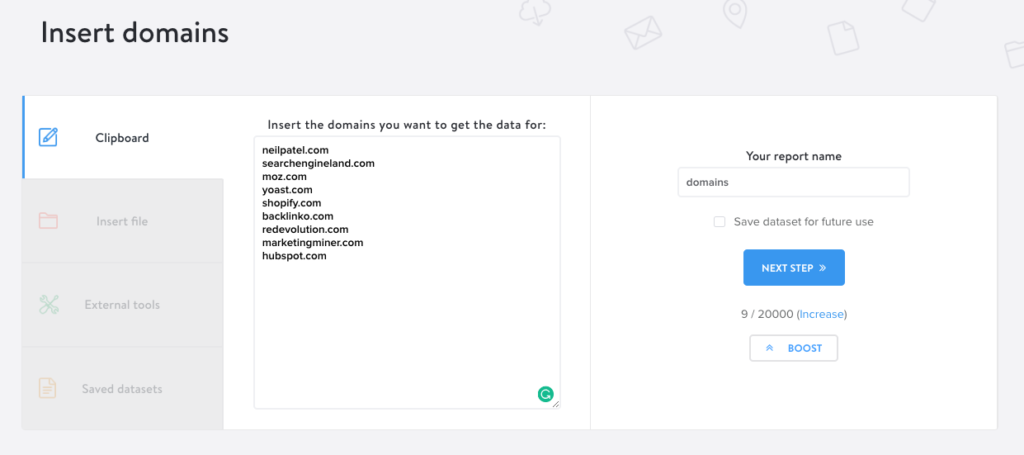 If you have all domains in one document, you don't have to copy them, but you can easily import the entire file with the list. To do this, click on the Insert Files section in the left sidebar.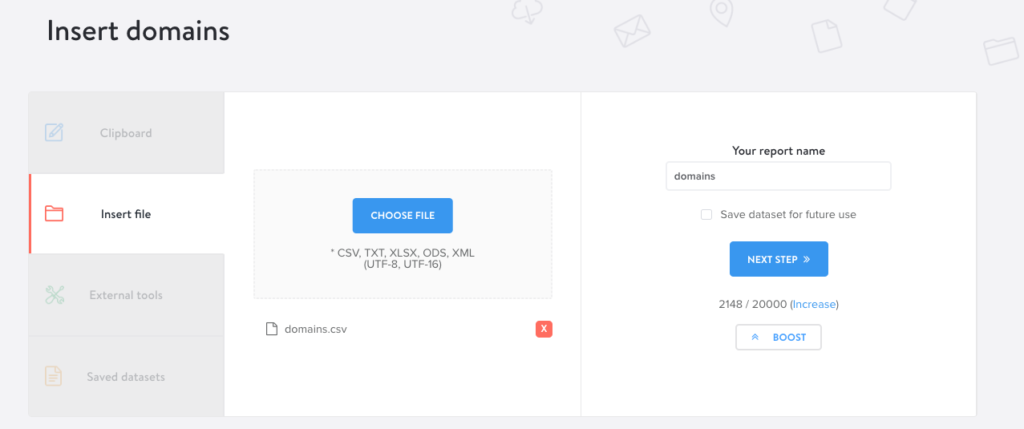 For a report to be easily identifiable, it is good to name it. Simply click into Your Report Name field.
Then click on the flag to select the country for which you want to get the data and finish by clicking on Next Step.
Selection of the Miner
In the Website Analysis section, click on Miner Feed Finder. Nothing else needs to be set. Click on Get Data to start processing your inputs.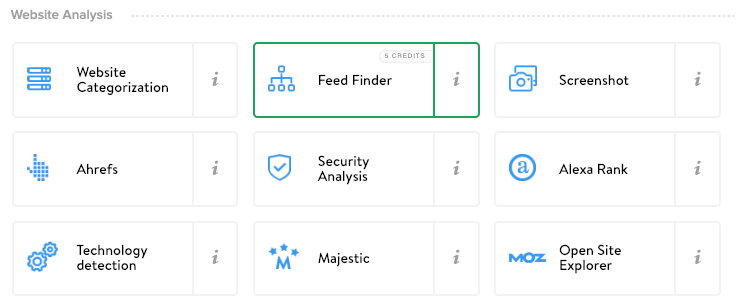 Column description
Input: The domain, that you entered at the input.
Sitemap URL: Sitemap URL for the specific domain (if it was found).
RSS feed: URL for RSS feed for the specific domain (if it was found).