Specific placement of a banner ad or a text ad targeting a particular URL and its focus group could be a powerful weapon in hands of a PPC specialist. After all, a content of an article/URL also specifies who is going to read it.
Let's demonstrate it on a short example:
User service offer: Keyword analysis. In this case, he is interested in people who somehow found out what a keyword analysis is and they may want it from someone. And so he will find articles that talk about what keyword analysis is and how it's done. He will identify which ones use Adsense or Sklik ad space and he will then target them with his ad with the offer "Do you think keyword analysis is complicated? I will help you!".
It sounds fairly easy but it isn't so. The main problem, in case he doesn't want to target the whole web but particular articles, is identifying such URLs. Marketing Miner can help you a lot about that:
Identifying potentially interesting content
The first step is to realize what content could a target group consume and how are they going to search it. Let's do an example with people who are seeking information on what vacuum cleaner to choose and they are still not decided (THINK phase of STDC framework). In this case, the examples of queries are following:
how to choose a vacuum cleaner
how to choose a quality vacuum cleaner
how to choose robotic vacuum cleaner
how to choose stick vacuum cleaner
how to choose vacuum cleaner
how to choose the right vacuum cleaner
what vacuum cleaner to choose
how to choose handheld vacuum cleaner
how to choose vacuum cleaner for ashes
How to choose a robotic vacuum cleaner
how to choose a good vacuum cleaner
which robotic vacuum cleaner to choose
how to choose robotic vacuum cleaners
how to correctly choose a vacuum cleaner
how to choose an industrial vacuum cleaner
how to choose leaf vacuum cleaner
how to select robotic vacuum cleaner
how to choose bagless vacuum cleaner
Along with these phrases, a user is interested in the web/content that covers them. And Google will answer such question the best. It will use Keyword Miners, particularly SERP Analysis miner, to obtain data. It will then go to Keyword Miners section and inserts phrases dataset that it chose at input: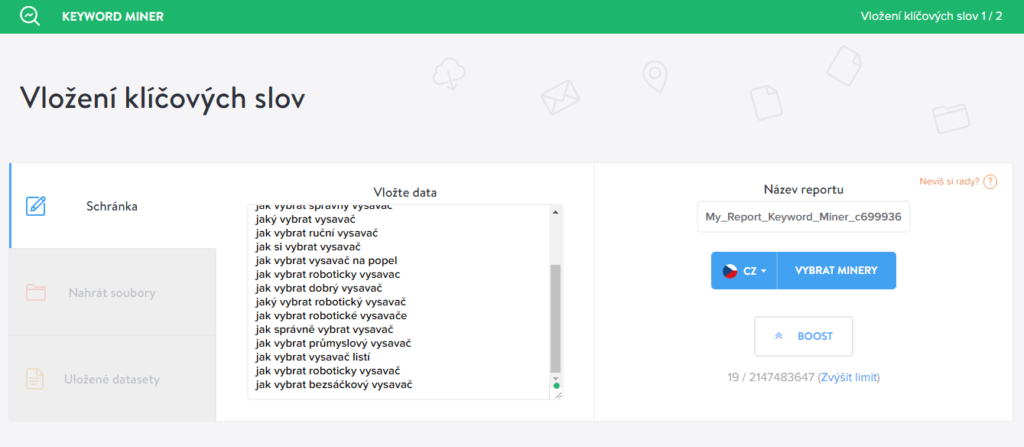 In the second step, he will choose SERP Analysis miner that collects data on Google search results for inserted queries. Then he gets following data t output:
For each phrase the first 10 search results, detailed information about them and an overview of the advanced search features used in results. In this case, he is only interested in specific results and info about them. He will then download the data to Excel and delete the columns that he's not interested in: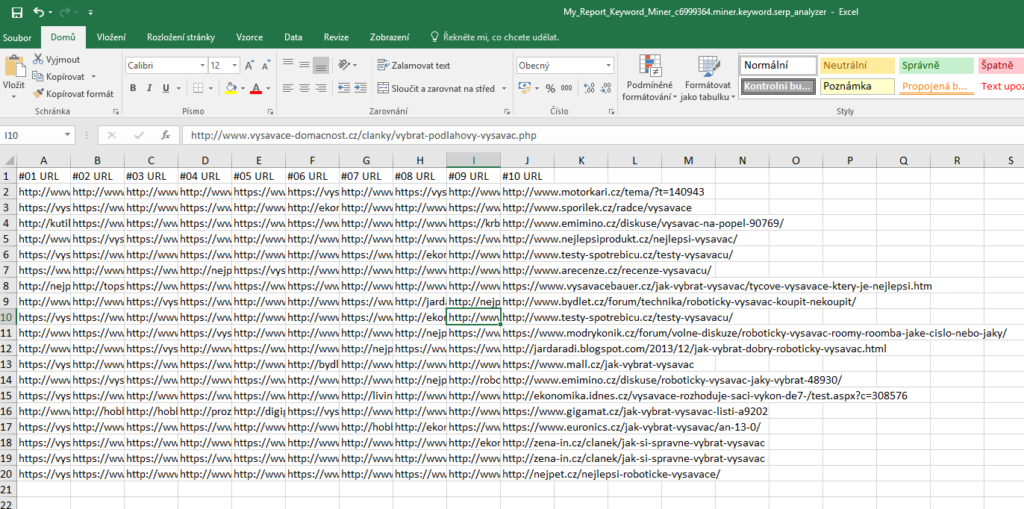 He will get the search result through results consolidation into one column. (Personally, I do this (and the whole process) in OpenRefine using the Transpose cells across columns into rows function. Unfortunately, I wasn't able to replicate this process in Excel and so I will be glad if anyone can help me).
Once you get the results under each other, deduplicate them: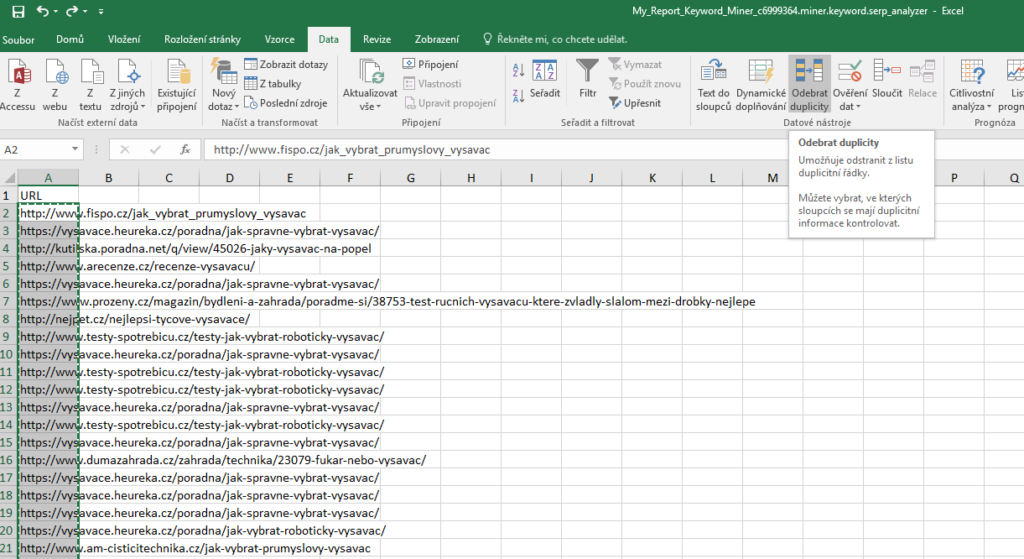 This way will lead to a list of unique URLs that appeared in search results for the defined query. They will then be used as an input for the next step, where it will be identified whether there is a useful ad space on any of them.
Ad units analysis on URL
Above mentioned process will help a user obtain a list of URLs, which he now will need to check to see if he can use them. This list will be used as an input and the user selects URL miners in Marketing Miner, particularly the Markup detection miner that goes through URLs and tries to identify ad scripts on them.
The output is an overview like this:
The Miner returns data on a size of ad units which were found on URL. A user will then filter out all the URLs at the output that contain a certain value in the columns AdSense or Sklik and then is able to look into what to use and how to use it.
In this case, it was a following distribution: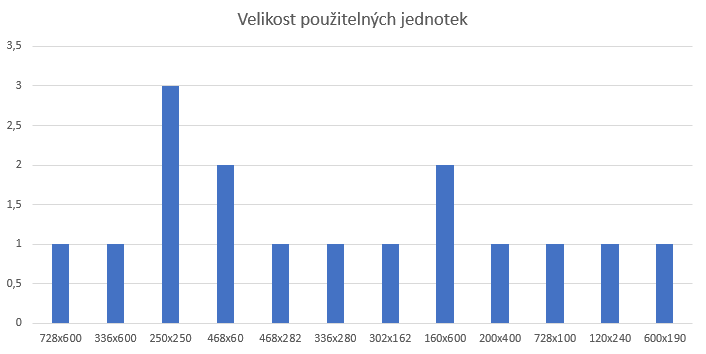 A user can focus his campaign specifically on these URLs and use a text ad and above-mentioned banner spaces.
How to use this data
In this case, it was only a small output in the extent of a few phrases. Realistically, a similar research can be done with much more interesting data and ranges.
It is mostly used in the phase after processing the keyword analysis where it is possible to work with the outputs this way also. That is to identify potentially interesting queries that somehow closely specify users or a user intent and then focusing on the URLs that they get to.
The whole process can be automated in OpenRefine. If there is an interest in the article, I will put together a script that will help with data processing.